Cría de pura sangre en Pensilvania
Como estado con profundas raíces en las carreras de caballos, siempre hay un flujo constante de talento de pura sangre que corre por Pensilvania. Con el correr de los años, Pensilvania ha producido algunos caballos verdaderamente especiales, como Smarty Jones, quien ganó el Derby de Kentucky y el Preakness Stakes en el 2004, y Storm Cat, quien engendró 108 ganadores del Graded Stakes.
Ver la Asociación de Criadores de Caballos de Pensilvania
Ver el Directorio de Sementales pura sangre 2019
Incentivos para los criadores de caballos pura sangre de Pensilvania
Pensilvania es el hogar de los mejores incentivos para la cría de caballos pura sangre en el país. Los números lo dejan claro: vale la pena criar y competir en Pensilvania. En 2017, el Fondo de Cría de la PHBA distribuyó USD 30 millones de dólares en premios, bonos de propietarios y bolsas de carreras restringidas. Si desea obtener más información sobre la cría y la compra de caballos de Pensilvania, póngase en contacto con el Secretario Ejecutivo Brian Sanfratello por teléfono al 1-610-444-1050 o por correo electrónico a pabreeder@gmail.com. También puede visitar pabred.com en cualquier momento para obtener información adicional.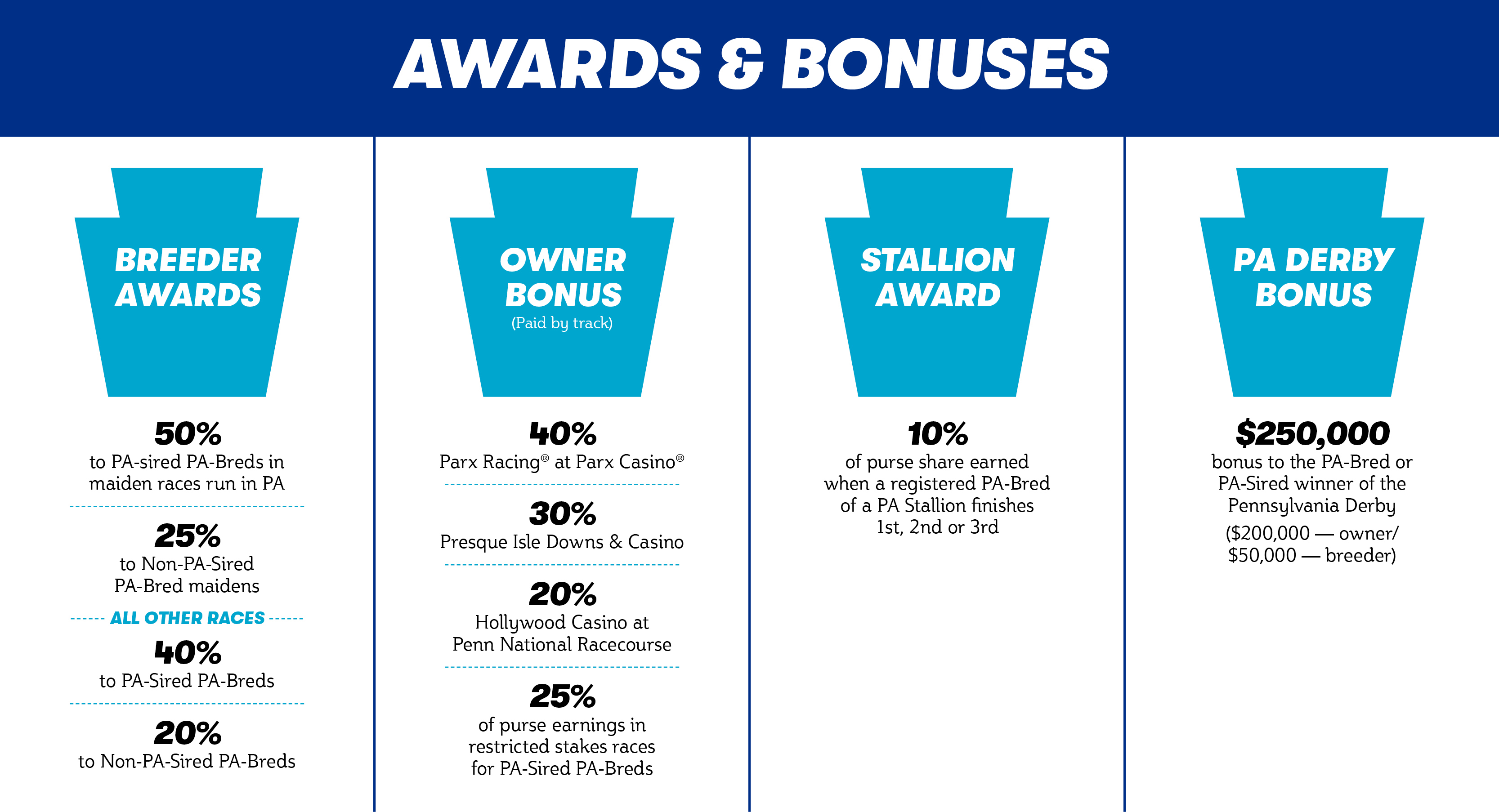 ¿Cómo obtienen sus nombres los caballos pura sangre?
Uno de los rasgos más icónicos de las carreras de caballos son sus nombres creativos; pero hay un método para la locura, y un poco de regulaciones también. Cada nombre (aproximadamente 20,000 al año) debe cumplir con las reglas del Jockey Club. Básicamente, si el nombre es de 18 caracteres o menos, no es de naturaleza vulgar y no ha sido usado o no es muy similar a un nombre ya usado, se puede usar.
Con más de 400,000 nombres en existencia a la vez, no es de extrañar que los propietarios tengan que ser tan creativos. Algunas estrategias clásicas de denominación incluyen la mezcla de los nombres de los sementales y de las yeguas de cría, como «Green War» de «Greenery» y «War Front». Otro estilo popular es la ruta más seria y prestigiosa, como «Commissioner». Y otros prefieren ir lo más lejos posible, como "Odor in the Court," "Waikikamukau" y "Snoreen." Algunos de los nombres más memorables de los caballos de Pensilvania son «Lil E. Tee», "Alphabet Soup" y "Princess of Sylmar".