Thoroughbred breeding in Pennsylvania
As a state with deep horse racing roots, there's always a steady flow of Thoroughbred talent running through Pennsylvania. Over the years, Pennsylvania has produced some truly special horses, like Smarty Jones, who won the Kentucky Derby and the Preakness Stakes in 2004, and Storm Cat, who sired 108 Graded Stakes winners.
View the Pennsylvania Horse Breeders Association
View the 2019 Thoroughbred Stallion & Boarding Directory
Pennsylvania Thoroughbred breeder incentives
Pennsylvania is home to the best Thoroughbred breeding incentives in the country. The numbers make it clear — it pays to breed and race in Pennsylvania. In 2017, the PHBA Breeding Fund distributed $30 million in awards, owner bonuses and restricted race purses. If you'd like to learn more about breeding and owning Pennsylvania-breds, please contact Executive Secretary Brian Sanfratello by phone at 610.444.1050 or by email at pabreeder@gmail.com. You can also visit pabred.com any time for additional information.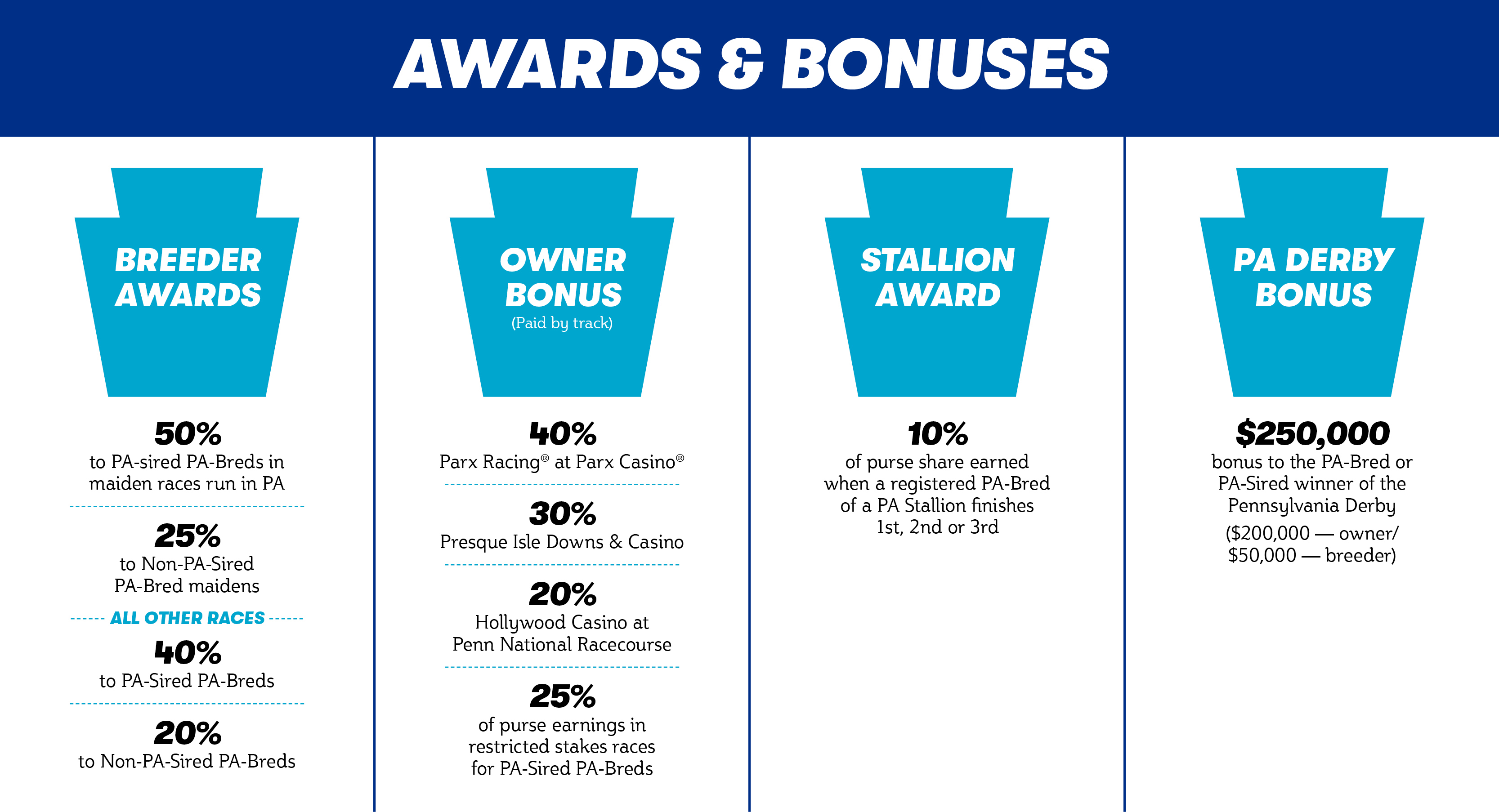 How do Thoroughbred horses get their names?
One of horse racing's most iconic traits is its creative horse names — but there is a method to the madness, and quite a bit of regulations as well. Every name (roughly 40,000 entries per year) must pass The Jockey Club's rules. Basically, if the name is 18 characters and under, isn't of a vulgar nature and hasn't already been used or isn't too similar to an already-used name, it's fair game.
With over 400,000 names in existence at once, no wonder owners have to get so creative. Some classic naming strategies include blending the sire's and the broodmare's names, such as, "Camo" out of "Greenery" and "War Front." Another popular style is going the more-serious, prestigious route, like "Commissioner." And still others choose to go as off-the-wall as possible, like "Odor in the Court," "Waikikamukau" and "Snoreen." Some of Pennsylvania horses' most memorably unique names include "Lil E. Tee," "Alphabet Soup" and "Princess of Sylmar."