The PHRA job postings
The Pennsylvania Horse Racing Association (PHRA) believes in providing equal employment opportunities to men and women of all races, religious beliefs and orientations. 
The PHRA currently does not have any available positions. 
Industry job postings
Mohegan Sun Pocono, Wilkes-Barre, PA
Assistant Race Secretary
Mohegan Sun Pocono, Wilkes-Barre, PA
Racing Clerk
Hanover Shoe Farm, Hanover, PA
For more information visit: http://www.hanoverpa.com/jobs.html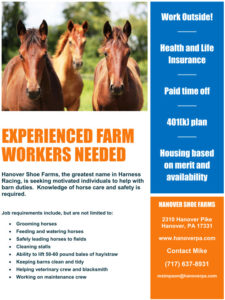 Give your passion a job title
Apply below for the chance to work beside thousands of passionate Pennsylvanians in the horse racing and horse breeding industries. We're always on the lookout for talented individuals across an array of disciplines.