The PHRA job postings
The Pennsylvania Horse Racing Association (PHRA) believes in providing equal employment opportunities to men and women of all races, religious beliefs and orientations. Currently, we do not have any job openings or positions that need to be filled. Please check back later.
Industry job postings
Walnut Green, LLC, Kennett Square, PA
Sales Prep Help Needed
Walnut Green is looking for reliable help who is comfortable sales prepping weanlings and yearlings through the fall. There is the potential for further work after-sales season.
If interested, please contact Kirsten at (610) 347-0132 or kirsten@walnutgreen.com
Hanover Shoe Farm, Hanover, PA
For more information visit: http://www.hanoverpa.com/jobs.html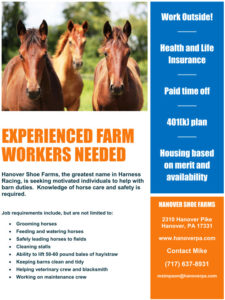 Give your passion a job title
Apply below for the chance to work beside thousands of passionate Pennsylvanians in the horse racing and horse breeding industries. We're always on the lookout for talented individuals across an array of disciplines.