The PHRA job postings
The Pennsylvania Horse Racing Association (PHRA) believes in providing equal employment opportunities to men and women of all races, religious beliefs and orientations. Currently, we do not have any job openings or positions that need to be filled. Please check back later.
Industry job postings
Meadows Standardbred Owners Association (MSOA), Washington, PA
The MSOA is looking for outgoing individuals to work at The Meadows Racetrack in Washington, PA during the summer season assisting individuals on how to wager on the horses. Training will be provided.
Requirements:
High School Diploma or equivalent. Must be 18 or older. Previous experience or knowledge of harness horse racing is helpful. The job consists of long periods of standing and walking around in outdoor and indoor environments. Must be outgoing and an enthusiastic individual. Must be comfortable initiating conversation and approaching guests. Ability to work weekends and varied hours. Must be able to commit to select race dates.
Experience:
-Customer Service (Preferred)
-Teller (Preferred)
To apply please email resume to Dawnelle Mock at dawnellemock@gmail.com
Requirements:
High School diploma
Valid driver's license
Reliable transportation
Proficiency with MS Office, Gmail, and Google Drive
Attention to detail and strong organizational skills
Excellent written, verbal, and interpersonal communication skills
1+ year of Administrative and/or bookkeeping experience
Ability to handle confidential/proprietary information
Preferred Experience:
Experience with QuickBooks or similar accounting software
Experience within the breeding industry is preferred
Working Environment:
Standard office environment, 7+ hours of sitting and/or utilizing computer per day
Hours are Monday through Friday, 7am to 4pm
Small office of 3 full-time staff
Office is located in a multi-use, private house on a 200-acre horse farm.
Compensation: Range is dependant on candidate's experience
Job Type: Full-time
For more information please contact office@diamondcreekfarm.com
Hanover Shoe Farm, Hanover, PA
For more information visit: http://www.hanoverpa.com/jobs.html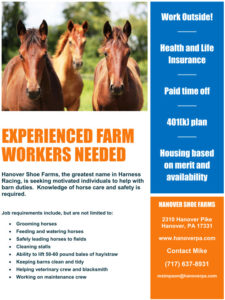 Give your passion a job title
Apply below for the chance to work beside thousands of passionate Pennsylvanians in the horse racing and horse breeding industries. We're always on the lookout for talented individuals across an array of disciplines.