The PHRA job postings
The Pennsylvania Horse Racing Association (PHRA) believes in providing equal employment opportunities to men and women of all races, religious beliefs and orientations. 
The PHRA currently does not have any available positions. 
Industry job postings
Mohegan Sun Pocono, Wilkes-Barre, PA
Mohegan Sun Pocono is looking for Mutuel Tellers!
Cashes tickets and pays out money after verification of win utilizing the Cash Count Back Procedure. Enters customers' transactions into computer to record transactions, and issues computer generated receipts. Orders daily supply of cash, and counts incoming cash. Balances currency, coin, and checks in cash drawer at end of shift and compares totaled amounts with data displayed on computer screen. Provides vouchers, results, and summaries as requested. Maintains a working knowledge of Probe procedures and troubleshooting. Performs other related duties as assigned. Provides superior customer service.
Visit mohegansunpocono.com for more information!
The Meadows Racetrack & Casino, Meadow Lands, PA
The Meadows Racetrack & Casino is looking for a Paddock Worker! Click here for more information.
Hollywood Casino at Penn National Race Course, Grantville, PA
Hollywood Casino at Penn National Race Course is looking for a gap attendant. Click here for more information
Presque Isle Downs, Erie, PA
Stable Laborer (Full Time) – Candidate is responsible for cleaning and maintaining receiving barn stalls and shed rows. Candidate will assist receiving barn operations. Candidate will perform tasks assigned by Stall Superintendent to assure operations of the Receiving and Stakes Barn.
Track Maintenance (Full Time) – Can you drive a tractor? Still furloughed or looking for a new job? Our tractors are air-conditioned. We may have the job for you! This seasonal job is full time and 40 hours a week. Having a working knowledge of general maintenance is a plus and a bonus if you know about racetrack surfaces. It's time to put those muscles to the test – you'll need to easily lift up to 50 lbs! Hours available 1:00pm – 9:00pm or 6:30am-2:30pm Sunday through Thursday.
Gate Crew (Full Time) – Candidate is responsible for schooling horses in the morning, set up gate for the start of each race and ensure the best start possible. Candidate will teach and familiarize young horses with the gate to break and school horses on the starter's list.
Camera Operator (Full Time) – Candidate will videotape live races for Presque Isle Downs. Candidate will operate camera during live racing for in-house viewing of races and export racing. Candidate will contribute to the Racing Department team by overseeing and following through with all assigned tasks.
For more information on all of these Presque Isle Downs openings, click here.
Arrowwood Farm, York Springs, PA
PT position- Horse experience required, foaling experience preferred but not necessary. Opportunity for foal watch shifts for qualified applicant.
General responsibilities would be: feeding, watering, turning out/in horses, cleaning stalls and other general barn chores, holding and assisting with vet and farrier appointments, administering medications as instructed. Must be comfortable handling foals, yearlings, broodmares and racehorses fresh off the track.
Weekends are required and you must have ability to work until 10pm some evenings during foaling season. This position can turn into FT in several months as we do have an employee leaving for college mid-summer. Pay is dependent on experience.
FT position- horse experience not required however the ability and willingness to learn basic horse handling skills is a must. This position is a maintenance position which would include but not be limited to: mowing with a lawn mower, brush-hog, and bat-wing mower, weed whacking, fence repair and painting, general barn repairs and upkeep, maintaining farm equipment (mowers, tractors, gators, etc). This position is M-F one week and Tu-Sat the next, 8a-4p. Days could be somewhat flexible for the right applicant. Pay is dependent on experience
Hanover Shoe Farm, Hanover, PA
For more information visit: http://www.hanoverpa.com/jobs.html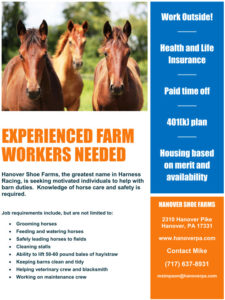 Give your passion a job title
Apply below for the chance to work beside thousands of passionate Pennsylvanians in the horse racing and horse breeding industries. We're always on the lookout for talented individuals across an array of disciplines.