See the Mothers-To-Be
---
Looking to warm up your soul during these cold winter days? You've come to the right place. It's foaling season, and that means expectant mares across Pennsylvania will be bringing the next generation of champions into the world. Tune into our foal cam below for a live look at the birth of these cute little creatures on Whysper Wynd Farm and Delaware Valley University. This year, we're expecting 9 foals so you'll have plenty of opportunities to witness the wonder in real time!
You can also follow along on Facebook, Instagram & Twitter for live foaling season updates.
---
About Delaware Valley University
Our bachelor's degree in equine science offers a specialization in breeding that prepares students for careers in the breeding industry. Management of stallions, broodmares, yearlings, weanlings, and newborns are all essential to our equine science students' curriculum. You will have the opportunity to handle, manage, and breed horses, as well as assist in foaling management, neonatal care, and young-stock handling and sales.
Our on-campus Sydney J. Markovitz Equine Breeding Center is home to stallions and a broodmare herd, including competitive Standardbred racehorses. The horses and foals are handled daily by students and staff. Working closely with our full-time faculty and stable manager, Equine Science and Management students have the opportunity to play an integral role in the daily management of the facility. In alignment with the DelVal commitment to experiential learning, students also actively assist with foaling and breeding procedures. The facility is equipped with the following amenities:
24 Stall barn, including a 4-stall stallion barn

Reproductive lab with diagnostic equipment

Foal monitor alert system (on and off campus access)

2-4 stallions, 25 mares, 10-15 foals per season

3 large run-out pastures

6 turnout pastures

Collection shed with phantom and tease stall
We will be foaling out 13 mares, 7 Standardbreds, and 6 Thoroughbreds, 5 of which will be featured on the foal cams.
---
Thank you for your interest in Delaware Valley University's mares and foals.
If you would like to help DelVal's Equine Program with a tax-deductible gift-in-kind donation, please click here for the Equine Program's "Foaling Wishlist." The mares and foals of Delval greatly appreciate your generosity and support!
To make a monetary donation to DelVal's Equine Program, please visit www.delval.edu/giving. Once there, please select "Other" from the designation drop-down and enter "Friends of Equine."
If you have questions or for more information, please email equine@delval.edu.
Thank you again for your interest in and support of DelVal's Equine Program."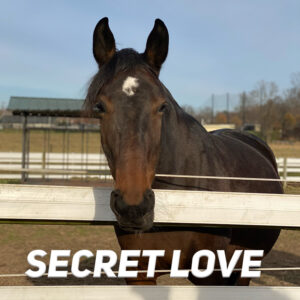 Upcoming Mare: Secret Love (LUCKY CHUCKY – MAGICAL AFFAIR – GLIDEMASTER)
Breed: Standardbred
Mare's Age: 8 (Born 2015)
In Foal To: Six Pack
Due Date: April 5, 2023
Number of past foals: 2
Interesting facts about the mare: Lifetime mark of 1:59.0S at age 3.
---
Learn the Breeding Basics
If you're interested in horse racing's breeding basics beyond the cute and furry outcome, we have a page for that too.
---
Foal Cam Disclosure
For the 2023 Foal Cam season, viewers have the opportunity to witness foals come into the world and become commenters on the experience. These comments will be monitored closely and any negative comments about the process, farms, workers, or anything else are prohibited. If such comments are made, viewers will no longer have the access to make comments for the rest of the season. PHRA encourages its viewers to speak positively and remain open-minded during these life-changing moments.