Pennsylvania horse racing's economic benefits
Since the inception of the Pennsylvania Race Horse Development Fund in 2004, Pennsylvania's horse racing industry has steadily been improving, bringing more revenue into the state, which in turn creates more jobs, helps to relieve property taxes, supports Pennsylvania agriculture, and has a positive impact on the state's hospitality and tourism industry.
A number of different studies have examined the impact of horse racing and breeding on Pennsylvania's economy and employment. Because these studies were conducted at different times, used different methodologies, relied on varying sources for their underlying data, and used different economic multipliers, there are differences in their results. However, one thing is clear: the significance of the impact that Pennsylvania's horse racing and breeding industry have on the state's economy and employment opportunities for Commonwealth residents cannot be denied.
For example, different economic studies show that horse racing and breeding delivers an economic impact that ranges from $721.5 million to $1.6 billion annually while providing between 16,000 and 23,000 jobs in the Keystone State. In addition, horse racing and breeding result in $68.8 million in tax revenue in Pennsylvania.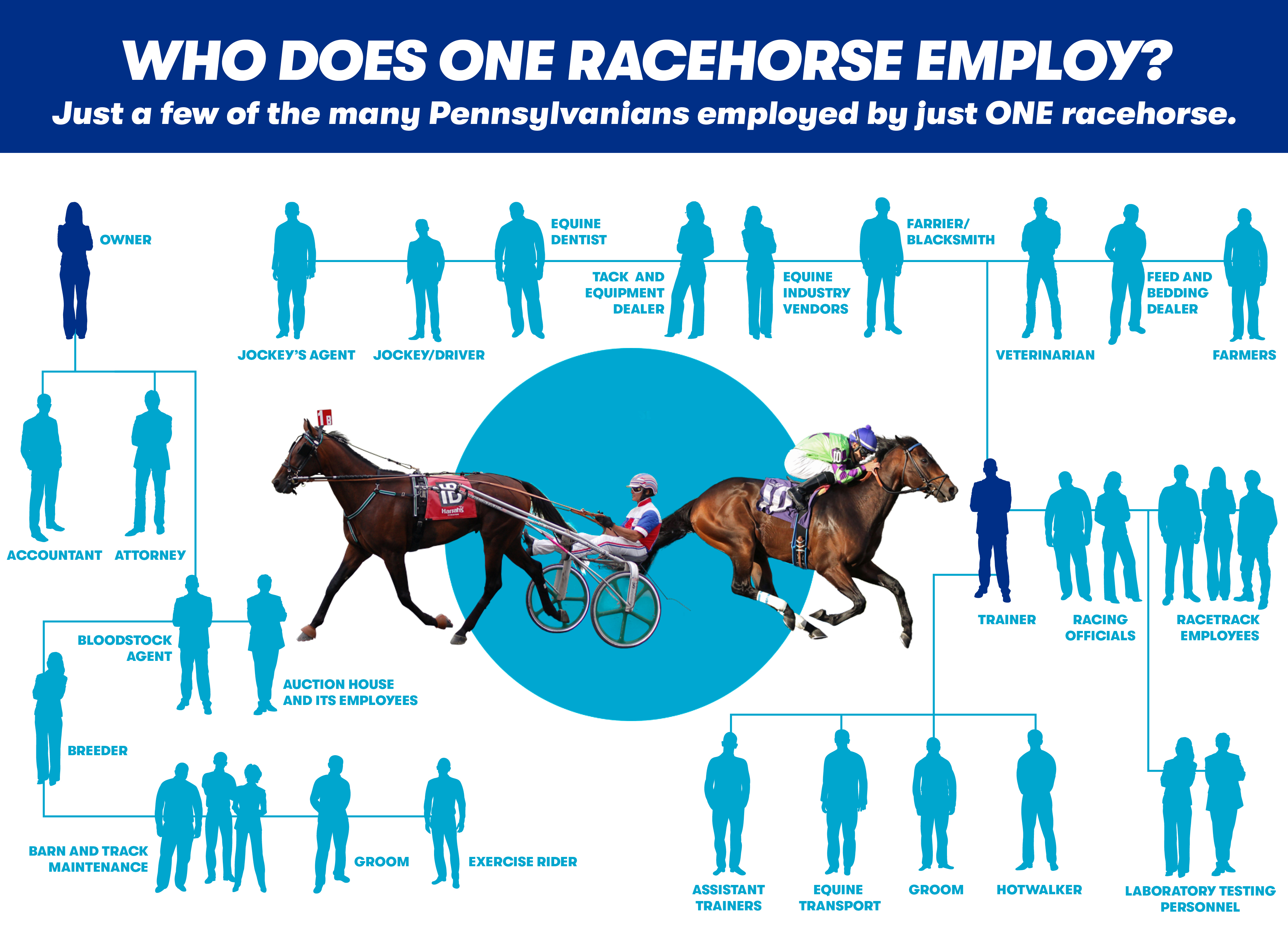 In addition to the economic benefits that are directly related to the sport, horse racing and breeding is also a significant contributor to the state's larger agricultural economy. More specifically, horse owners and breeders serve as the major customers for grain, hay, and straw farmers. Many of these grain, hay, and straw farmers rely on horse owners to remain in business  — and maintain agriculturally productive open space. In addition, the equine industry is also responsible for protecting 18 percent of the total acres set aside in Pennsylvania's agricultural preservation program.
Pennsylvania Thoroughbred Horsemen's Association president, Salvatore M. DeBunda, Esq., discusses the horse racing and horse breeding industries' positive economic impact on the Keystone State.