For many years, visitors from all over the world were greeted at Old Friends in Georgetown, Kentucky by a majestic grey horse, and he always waited patiently for carrots and posed happily for photos alongside his best friend, donkey Gorgeous George. The beautiful grey was Alphabet Soup, bred in Pennsylvania, the son of Cozzene out of the Arts and Letters mare Illiterate. Old Friends and the horse racing world bid a sad farewell to this legendary horse on January 28th, 2022.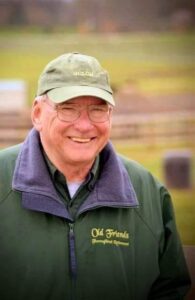 "He had character, he had intelligence, he was kind," said Michael Blowen, president of Old Friends. "He was one of the great retirees of all time. He liked people. He'd do anything for carrots!"
The journey of Alphabet Soup to Old Friends was a process that began when he was at stud duty. "We had a really good relationship with Adena Springs through Mike Clark and Stacy Clark," Michael explained, "and I was always interested in what they were going to do with their stallions once they retired. I got a call one day from Stacy that the Stronach Group had decided that they would retire some of their horses and donate some money! And I said 'Who?', and she started listing them, and I went nuts! Alphabet Soup was soon followed by Milwaukee Brew, and Einstein, and eventually Awesome Again. It set up a wonderful relationship."
He arrived at his new home after he was pensioned from Adena Springs, and immediately became comfortable in his new surroundings. "He was very smart. He kind of looked around, and saw his hay, and saw his carrots. And he saw a guy that would bring him treats," Michael laughed. "And then eventually he got his pal, Gorgeous George, the donkey, from our Facilities Manager James Crump, who inherited the donkey when his dad passed away. He immediately bonded with Alphabet Soup and they were inseparable."
Visitors at Old Friends often shared their favorite stories of Alphabet Soup with Michael and his staff. "Mostly, they told us about the 1996 Breeders Cup Classic when everybody lost all their bets because everybody bet on Cigar, including myself," Michael said with a laugh.
Jockey Chris McCarron had a strong relationship with 'Soup', and looked back at his career with the mighty grey. "When you look at his past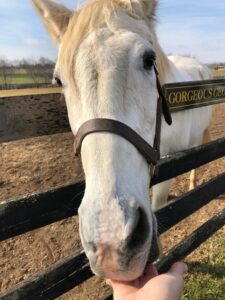 performances, you see right away that he was a very top-class horse. He could really run! He was very generous with his talent, but he was also very conservative. The way I liked to describe his efforts in a race or when he worked out in the morning is that he was kind of like a bicycle. If you're not pedaling, he's not necessarily going forward. Now I've heard some jockeys over the years categorize a horse like that as being 'lazy'. Well, he was anything but lazy! He was very generous with his talent, but by the same token, you had to ask him for that talent."
Looking back at the 1996 Breeders Cup Classic, Alphabet Soup's final race, Chris described the nail-biting race that his fans all watched, breathless with anticipation. "I had to start riding him with about five furlongs left to go just to kind of keep up with the pace, but when I really started riding him hard, he went ahead and gave it his all," he said emotionally. "He had a beautiful stride. He was very smooth; had a long stride, and he was…he was terrific."
One of his most endearing traits, according to Chris, was his heart. "As evidenced by the close finishes that he had, he had a tremendous amount of heart. Really courageous and very game."
When 'Soup' retired to Old Friends, Chris was a frequent visitor to see the horse he called one of his 'favorite horses to ride'. "I like to think that he recognized me", he laughed. "It's always difficult to tell but I think he remembered me."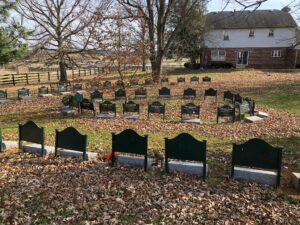 To this day, Chris, now retired from riding nearly twenty years, still relishes that Breeders Cup win over Cigar, and the ride that his friend Alphabet Soup took him on.
Michael Blowen and all of Old Friends are silently mourning their friend, and are planning to lay Alphabet Soup to rest. "We will bury him down in our Cemetery of Champions, which includes War Emblem, Charismatic, and Skip Away. I'm getting a special monument for him that will look like, I hope, a smaller version of the Washington Monument. I want it to be in white marble, because that's what he reminded me of." As for the forlorn Gorgeous George, who misses his best friend terribly, Michael is working with 1996 Rebel Stakes winner Ide, and hoping that a new friendship will blossom.
Memorial Day at Old Friends is a special day to honor all the horses who have passed on, and Alphabet Soup will be remembered on that day too. "Every year, we do a testimony to all of the horses that passed on in the previous year," Michael said, "and he'll certainly be remembered there, as well." He will be remembered then and remembered for many years to come for his heart and for the champion that he was.
Old Friends
Facebook Old Friends
Instagram old_friends
Alphabet Soup
Racing Career Highlights
1995 – Native Diver Handicap (G3) and the Del Mar Budweiser Breeders' Cup Handicap (G2)
1996 – San Antonio Handicap (G2), the Pat O'Brien Handicap Handicap (G3); San Pasqual Handicap (G2); Breeders Cup Classic*
Trained by David Hofmans
*Bloodhorse January 28, 2022
Cover Photo by Jenn Starr