A win for Beren means help for autistic adults. Two of Pennsylvania's most talented homebred favorites, Beren and Chub Wagon captured stakes in the MATCH series run at Laurel on July 16th, 2022.  The speedy PA-bred Beren drew off from the field in the $150,000 Frank J. DeFrancis Memorial Dash at Laurel. The stakes race is part of the Mid- Atlantic region's 2022 MATCH series of races run at Laurel in Maryland, Penn National and Parx in Pennsylvania, and Colonial Downs in Virginia.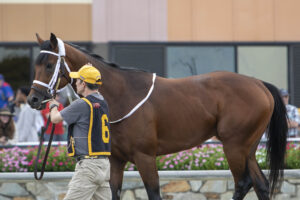 A multiple-stakes winner of over $600,000, Beren is trained by Robert "Butch" Reid, Jr. and is co-owned by St. Omer's Farm and Christopher Feifarek. Feifarek donates 10% of Beren's winnings to Itineris, a non-profit organization co-founded by his wife benefitting adults with autism. Based in Baltimore, Itineris helps adults with autism live life with dignity and experience and participate in meaningful adult life.
Bred by Susan Quick and Feifarek, Beren is by millionaire Weigelia, a multiple graded stakes winner and currently 4thon the Pennsylvania leading sires list by earnings for 2022. On the distaff side, he is out of the brilliant mare, Silmaril, a tour de force of Maryland racing. A graded stakes winner, Simaril became the 17th equine millionaire in Maryland history. According to Susan Quick, owner of St. Omer's Farm, "we owned the whole family. Beren's great grandmother, Kattegat's Pride, was our first homebred, and she won over $500,000 and was a graded stakes winner." Consistency, longevity, and toughness run in the family. Kattegat's Pride ran successfully from age 3-6, and Silmaril raced 6 seasons retiring at age 7 after a win in the What A Summer Stakes at Laurel in 2008. At age 4, Beren follows in his family's footsteps.
"I just talked to my trainer about Beren's next race," explained Susan Quick. "We are trying to decide where to run next. We'll either run on August 22nd at Parx on PA Day At The Races, or we'll go to Colonial Downs on August 16thfor the fourth leg of the MATCH series. The MATCH series ends up at Parx on October 3rd. Beren leads the division now for 3-year-old sprinters on the dirt, so we may go to Virginia. It's nice to have options. He's nominated to both races, and I'll leave it up to my trainer to make the right decision."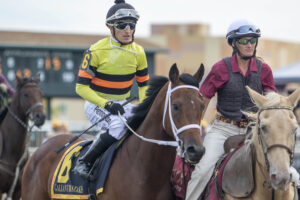 A seasoned traveler, Beren won at several tracks in the Northeast including Laurel, Penn National, Belmont, and Parx, so shipping to run is no problem.  "Beren knows his job and is easygoing. He just stands in the paddock and is always quiet. It's fun to have a nice horse like him, especially one that we bred," remarked Quick.
"In January, Beren came to the farm for a little R &R, and he was always laid-back. He lived in a barn with mares and nothing bothered him. He's very smart," explained Barbara Wheeler of WynOaks Farm. "The farm owns Weiglia and Susan Quick is my mother–in–law. Beren is a 'plain brown wrapper.' There's nothing flashy about him, but he's special, and he can run."
Beren is nominated to the $150,000 Chesapeake Stakes at Colonial Downs on August 16th, a 6-furlong race on the dirt for 3-year-olds and up, and he's nominated to 3 races at Parx on August 22nd – the $100,000 Storm Cat Stakes, the $100,000 Marshall Jenney Handicap, and the $100,000 Banjo Picker Sprint. Both tracks offer great days' of competitive racing with top-quality horses from the region, and wherever Beren runs, he represents one of Pennsylvania's best.