In 1978, a gentleman named Logan Dickerson purchased his first standardbred, along with a few broodmares for his farm in Greensburg, located in scenic western Pennsylvania. Forty-four years later, the highly successful Lindwood Farm is a premier standardbred and breeding facility offering stallion, mare and foaling services.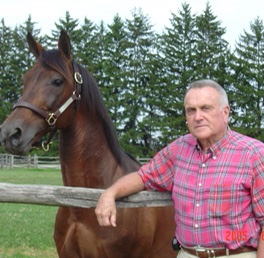 "The farm just grew from that first standardbred," said Dennis Hoffman, Farm Manager. "In the mid 1980's, Mr. Dickerson did some amateur driving, and he got some trainers and did some racing. The main facility, the stable, was built in 1986." From that time into the early 90's, Mr. Dickerson had around 35 of his own mares.
The first stallions, Icarus Lobell and BJ's Super Star, arrived in 1989. "That's when we got into standing stallions, but we didn't plan that in our facility," Dennis explained. "Our stable we had for mares that work and prepping yearlings, but we didn't anticipate that we'd be breeding stallions, so we had to revamp our stable and put in a breeding area."
Raising ostriches became the farm's focus in the mid 90's, as they stepped back from the horse business, but soon the opportunity to bring in mares to be bred presented itself. "That's when (Breeders Crown winner) Dragon's Lair came," he said. "Logan partnered with some other people, and there were as many as nine stallions at the farm in the early 2000's."
Now in the busy foaling season, Dennis said the farm is eagerly anticipating three mares who are due any day. The mare Janettes Image just
delivered the first foal of the 2022 season, a Sweet Lou filly, on the bitterly cold January 27th night. The mares are watched at all times, and monitored by a closed circuit camera system, with a foal alert monitor. "My residence is in the stable," he said, "so this is my home, office, and the stable. I'm here around the clock."
One practice that is done at the farm is to keep the stallions near the mares. "They can see the mares, smell the smell, hear the mare give birth at night. I think it does them good. It did Dragon's Lair good. He loved to see the foals. He just absolutely loved to get turned out in the stallion paddock and watch the mares and foals in the neighboring fields. So I think it does a stallion good to see that."
Currently, Better Caviar is the only on-farm stallion. The SJ's Caviar-Better Credit-Credit Winner stallion is standing his fourth season at the farm, and his three-year-olds are ready to dominate on the racetrack. In addition, Lindwood's stallion operations extend off the farm. "We do what I call 'satellite stallions'", Dennis explained. "They stay at their owners, or they might be racing, and we only request them here on days when we need to breed mares. I do other breeds also, Arabians, Quarter Horses, but primarily they are on an as-need basis. When someone calls, they bring in the stallion, we collect the sample, and then they go right back to their owner."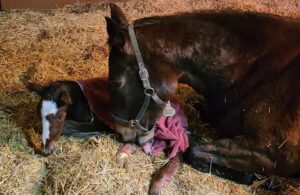 This season, Lindwood Farm will be working with a young stallion named Wild Wild Western, currently racing at the Meadows. "We'll try breeding a few mares to him this year, some of the owner's mares, so he'll be racing and breeding," Dennis said, adding that if a stallion has a chance to go on and improve in his racing career, this racing/breeding is done frequently if the connections want to start the breeding earlier.
He's been working here since he was 19 years old, and is happy to work alongside his wife Gina and his son, Declan, along with three other full-time employees. This busy winter season will be spent on their foal-watch, and then they look forward to the months of April and May, the busiest months for mare and foal care and breeding.
The future is bright for this beautiful farm in western Pennsylvania, and the sky's the limit for this top-notch standardbred and breeding facility, helping to breed the stars of Pennsylvania harness racing today and for many more years.
Photos courtesy of Lindwood Farm