The cheering in the grandstand started when Dave Palone was masterfully guiding Brother Dick in the stretch of the fourth race at the Meadows on Saturday, June 25th, and continued as Hall of Famer Roger Huston announced '20,000 for Dave Palone'! Track announcer Jeff Zidek had invited the now-retired Huston to call this historic race, and the emotion in Huston's voice was strong as he declared the tremendous milestone win for Palone.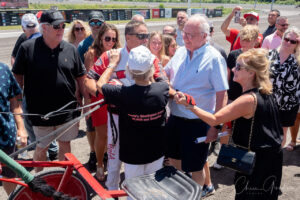 "The race went kind of like I was hoping it would go," Dave described, still on an emotional high from the excitement of that day. "I thought around the last turn, I thought he (Brother Dick) was going to get home, and then…well, it was just the relief of getting it done with everybody there!!!
Looking back at the road he took to get here, Dave carefully watched each win, and with each one, he became more determined to get there. "When I got to 19,000 wins, I thought, 'well, let's keep going", he laughed. "Now I got to 20,000, and I don't know what to do to kill a day!"
The charismatic and friendly Palone started his driving career in 1982 at the Meadows, has earned the leading driver title at his home track for 33 years, and has career earnings topping $152,497.069. He's been honored with countless awards, including being inducted into the Living Hall of Fame in Goshen in 2010, as well as the Driver of the Year from Harness Tracks of America six times*.
His track record is exemplary, but it is his love for harness racing and for his fans that is equally memorable. Dawnelle Mock, Marketing Director for the Meadows Standardbred Owners Association (MSOA) raves about his passion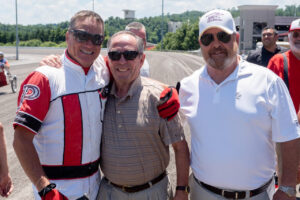 for his fans and helping promote harness racing. "Dave is a fan favorite!" she said. "He's always available to help with events when I ask him, and always great to meet fans and take pictures when I bring them back to the paddock. He's given out a lot of his whips to kids over the years who look up to him!"
While Dave has the youth looking up to him, he looked up to a few familiar names as he was growing up and starting out his stellar career. "For me, locally here at the Meadows, I was always a Dick Stillings fan, and ironically, he was in the Winner's Circle for my 20,000 wins. John Campbell was always my hero as a kid. Everybody wanted to be John, and rightfully so. Those two stand out as much as anyone. Dick Stillings was always a terrific horseman, one of the best trainer/drivers ever to compete in the sport, and I looked up to him a lot. I learned a lot from him over the years."
To the new drivers trying to make a name for themselves in harness racing, Dave offers solid advice. "You just have to show up! It's frustrating when you're showing up and you don't have live work, and you're just grinding it out, but the main thing is, you just have to show up. Show up for qualifiers. If someone wants you to work a horse in the morning, you have to show up. If you've got two horses in, and they both have the nine hole, and it's raining, you have to show up. You have to be appreciative of the work you get. And it will come. If you have ability, it will come."
Dave stresses that bringing new fans to experience the excitement of harness racing is key. "We've got to get younger folks to the racetrack. I'm not sure I have the answers, but the drivers now are probably the best group of drivers I've ever seen in my life. The horses now are going faster than ever. I just wish more people could be brought to enjoy our sport and see how exciting it really is. Dawnelle (Mock) does a fantastic job here, and we're constantly trying different things."
With no plans to stop his brilliant career anytime soon, Dave says he may slow it down just a little. "I've been slowing down a little bit every year. My drives have dropped. Maybe I'm a little more selective and maybe I don't sit around until the last race every night. I might start slowing down there. I might take a week off here and there and freshen up."
"I'm going to keep driving. I love it! I don't know what else to do to kill a day besides play bad golf!" he laughs.
Dave Palone
Stats**
77,384 starts
Wins 20,007
Seconds 12,662
Thirds 9375
*U.S. Trotting Association
**Stats compiled by Jerry Connors