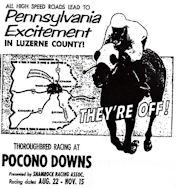 Chariot racing thrilled spectators as far back as the ancient Greek Olympics, and in the U.S., horse racing evolved from neighborhood competitions between riders or drivers into a billion dollar industry. The country's first thoroughbred race track was established in Hempstead Plains, Long Island, New York in 1665, and by the 1890's there were over 300 thoroughbred tracks in the U.S. Then, in the early 1900's, due to scandals and moral opposition to racing and gambling, most race tracks closed. However, in 1908, states looking for added revenue to stimulate the economy legalized pari-mutual betting, and horse racing made a booming comeback. The Roaring Twenties was a time of high living and rapid growth in industry and mass production. Sports heroes were legendary, and the three biggest stars were baseball great Babe Ruth, heavyweight boxing champion Jack Dempsey, and thoroughbred great Man O' War. In 1920, Man O' War drew thousands of fans to the racetrack and thousands followed his races on the radio as he won all 11 of his races. After the stock market crashed and the Great Depression set in, movies, radio, and horse racing still flourished as they provided a great escape, exciting entertainment, and a diversion for struggling Americans. Growing in popularity until WW11, horse racing and baseball were the most popular spectator sports in the country, and more people attended horse races than any other sporting event. Throughout history, horse racing survived many ups and downs, including controversies, swindles, and scandals, yet continued to appeal to people from all walks of life including the social elites and the working class.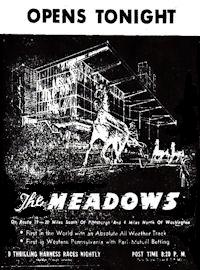 Though late to the game of legalized horse racing, Pennsylvania's history has deep ties to both thoroughbred and harness racing. Nicknamed the "farmer's sport", harness racing began on back country roads and village streets using wooden buggies as carts, and the sport thrived until horse racing came to an abrupt halt when it was banned in 1820 and gambling was forbidden. In order to evade the law, people raced trotters which were horses used for work and transportation, not just racing, and therefore exempt from the ban. Trotting races drew huge crowds, and the first race track dedicated to driving races opened in Philadelphia in the mid 1820's. Named Hunting Park, the track held trotting exhibitions, and no money changed hands. In 1879, trotting races, restricted to standardbreds, were allowed to offer prize money at summer agricultural fairs, and when the oldest fair, the York Fair established a new fairground in 1889, it included a half mile track and grandstand for harness racing. The races attracted large crowds resulting in a demand for faster and better horses which paved the way for the establishment and success of Hanover Shoe Farms, Inc.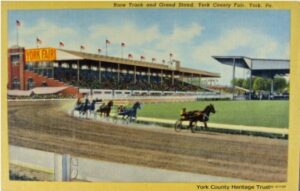 Founded in the early 1900's by Harper Sheppard and Clinton Myers, owners of the Hanover Shoe Company which manufactured leather shoes, Hanover Shoe Farms, Inc. became and remains the largest, most prominent, and famous standardbred horse breeder in the world. Located on hundreds of acres in Hanover, PA, the farm originally bred and sold horses for racing at county fairs. Managed by Sheppard's son, Lawrence, the farm's goal was to improve the breed and make Hanover the "greatest name in harness racing." By continuously acquiring well-bred and champion trotting and pacing stallions and mares, Hanover continues to breed and sell race horse prospects that have gone on to win classic races including the Hambletonian, Little Brown Jug, and the Breeders Crown series.
Though harness racing's popularity at the fairs continued, legalization of thoroughbred racing stalled. At the turn of the twentieth century, and long before the legalization of thoroughbred racing in the state, Pennsylvania aristocrats owned, bred, and raced champion thoroughbreds in neighboring states including New York and Maryland. Philadelphia society had a long history and involvement with thoroughbreds including one of the greatest race horses of all times, Man O' War. Samuel Riddle, a wealthy textile manufacturer from Glen Riddle, PA, bought Man O' War as a yearling at the Saratoga yearling sale, and he became a superstar. Nicknamed "Big Red", Man O' War drew thousands of fans to watch his brilliant performances at 2 and 3, and in 1937, War Admiral, a son of Man O' War, also owned by Riddle, won the Triple Crown.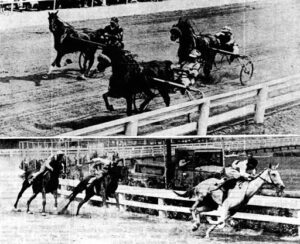 Since horse racing was still illegal in PA, another Philadelphian, George Elkins built a state-of-the-art race track at his property in Philadelphia where society gathered for informal racing. Elkins' business partner, George Widener Jr., another wealthy and powerful businessman and owner of Erdenheim Farm in Whitemarsh Township, PA, raced five Eclipse award winning thoroughbreds including Jaipur, Battlefield, and Stefanita. Widener, one of the most prominent men in American horse racing was elected chairman of The Jockey Club in 1916 and was an honorary chairman until his death.
Many wealthy, prominent, and influential Pennsylvania horse owners lobbied for the legalization of horse racing, and finally in 1959, the state passed the Race Horse Industry Reform Act which cleared the way for the construction of statewide race tracks and pari-mutual wagering.