The hopes and dreams of horse breeders become reality every spring when broodmares and their wobbly foals take their first run across a field. Long before your favorite horse crosses the finish line, the planning of its birth begins when breeders study bloodlines, read stallion statistics, and compare stud fees months before deciding on a mating.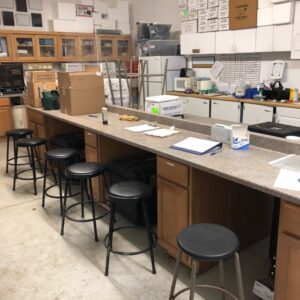 Managing a horse breeding farm requires intense hard work, knowledge, and long hours, and the result is the joy and delight of a newborn foal. Successfully raising and nurturing a horse through the different stages of its life depends on a team of experienced trainers, grooms, handlers, veterinarians, managers, and farriers, and fortunately for people interested in a career with horses, Pennsylvania's Delaware Valley University offers several equine programs that include science and hands-on experience at their Doylestown campus.
The school was founded in 1896 by Joseph Krauskopf and named the National Farm School. An educator and a visionary, Krauskopf's idea was to teach boys to become farmers based on the concept of "science with practice" which combines academic work with hands-on learning. Krauskopf   bought a 100 acre farm in Doylestown, PA where he established his school which eventually became Delaware Valley College. Still based on experiental learning, the school became co-ed in 1969 and attained university status in 1989. The private university offers 25 undergraduate degrees including 3 equine programs – animal science, which combines liberal arts with science for students interested in continuing on to veterinary school or research and lab work, or work in the pharmaceutical industry. A second program is equine management that prepares students for work in stable management or business management, or media communication, and lastly, the equine science program that focuses on the breeding industry and handling and managing stallions and broodmares. Also offered is an associate degree in equine studies, a certification program in equine massage therapy, and several adult education classes. These programs require students to participate in hands-on learning at their two equine facilities located on the 570 acre campus.
The well-equipped equine training center includes a 52 stall barn, a large outdoor arena, cross-country fences, an indoor arena with tack room and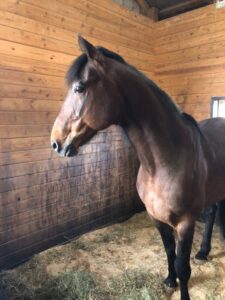 seating, and a European horse exerciser. Here, students learn basic animal husbandry and share the feeding and barn chores. Training horses and riding classes are also part of the curriculum.
At the Sydney J. Markovitz Equine Breeding Center, students learn all aspects of the breeding industry from breeding to foaling to preparing a horse for a yearling sale. The center is fortunate to have three breeding stallions to stand for the horse racing industry. Hey Chub, a thoroughbred stallion and winner of over $400,000 and the sire of one of Pennsylvania's most impressive mares, Chub Wagon, stands at DelVal. A fan favorite at Parx, Chub Wagon is a winner of over $400,000 and the recipient of the 2021 PTHA Horse of the Year award. Thoroughbred race horses must be bred live cover, so students learn to handle breeding mares and stallions naturally in the breeding shed.
Also standing at DelVal are two Standardbred stallions – Swift As A Shadow, a pacer and winner of over $600,000, and Flashbacks, a trotter and winner of over $190,000. Artificial insemination is used to breed Standardbreds, so the students at DelVal gain experience with semen collection and processing. Jenna Reigle, the breeding center manager, explained the hands on program.  "We have 20 stalls here and 4 stallion stalls and several foaling stalls. We have a breeding shed with a phantom and a teasing stall and a reproductive lab. The lab is a classroom where students learn semen processing, and it's where our foal monitoring system is located. We usually have about 20 – 25 students each semester, and they start by doing basic barn work and study animal nutrition and behavior and equine genetics. During foaling season, they share in foal watch and monitor the mares 24 hours a day."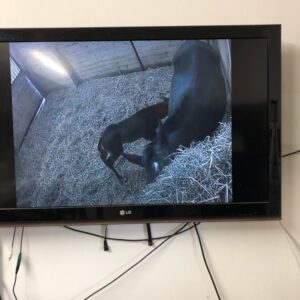 The breeding center also includes several rolling pastures and paddocks where the mares and foals run and play with each other, and the pregnant mares get some exercise before their babies are born. Jenna described a project at the school involving Standardbred mares. "We have a broodmare band of Standardbred mares that we breed, foal, wean, and sell the babies at the Harrisburg yearling sale. The students participate in all aspects of the breeding process from the breeding to the sale. The money from the sales goes back into the program."
Part two of this article describes the Standardbred breeding project from start to finish including their partnership with Hanover Shoe Farms. The project is a unique and invaluable learning experience for anyone interested in the racehorse breeding industry.