Harness Racing at Harrah's Philadelphia is now underway for their exciting 2022 season. When the Starting Gate rolls, the 'dynamic duo' of Norton Shoemaker and Andy Kean will be ready to lead each and every race at the track in Chester, Pennsylvania.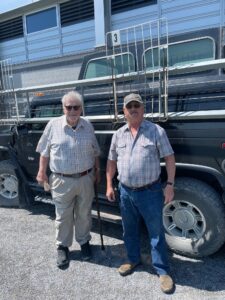 Norton (known to everyone as 'Shoe'), and Andy have a combined 60-plus years of experience in harness racing, and a history in the business that dates back to the 1970s.
"I kind of got raised in the business," Shoe remembered. "My father had racehorses, and I worked for him. I started out racing at Liberty Bell, and then I started driving at Pocono Downs back in 1975. Then in the early 1980s, I had the track record with both a pacer and a trotter. The trotter belonged to Hanover Shoe Farms, and his name was Buck Newton, which I also raced in the Hambletonian. He was second in the first heat but didn't do well in the second heat. The pacer was Ironstone Hello, owned and trained by Frank Hartline."
His driving career lasted for what he describes as 'quite a while,' but soon injuries caught up with him. "I broke my back twice, and I had some other injuries. I broke my shoulder three times. Eventually, a doctor said you better find something else to do! So I shipped horses for a while, and then they needed someone to start the races at the fairs, so I did the races there for two years."
He and trainer Doreen Gatie worked together and had some training success in the 1980s,
including with several horses owned by Chuck Pompey.
In 2006, Harrah's Chester opened, and Shoe was asked if he'd be interested in joining the track as their starter. "I accepted, and I've been there ever since!"
Over the years, Shoe missed being in the bike, but he embraced his new career with enthusiasm, and is happy to be starting the races at Harrah's. "I don't miss driving now as much because I start 14 races a day and I get to see a lot of great racing!" He remains humble and thankful for all the opportunities he's been given over the years. In fact, since 2006, he's only missed one day of work, and that was for surgery on his leg!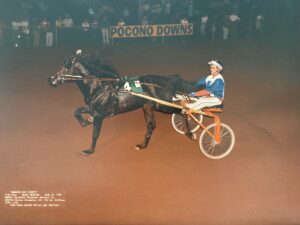 Shoe studies the races beforehand and is prepared with a strategy to start the field before they hit the track. "You start the races according to the caliber of horses you have. In other words, a NW1 will only be going 28MPH when you start them, and an Open Pacer, they go close to 35MPH. I just judge it by the horses, and when they come to the gate, I keep them all together, and make sure they don't get jammed up. Then the starting gate follows the horses around, watching carefully, making sure there's no interference during the race."
Working with the young horses on qualifying days, Shoe says it's interesting to watch, especially the two-year-olds behind the gate for the first time. "Some of them just come right up to the gate like they've done it their whole life, but others will be running sideways, or trying to figure out what that gate is and what they're supposed to do."
Throughout the busy racing season, which jumped from 50 days the first year to the current 150 racing days per season, Shoe looks forward to the excitement of each and every race, and working closely with starting gate driver Andy Kean.
Andy Kean is also a second-generation horseman, and inherited his love of horses from his dad. "My father trained horses in the '60s and '70s, and ran a pretty big stable with good horses, racing the Brandywine and Liberty Bell circuit, and Washington Park during the winter, and I raced out in Chicago," Andy said. "I went in the Navy in 1968, and when I got out in 1972, I started working for a veterinarian for a year, and claimed my first horse in the fall of that year, and went from there!"
Andy worked full-time in the business for 11 years, and among his excellent accomplishments include a win in the 3-year-old New York Sire Stakes Championship with a filly named O B Sammykins.
"I got out of the business in 1983," he described. "My son-in-law is a trainer by the name of Herman Heitmann, and in 2007, he said they were looking for a starting gate driver at the new racetrack in Chester, and I got Shoe's number and called him, and went up to Pocono Downs and drove the car a little bit after qualifiers. True story, I said 'Man, this is harder than it looks!' And I asked him if I did well enough to get a second chance, and he told me to come back the following week. And we've been working together ever since!"
Every race day and every race can be different, and the skill and calm demeanor of the driver is important. "There are times when you have a horse that's really aggressive and he's pushing the gate hard and it's like trying to drive a ski boat with a really big guy behind it!" he laughed. "The horse is pushing you all over the place, and you just have to pay attention. Other than that, it's important to be aware of where the horses are on the track, and watch the geese on the track! How I describe it is, I have a great job, and I have to pay attention for 6 minutes, 3 times an hour!"
Over the years, Andy has seen many races and hundreds of top horses, but there are three that stand out as his favorites. "Googoo Gaagaa, when he was a three-year-old, he was as impressive as I've ever seen on the track. The other two are Shartin N and Wiggle It Jiggleit. They were just…I can't find the right adjective to describe how fantastic they were racing. They were statuesque."
On select race days over the years, Harrah's offered a promotion giving fans a chance to ride along in the gate during a race, which both Shoe and Andy agree left a lasting impression. "You can't believe the expressions on their (the fans) faces when the horses come up to the gate! When the horses have their noses right on the gate, people are just amazed," Shoe said.
Andy agrees emphatically. "Fans getting that lucky ride in the starting gate classify it as a 'bucket list' event," he said. "They don't believe how close the horse's nose is on the driver's helmet in front of him, or how the drivers pop the earplugs, and maneuver during the race. Even regular fans of harness racing that witness the ride in the gate can't get enough of it!"
Both Shoe and Andy feel they are lucky to see great racing and witness harness racing history daily at Harrah's Philadelphia, and look forward to leading the races for many more years to come. To these veteran horsemen, every day is a new adventure, and they are enjoying the ride.