In today's day and age of horse racing, the involvement of young people is crucial to the survival of the sport. Our summer blog series, Generation Z (Post-Millennials) in Pennsylvania Horse Racing, will highlight a few of the young people who have dedicated their lives to the sport we love.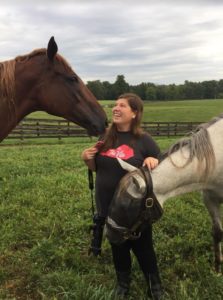 For nineteen-year-old Adrianna Lynch, regular trips to Parx Racing were a regularity growing up. With a mother who was a fan of the sport, horse racing has always been something that was consistent in Adrianna's life.
"I really got the bug when we went to Fair Hill to meet a horse my mom got to name. His name was Upswell," she recalled.
Adrianna is about to start her sophomore year at the University of Louisville, where she's working towards a degree in Business Administration for Equine Business. When asked when she realized being in racing was what she wanted to do with her life, she said that there wasn't really one specific moment. It felt like the natural path to take when she began to scout colleges. "It was kind of like 'Of course this is the thing I want to do for the rest of my life'," she said. This upcoming year, Adrianna is serving as co-president of University of Louisville's Racing and Riding Club. The club hosts an array of equine industry professionals as guest speakers and gives students the chance to network. They also plan trips to racetracks, farms, and equine facilities.
Throughout high school, Adrianna found she had a love for photography and began interning with The Blood-Horse in 2016. She's had the opportunity to shoot events like the Breeders' Cup and all three Triple Crown events, including Justify's Triple Crown in 2018. "One of my biggest accomplishments was having one of my photos of My Boy Jack be used by Airdrie Stud in a stallion ad for My Boy Jack's sire, Creative Cause," she recalled. Adrianna has taken to freelancing more recently, and also began building her hands on experience this summer at Vintage Thoroughbreds in Pottstown.
Adrianna says the most rewarding part of being is racing is getting to watch horses grow up and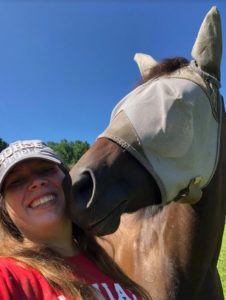 eventually make it to the racetrack. "I met a weanling filly at Northview Stallion Station named Courageous Lynne, and I followed her as she grew up and reached the racetrack. It made me so happy to watch her race after watching her grow and waiting for years, and I can't wait to do the same for the horses I work with now at Vintage Thoroughbreds. It's such a proud moment," she said.
When asked about her favorite aspect of the industry, Adrianna said she loves the breeding side. She loves everything that goes into turning a racehorse into a reality, from the ideas on paper, to the birth of the foal, and its life growing up to reach the track. "I love learning about pedigrees, different breeding theories, and how certain sires and broodmares influence the breed."
Tackling the difficult question of how to draw younger people to the sport, Adrianna said she usually takes the "throw it at the wall and see what sticks" approach. "I know for me personally, the opportunity to meet horses up close and personal was what drew me to the sport. The horses are our greatest asset. I think Horse Country is doing a great job with giving people the chance to visit farms and meet the horses."
 "Our sport needs unity," Adrianna said when speaking on improvements the industry could take. "A central governing body needs to be created in order to run and regulate the industry across the country. If a national racing commission were to be created in the United States, a lot of the problems our industry faces could possibly be remedied, from tracks being held accountable, to uniform, strong safety measures, and better promotion of the sport to the general public."
Adrianna said her good friend, Sophie Shore, is one of the people she looks up to in the industry. A University of Pennsylvania graduate, Sophie is best known as co-founder of Nexus Racing Club. She's also worked for Kentucky Derby winning trainer Graham Motion, Atlas Farm, and the New York Racing Association. She even purchased and bred a broodmare before she graduated college. "Sophie is one of the smartest people I know," Adrianna explained, "She's such a hard worker and has helped me through so much. She makes me want to strive to do better and work harder in this industry every day. I'm so thankful to call her a friend."
When asked where she sees herself in 5-10 years, Adrianna said she's still figuring out exactly where she will end up after college. "Honestly, I just can't wait for the day I can live and breathe this business without school getting in the way!"
Over in the harness racing world, seventeen-year-old Cody Shadel is hoping to continue a family legacy. Cody's father is Todd Shadel, co-owner of Vivid Photo with Roger Hammer, the 2005 Hambletonian winner. Todd is currently the leading driver and trainer on the Pennsylvania Fair Circuit and was the North American leading UDR driver in 2018 in the 300-499 starts category. Cody's grandfather Bruce, and Uncle Tony are also trainers and drivers at tracks and fairs in Pennsylvania.
Harness racing has always been a family affair for Cody. He was lucky enough to grow up with horses at his family farm in Dauphin County and he's been working with them since he was six-years-old. Cody is currently a junior in high school at Upper Dauphin and intends to keep pursuing a career in harness racing once he graduates. In 5-10 years he sees himself as a professional harness driver racing at Pennsylvania's fairs and pari-mutual harness racetracks. Cody explained there no thrill like taking a horse you have trained to a track and bring them across the finish line for the first time. 
"My favorite aspect of the sport is probably jogging horses and getting to develop yearlings into racehorses," Cody said. When asked his thoughts about how to draw young people into the sport, Cody believes in showing people that, if you put in the hard work and time, you can make a career out of racing. Both financially but also there is something about working with horses every day that is good for your soul. 
"My biggest accomplishment so far would probably be that I've bought three horses and all of them have made a profit," Cody explained. Cody is responsible for the daily care of his horses of these horse along with training them to race at Pennsylvania's 15 county fairs that host harness racing.  All of his horse are PA sired which means he befits by racing them in the Pennsylvania Sire Stakes at both the
pari-mutual tracks and the county fairs.  
Although Cody was only three-years-old when Vivid Photo won the Hambletonian, he understands the magnitude of winning such a race and he hopes to carry on the family legacy as best he can. "I look up to my father the most in this industry because he's very successful at what he does and he works hard." 
Whether in college or still in high school, the active involvement of young people like Adrianna and Cody ensures that the sport we know and love keeps moving in the right direction. Their contributions to thoroughbred and harness racing keeps the heart of our sport beating.
Stay tuned for next month's edition of Generation Z in Pennsylvania Horse Racing….