"Everything at Silver Springs Ranch drives our PA economy; our success creates a ripple effect that can benefit long-term so that 'all boats rise with the tide'. That is what we strive for." –Ken Churchill, owner
Silver Springs Ranch in Wyoming County PA., (formerly 5 R Ranch that launched Joseph Rosentel's racing success in 1960) is sending finely tuned and conditioned Standardbred racehorses into the 2019 spring season opening at Mohegan Sun Pocono Downs Raceway in Plains, PA.
Clearly, the property has made a comeback and is the premier place in NE PA to train, increase endurance, speed, overall performance and ultimately, ready high-performance, high-class, high-stakes Standardbred race horses for the winner's circle at Mohegan Sun Pocono Downs, Harrah's Philadelphia Racetrack, Yonkers Raceway, and others.
Assets were purchased, assembled and activated across six Pennsylvania counties to bring it all into being. That it all landed so elegantly in this hallowed hilltop valley in Wyoming County is … well, priceless.
The Churchill family invested millions across Pennsylvania. "We strive to make sure that everything we invest in, purchase or buy, from equipment to materials to personnel and relationships are PA made and PA based. That is the heart of our business model," said owner Ken Churchill.
Partnering in the endeavor, Ron Walsh said, "The business here is improving every year. This summer will probably be the best so far. Ten more horses came in today with another ten coming in next week. We are still accepting applications for horses coming in."
Revitalization began in 2016 when Charlie Corby of Charles H. Corby and Sons Excavating in Tunkhannock, PA (Wyoming County) began a massive renovation of the existing half-mile track including removing unsuitable track covering and then banking, leveling, floating, and using a road paver adding 8,000 tons of foundation material, and an additional 8,000 tons of top-coat footing. All said, it took over $250,000 in track footing material alone, hauled in over a period of six days via 47 tri-axle dump trucks from three Luzerne County suppliers: American Asphalt in Plains, Hunlock Creek Sand and Gravel, and New Port Aggregates of Nanticoke.
The result, an 80-foot-wide, half-mile all seasons, all-weather, regulation track now flows beautifully encircling the nine-acre, spring-fed pond. At night, solar lighting casts silver reflections on the water as soaring fountains aerate the sparkling water, but, most importantly—beyond the beauty—the track performs and delivers.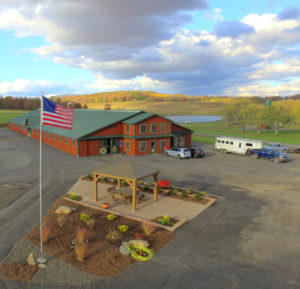 "We have the benefits of soft and good footing, not much concussion, so horses are not going to get sore and can go some good distances." –Eric Irving 
Attests Eric Irving, the barn manager, and a 3rd generation horseman, Standardbred horse owner, and trainer, "Understanding its value to training and conditioning horses, Silver Springs Ranch prioritized good footing. Ken spared no expense to get it right. Ken makes sure we have everything we need to maintain it and keep it right."
The farm utilizes two tractors, two track conditioners, a float, a water tanker, a grader, and an excavator (all purchased locally) to guarantee the correct footing is maintained year-round.
To secure horse and driver safety, Cleon Nolt and Glenn Martin of Evergreen Fence, Inc., Lebanon, PA (Lebanon County) were hired to install the 3,536 feet of wood track guide rails, 5,048 feet of perimeter split-rail fence enclosing the property and 7,960 feet of "no climb" fence around the nine 40' x 400' paddocks. Cleon said, "The installations were easy, the soil there is rich, and there were no rock ledges." All tallied, $150,000 worth of PA sourced fencing, materials and manpower were tapped.
Savvy trainers and owners understand the high-value amenities offered at Silver Springs Ranch. 
The massive (80' wide by 285' long) 64 stall barn delivers amenities designed for discerning professional horsemen. Doolittle Construction of Watsontown, PA (Northumberland County), provided the Pennsylvania harvested, fire-proofed, rough-cut lumber, and erected the building with the skill and craftsmanship for which the Amish are known and respected.
It's a veritable wish-list-fulfilled via spacious 12' x 12' stalls, 18 foot-wide walk-ways, four grand wash stalls, laundry facilities, horsemen's lounge, all the while, ten Big Ass Fans® draw clean mountain air in through six 18 foot-wide doors. The entire 22,800 square-feet horse floor areas are covered with 3/4 inch thick, interlocking, rubber matting purchased from HorseLoverz.com of Hazelton (Luzerne County). Pelleted bedding (from Kingdom Biofuels of Williamsport, Lycoming County) provides clean, dust free comfort.
At Silver Springs Ranch, gone are the days of wondering and worrying, "Ugh, what's happening at the barn when I'm not there?" 
A state-of-the-art monitored fire sniffer system (via Vector Securities, Wilkes-Barre, Luzerne County) polices the air quality 24/7/365. If any pre-cursor particulates are detected, the system automatically alerts 9-1-1.
A fleet of security cameras monitor the facility 24/7/365 with access via a cell phone app. The result is solid peace of mind enabling trainers to monitor activity at Silver Springs Ranch's barns, track, wheel houses, and grounds. A key coded steel gate by Keystone Fence (Lackawanna County) secures the entrance.
Additionally, the same spring water that is tested weekly (Kirby Health Center: a PA State Certified Laboratory), bulk harvested, sold, and tanked to destinations in Pennsylvania and New Jersey for human consumption is the same clean, zero-chemicals, zero-bacteria, and zero contaminates, pristinely pure water available by the bucket load to tenant trotters and pacers prepping for record-setting wins on US East Coast tracks (including the PA Sire Stakes and New Jersey Sire Stakes).
New in 2018 came the addition of a second Odyssey® Horse Exerciser—an eight-horse unit to supplement 2017's "The Wheel House" (5 horse Odyssey® Horse Exerciser unit). "Now, if weather or something made working on the track not possible, over the course of a day, every horse could be exercised and worked," Churchill said.
"It's an excellent technology and provides a choice out of several, computerized, pre-determined bi-directional, work-out training sessions," Walsh said.
When asked, "Why Pennsylvania?" Churchill reminisced, "I've come full-circle. I was here as a child . . . grew up in Media, Pennsylvania. Originally, I was interested in the water source; then I fell in love with the property."
When asked about plans for the future, Churchill replied, "We're not done yet! We're looking into a swimming pool, spa, and are open to the possibility of a second barn and more paddocks. We'll see."
Success in the Pennsylvania racehorse industry is important to our commonwealth's economy and creates symbiotic—mutually beneficial—relationships with bankable . . . enrichment, growth, and prosperity across numerous Pennsylvania businesses and industries. Success breeds success: businesses flourish, employees flourish, employees' families thrive, and ultimately—our entire state benefits from the horseracing industry.