"Harnessmen are the most innovative and inventive people on the planet." –Janet Terhune, Director at Harness Racing Hall of Fame
Harness racing has a storied past. Since the first recordings of chariot races (8th century B.C.) to present day, racing vehicles have adapted the latest developments in materials and design. Across the centuries, the end game has remained to elevate strength and safety towards increased performance. However as any trainer past or present will attest, "A comfortable horse is a faster horse."
Today, in the twenty-first century, the evolution of the race bike is keeping pace with technological developments and designing-in real comfort and safety for both horse and driver. Modern "harness racing" bikes have a bit of extraterrestrial appeal and certainly surpass the Roman chariots of antiquities in both profile and performance. The 20th & 21st century's top contenders are Nitrous and UFO Racing.
History of the Race Bike: Nitrous
Failing Upwards
"We can rebuild him. We have the technology. We can make him better than he was. Better, stronger, faster."—Oscar Goldman, Six Million Dollar Man
Setting up Twister Bi to Win a Million
Twister Bi is considered one of the elite horses of this generation. At Yonkers, Trainer Jerry Riordan said, "He's been racing so well all over Europe. He's just been leaving people breathless the races he's gone. I just wanted to make sure, if anything I could do, to do everything I could do to make him be today the horse he is in Europe, so everybody here could see how good he really is."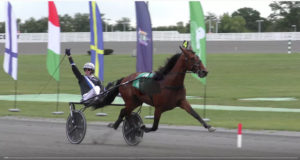 One component at Riordan's discretion was the bike. He requested Nitrous.
In a matter of five days, Kenny Wagner delivered Nitrous to Riordan for the Yonkers race.
A few days later, Twister Bi, driver Christoffer Eriksson, and Nitrous crossed the finish line with a seven length lead to win the 2017 $1,000,000 International Trot.
Here's the performance:
Video courtesy USTA
"Nitrous set a world record at Yonkers. It's the fastest a horse ever went around that track. When you watch the playback of Twister Bi, the horse's stride goes out as far as he can reach."—Kenny Wagner creator of the Nitrous
Failures Launch Nitrous
The Nitrous bike did not evolve from a designer's idealistic musings. The Nitrous bike evolved from crashes, wrecks, broken and bent frames, failed shafts, bowed axles, broken welds, and from racetrack grit, grime, and ice invading wheel seals.
Failures all.
Lessons learned.
Duly noted.
Engineered out by design.

Breakage Bourne
When Pocono opened on July 15th 1965, Ken Wagner, Sr. began repairing race bikes. Since then, across half a century, with son Kenny Wagner there for the ride, broken bikes of all brands, makes, and models were dragged to Ken's Harness Shop. They needed to be restored to service. Bikes were repaired, revived, and returned to race.
Those many bike breakages created the perfect engineering platform from which Nitrous was created and launched.
Understanding Weakness Facilitates Strength
Nitrous creator, Kenny Wagner is a licensed owner, trainer, and driver with years of in-the-game racing experience.  Join that with years working in Ken's Harness Shop on the "failed" end of hundreds of race bikes. Then, factor in analysis of those bikes failing in real-world-on-the-track use.
The upshot?
A mechanical engineer's designing environment dream—authentic, in-the-field, stress-test fails that cannot be replicated in any research test lab. At Pocono, and all tracks, it came with the added perk of a documented live recording of the fail . . . courtesy of the race playback . . . thank you very much!
All said, understanding bike stressors and weaknesses elevated the Nitrous buildout. The Nitrous was created, designed, and built . . . NOT to fail.
Design • Straight • Weight
"Strength designed-in makes it so solid, you really have to mess up in order to torque it out of line."—Kenny Wagner commenting on Nitrous
"There's many reasons why the Nitrous bike does a little better," says Wagner. "The Nitrous has weight where it needs it. It has strength. And, it has lightness in the right places."
"When you redesign a whole bike, it's a big undertaking.  It goes to University of Dayton, Ohio and gets tested. With the final design of Nitrous, we trimmed four inches off the width which gives a lot of maneuverability going down the finish. I made the stirrups wider and made stainless steel hitches. Any of the bikes that we make have to have the stainless hitches.  The whole bike is smaller and the horse is straighter, when you push the shafts, it's even much straighter, but not rubbing the horses."
Designed in Nitrous:
Consistency—the horse gets a good race every time
Designed to produce a good and enjoyable experience for the horse
Neutral sound
No rubbing
Designed with correct spacing to eliminate horse's hind legs bumping the bike. Space both allows and encourages horses to reach forward/full range
Fabricated to bend not break
Straight tracking
"A straighter horse is a faster horse."–Every horseman
Designing in the correct ratio of strength to lightness to weight matters. It's a complicated formulation. Says Kenny, "You can't beef up the frame because they lose the light weight, but when you go too light in the frame in the back, then wheels tilt. When a wheel is tilted, it drags. Crooked wheels slow a bike down."
"Some of the other bikes are so light that they'll kick out going around a turn. That's from the strength of the bike, and when they use them awhile, they bend in the back as they use them. You'll see rub spots on the frame. Theirs can't sustain stabilization. So they go to a heavier wheel that stays put. They squawk about it being lighter, but overall [factoring in the weight of the wheel], theirs is heavier than mine," says Kenny.
"With Nitrous, when horses are similar in talent, Nitrous will win because Nitrous runs straight," says Kenny. "The bike gets underneath a horse creating lift and creating aerodynamics. It takes all the weight off the front.  The wind is going up over the back, but too high to hit the driver. Aerodynamics are what's most important to achieve."
Driver Fans of Nitrous
Ake Svenstadt—won the Kentucky Futurity with Six Pack in the time of 1: 49.1 (1.07.9), the fastest a three-year-old has ever run
Anthony Napolitano—2491 career win races with $2 million in purses the past three years
Dan Dube– $123,125,108 in winnings
Eric Carlson—over 3,000 wins
Jimmy Taggart—5,000 wins
Louis Philippe Roy—$4,845,891 in winnings
Records • Rock-solid
With the Nitrous, Ronnie Pierce set an all-time record at Pocono with the aged gelding Big Town Hero. "He is the record-keeper in a record that might never get beaten!" says Kenny. "In the Nitrous, Big Town Hero ran 19.3 to ¾ finished in 47.3 at Beagle, Mohegan Sun. That night it was 'Call the fire department!' That bike was on fire!"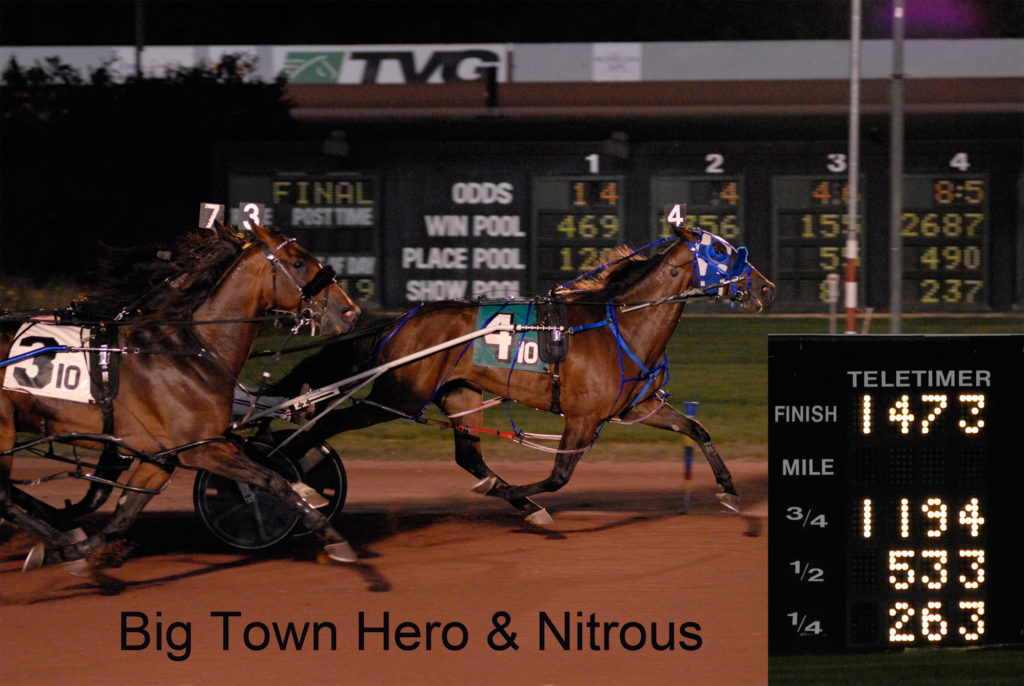 The Nitrous is made in a specified thickness with made in USA Chromoly® steel. It is heat treated to create metal memory. The frame remains in a heated room that elevates temperature and heats it until it is cherry red. The process keeps the molecules of the steel in a fixed position creating strength that bends instead of breaking.
Nitrous without wheels: $2600.00
Nitrous with wheels $3500.00
Distributed by Ken's Harness Shop: 570-840-9335
Follow Nitrous New on Facebook: Ken's Sulky at Pocono

~~~~~~~~~~~~~~~
History of the Race Bike: UFO Racing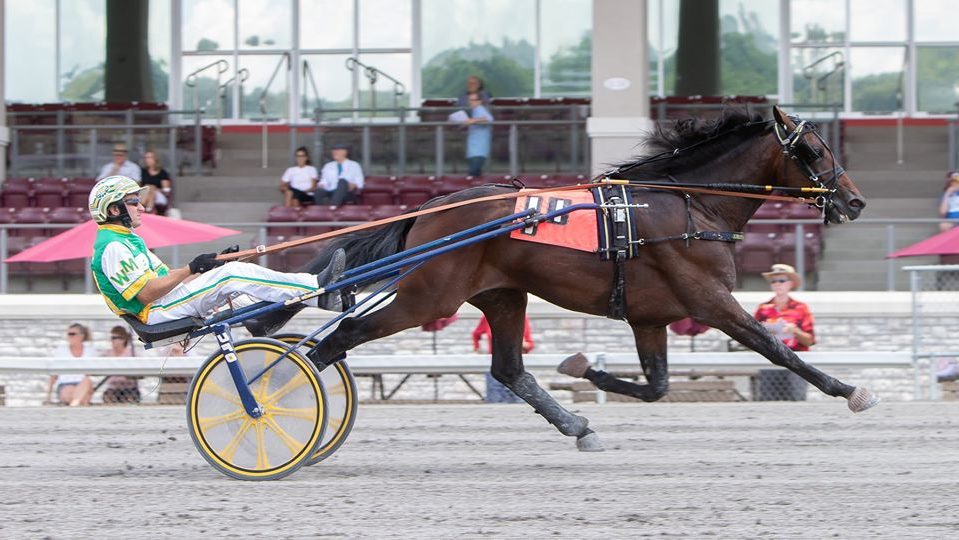 At UFO Racing, the UFO harness race bike (or sulky), with its streamlined aerodynamics, military metals, and high-grade, elite, stainless steel components is leading the pack down the homestretch. It has set 43 world records (as of March 2020).
Invested in the Future of Racing
Company owner Tim­­­ Betts, a pharmacist by trade, has deep roots in horse racing. An owner and breeder of Standardbred horses himself, both of Betts' grandfathers trained and raced Standardbreds. Betts' father, Dr Barry Betts,  was a veterinarian at the Meadows racetrack. Scott Betts, Tim's brother, trains, races, and is involved in the UFO race bike company.
"I had done racehorse business with the two guys who owned UFO before me. They were looking to sell it. I thought, 'There's a market, since there are only two major bike companies and a couple of small ones.' It was a good deal. And, at the time, it was a much better option to put in my investment portfolio," recalls UFO company owner Tim Betts.
Sales consultant Rick Beinhauer, one of the previous owners, stayed with the company.
Ongoing Technological Advancements
"Since I bought the company, we're always testing and tweaking," assures Betts. "Ya know, you come up with an idea, or a trainer or driver comes up with a new design. It looks good. Just because an idea looks great on paper doesn't always mean that it performs well when you attach it to a horse."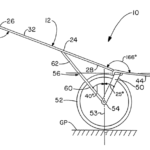 "So you build it. Test it. Train horses in it. Test it in all conditions. Then, we get some drivers' opinions." says Betts. "It's important to go through all the steps to guarantee a good product in the end."
Quality + Strength Ensures Speed, Safety & Wins 
The UFO bike implements a cambered arch design and quick-change driver adjust-ability. These elements quickly move the driver to a better position—pulling ahead of the pack.
"We utilize ProMoly® steel, high-performance, safety tubing," says Betts. "It's the elite, high-end Chromoly of the steel industry and made in the USA. It leads in strength and exceeds all the specs for that class of tubing. It provides superior fabrication. It is costly (compared to Chinese steel), which is why it bends and doesn't break. That's the very reason the UFO is a worth-while investment."
Driver Feedback Impacts Designs
In 2020, the latest model addresses a couple of years of feedback from various drivers of what they liked and didn't.
"[The new design] allows much more flexibility in how the bike sets up. Many drivers like the way it tracks and feels when it's hitched to a horse. Normally, when horses are traveling, the average bike doesn't track perfectly behind the horse. When the bike doesn't track perfectly, it creates friction. There's a wasted energy expenditure from the horse, and the horse gets tired faster," says Betts.
Horse Fans of the UFO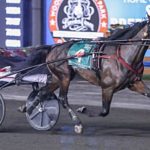 Amigo Volo
Amigo Volo winner of the Breeder's Crown. Amigo Volo with driver Dexter Dunn with the UFO was never challenged in a wire-to-wire mile of 1:54.3. –Photo courtesy USTA/Mark Hall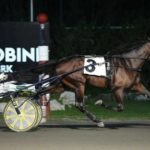 Green Manalishi S
Green Manalishi S with driver Tim Tetrick in the UFO bike (trainer Marcus Melander). –Photo courtesy USTA/Mark Hall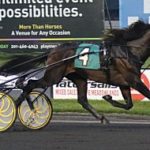 Greenshoe
Greenshoe boasts a record of 1:50.1 and $843,223 in earnings with trainer Marcus Melander. Successfully racing in the UFO. –Photo courtesy Lisa Photo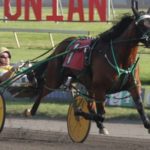 Shartin-N (fastest female pacer in the history of harness racing)
Shartin N and driver Tim Tetrick in UFO setting the world record with 1:46.4 mile. –Photo courtesy Lisa Photo
Driver & Trainer Fans of the UFO:
Aaron Merriman
Brian Sears
Dexter Dunn–Driver of the Year using UFO exclusively
Marcus Melander–Trainer of the Year using UFO exclusively
Tim Tetrick
Races Won by the UFO (2019)
7 Breeders Crowns at Woodbine Mohawk
Canadian Trot and Derby
Kentucky Futurity
Maple Leaf Trot
Stanley Dancer
The Blue Grass Trot
Dragster Engineering & Build
The solution to tracking and resistance at UFO Bikes "lies in the design of the bike, the geometry of the bike, and using materials that have the right amount of flex to them," says Betts.
"The shop and the engineer behind the UFO that we work with also builds and designs high-speed drag cars. Harness racing bikes is their side business. The same dedication to quality design and the final build that goes into their half-million-dollar race car builds goes into our $3100.00 UFO race bikes," shares Betts.
"We use the finest components. Sulky racing is an industry where inches matter. If a UFO helps a horse gain an additional one foot over the life of a bike that's huge," confides Betts.
Harmony between Horse and Bike
As a horseman in tune with horse welfare, Betts has also added a correction into the latest model. "Where the shafts attach to the horse, the old model used to rub the horse a bit. Now, that is corrected to make sure the horse is comfortable throughout the race," says Betts.
"A well-designed, well-crafted bike creates the opportunity
for harmony between horse and driver."—Tim Betts, owner UFO Racing, LLC
~~~~~~~~~~~~~~~
UFO Pricing: 
$3100 without wheels
$4250 with wheels
UFO Perks:
Available in 1000 color combinations limited only by imagination.
Custom arrangements for delivery
Custom wheels
Dupont® powder-coated
Follow UFO:
UFO Racing, LLC @ Facebook: UFORacing