When she was little, Danielle Gibson's mom had racehorses, and she would go with her to the track. She loved the horses and horse racing, and her dream was that someday she would have a job at a racetrack. That little girl is now grown up and living her dream, and the multi-talented Dani is working for the Pennsylvania Thoroughbred Horsemen's Association at Parx Racetrack, sharing her knowledge and love of horse racing.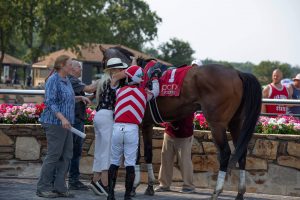 "Back in the Garden State Park days, Atlantic City Racecourse, and Philadelphia Park (now Parx), my mom owned horses, and I absolutely fell in love with horse racing," she said. She and her mom, Mary Gibson, then took a break from horse racing and entered the show horse world, showing very high-level horses. "Showing Quarter Horses was my whole life up until I graduated high school." Dani decided to go to college instead of following a career in the show horse world. "I was living on the west coast, and my mom and I, to stay in touch, would meet at different racetracks. Wise Dan and California Chrome were two horses I really fell in love with, and I was watching TVG all the time, and I thought 'that is just my absolute dream to work at a racetrack'!"
Finding herself in high pressure sales jobs in corporate settings, Dani would share all about her favorite racehorses with her co-workers, and soon they began following along and cheering for them. Home and the east coast soon beckoned, so she moved back home to be near her mom. "She had a little horse farm and my step-dad had just passed away," she explained, "so I wanted to come back to support her. It was our dream to get a
racehorse together, so we got a horse with Phil Aristone at Parx. I was in the midst of switching careers, and a job opened up with the PTHA (Pennsylvania Thoroughbred Horsemen's Association), with Turning For Home, the racehorse retirement program. They said they looked at a lot of candidates, but I had a good mix of horse knowledge, racetrack knowledge and job skills, like computer skills, so I was the best fit." This opened the door for her to the perfect job in the sport she loves.
Dani wanted to add to her job duties, and took notice of where she could be an added asset. "They didn't have anyone at the PTHA and Parx who was doing any promoting of the racetrack, like videos of profiles, and following jockeys and trainers and doing interviews after a race. So I asked my boss, Mr. Ballezzi, (Michael Ballezzi, Executive Director of the PTHA), if I could do profiles, and he agreed, so we did one at a time." She laughs, remembering her first few. "They were just terrible! But I just progressively got better, and I got the trainers and owners and jockeys to trust me, to put them on camera."
When the pandemic hit, the owners weren't able to come back to see their horses at Parx, so Dani doubled up on the videos, and she did pictures as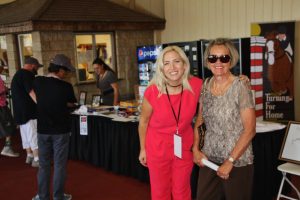 well, so they would never miss one of their horse's races.
Long-time announcer Keith Jones retired in December of 2020, and as a long-time fan of him, Dani looks back at the legendary announcer's career at Parx fondly. "My mom and I have horses with trainer Kate DeMasi, and I remember one of his iconic race calls with one of our horses. He said 'Sensational Zip is going to visit Romp City', and it was one of his last weeks there, so I will never forget that."
The retirement of Keith Jones left an opening on the show "Let's Go Racing" alongside award-winning sports writer and commentator Dick Jerardi, and Dani was soon tapped to join the informative show. "They said one of the reasons they picked me was how plugged in I am at Parx. I'm on the backside every day, our offices are right there, so I'm so in tune on what's going on. I hear everything that's going on, with the agents, the owners, the trainers, and I'm already watching all the races at our track, and on the weekends everywhere. They knew I had a good solid knowledge." She had watched the show faithfully, and when it was time for her to take over, she was a bit apprehensive, but Dick's advice soon soothed her nerves. "He told me 'we're going to get to a point where we're just having a conversation'. And we're at that point now. We've really hit our stride now, and I feel like I'm working with my mentor and we're just sitting and talking about horse racing."
Doing interviews are a fun part of her job, and there have been countless ones that stand out in her mind as being a particular favorite. "I did interview (National Museum of Racing and Hall of Fame jockey) Mike Smith, and he was in a rush to get back to the jockey's room, but he was really gracious. I was so excited to interview Jerry Hollendorfer (U.S. Racing Hall of Fame trainer)! I'm such a fan of his! Luis Saez was great. And Florent Geroux, who just won our Smarty Jones Stakes, had remembered me from when he was here with Monomoy Girl (American Champion mare), so it's cool that people are starting to put me with Parx now."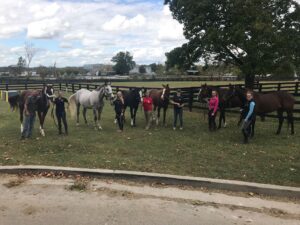 Dani is extremely proud of the work that the organization Turning For Home does with retired racehorses. "Turning For Home is literally the model program in the country, and I've learned so much working with Danielle Montgomery (Program Administrator). She puts her heart and soul into these horses. We never turn a horse away. If they can't go on and be show horses, then we find creative homes for them, so they have a safe and happy home. We also will take a horse back, in the event something doesn't work out with an adopted horse, such as a change of life in the person, and we will take them back and rehome them." Trainers can also look in and see how well their horse is doing off the track, and how they have adjusted to their new life. "They care so much about what happens to their horses after they are done racing, and unfortunately racing gets such a bad reputation that it's only for the money. These trainers and owners get very excited to keep up with the horse's progress." The trainer or owner receives an update six months after their horse is adopted, along with their retirement papers and a welcome packet, and updates periodically.
With Pennsylvania Derby Day approaching (September 25th), the excitement and buzz is already out about who will be racing in the prestigious race at Parx. Dani can't wait for the huge racing day and for Hot Rod Charlie (3rd, Kentucky Derby; 2nd, Belmont Stakes). "It's always exciting to see horses that were in the Kentucky Derby run at our track, and I know Hot Rod Charlie had all that bad luck on Haskell Day at Monmouth Park. I'm really excited to see his pony Lava Man too! I'm a big fan of him," she adds enthusiastically, adding that she's looking forward to speaking with trainer Doug O'Neill, who is always a great interview and always takes the time for an interview when he's at Parx.
Dani is enthusiastic about sharing how much fun a day at the track is, especially with new fans. "To me, it's just the most exciting thing! You don't have to be a genius handicapper to come have a fun day at Parx. Come out and just pick a horse's name! Pick colors! Little kids get excited, too, when they see the big tractors. Something is going to spark and you'll fall in love with horse racing, just like I did."
Parx Racing
Facebook-Let's Go Racing Parx
Turning For Home
Facebook-Turning For Home
Danielle Gibson
Twitter-@DanielleGibso15