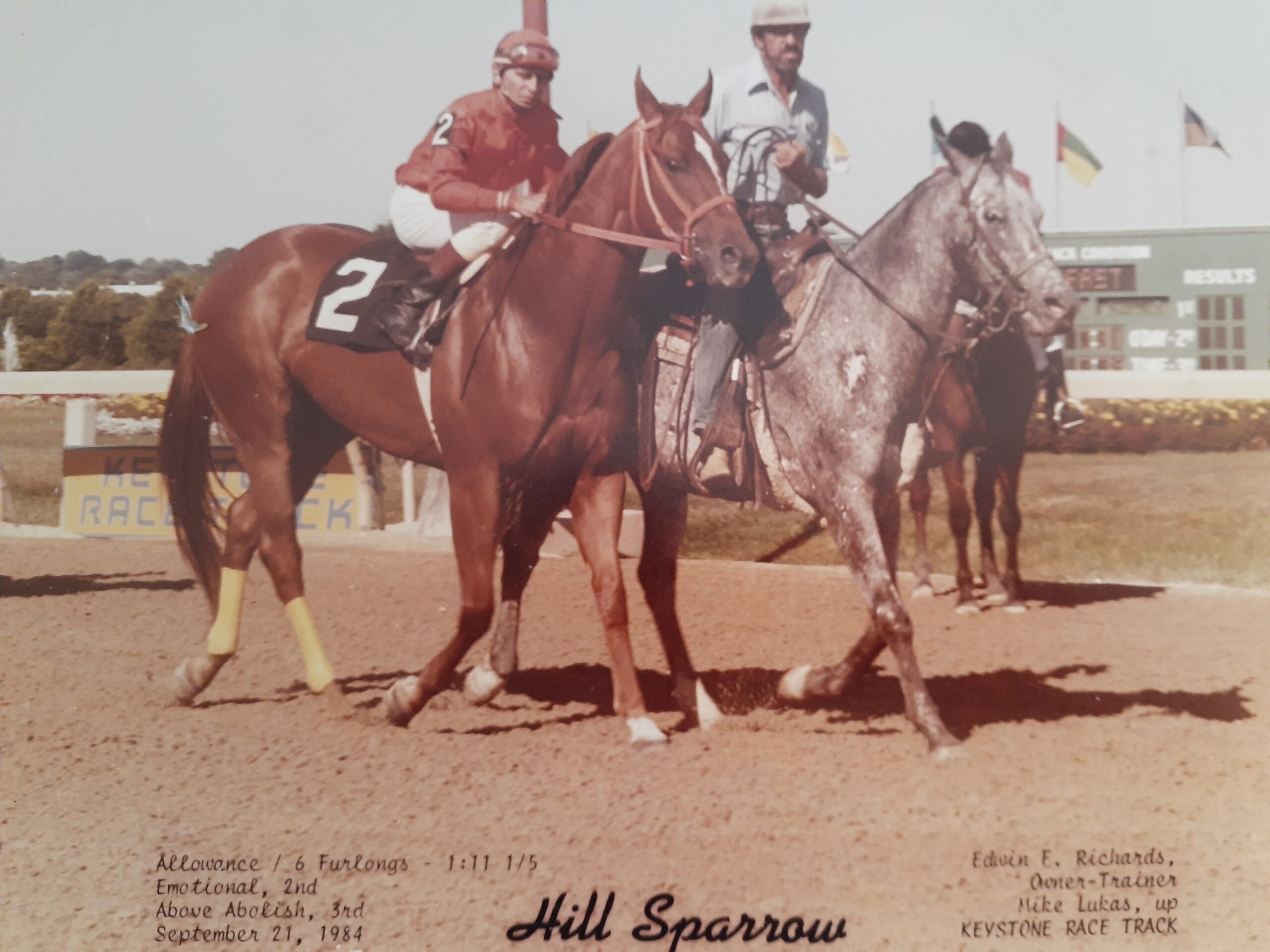 Anyone in the horse racing business remembers that one horse that gave them chills and endless memorable moments, both on and off the track. For Kathy Owen, that horse was multiple stakes winner Hill Sparrow, a powerhouse mare that raced in the 1980s. With 16 wins, 6 seconds, and 2 thirds from 26 starts, she retired in 1986 with $275,099 in earnings for trainer Edwin Richards.  Kathy, Hill Sparrow's former groom, never forgot the mare she described as "taking control of Philadelphia Park", now known as Parx.
Hill Sparrow was the first live foal of dam Fox Sparrow, a mare that was unlucky in any of her previous breedings and had yet to deliver a healthy foal. She was dropped off at trainer Ed Richards' farm, and Hill Sparrow was born.  Ed had no idea that she was to become the racehorse she would become.  When Kathy started tending to her, they had an instant connection, describing it like they were able to speak to each other. She was also in awe of her performance on the track. "It was an amazing journey to watch," she remembered. "I used to go to the track every day and watch her work.  It was like watching other horses play and gallop, she did it so effortlessly."  She broke her maiden on November 18, 1983, at The Meadowlands, and raced from there to Garden State Park and Keystone Park, and later when it became Philadelphia Park.
When it came to her training schedule, Kathy said Hill Sparrow had it down to a science, doing it her own unique way. "She'd go up to the track and walk and stand around and watch the other horses train, and then she'd take off and then trot. She knew exactly where she was going on the track the whole time. She was so classy and so smart and had so much ability."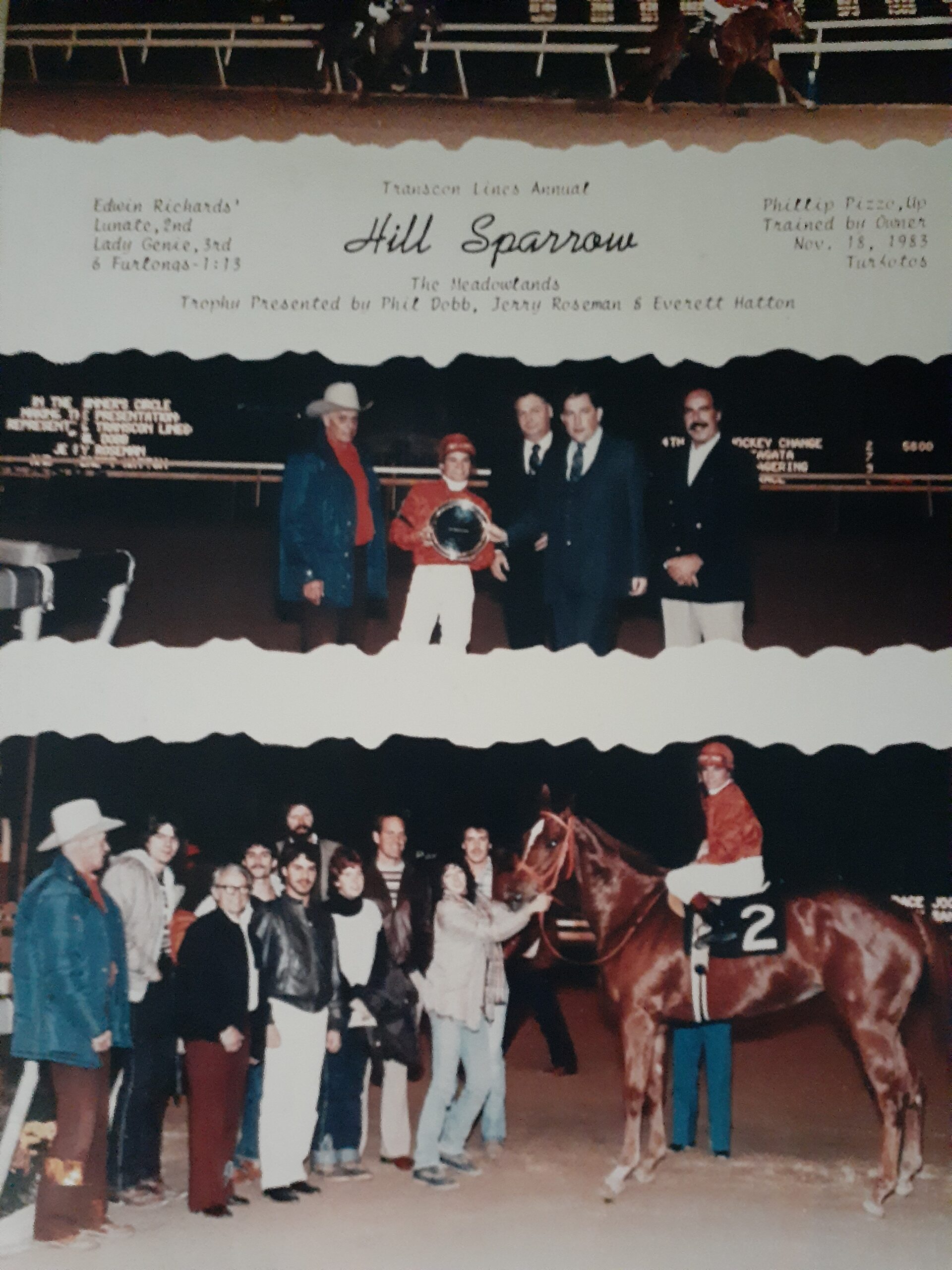 The mare had a strong bond with her regular jockey, Mike Lukas, who has high praise for her years after his retirement from riding. "It's been a long time since someone asked me about Hill Sparrow" he said with a laugh, adding that she was the best horse he ever rode, a fact he stated in an interview back in 1990 and reiterated strongly at the present time.  "She did everything I asked her.  When she got headed by another horse, she gave a second try and a third try. She didn't like to give up," he added emphatically.
As for how he ended up with the ride, he explained that he had been an apprentice at Tom Arkinson's farm, who was the breeder of both Hill Sparrow and her dam, Fox Sparrow, but rode a few others for him.  When they parted ways, he went to Ed Richards, who suggested he ride Hill Sparrow one morning, and the rest is history. From track to track, win after win, Mike and Hill Sparrow were on the ride of a lifetime, and she did well at every single track, not favoring one over the other. "She carried her track with her. Not too many horses I could say do that. She just liked the challenge of racing", Mike remembered.
Looking back at the horse he calls his "number one favorite", Mike commented, "Horses make riders. Riders do not make horses. There's not a day in my life that I thought I made that horse. The horse actually made me".
Hill Sparrow had a lot of loyal fans at Philadelphia Park during her career, as she was voted the Horse of the Year in a racetrack fan contest. The winning horse was to have a race in their honor, but the track changed hands soon after, and sadly, she never had the race.
 When Hill Sparrow retired from racing she returned to the Richards farm. After Ed Richards passed away, she was sold to an owner in Florida and delivered two foals who had racing careers of their own. She passed away in the mid-1990s after complications during foaling.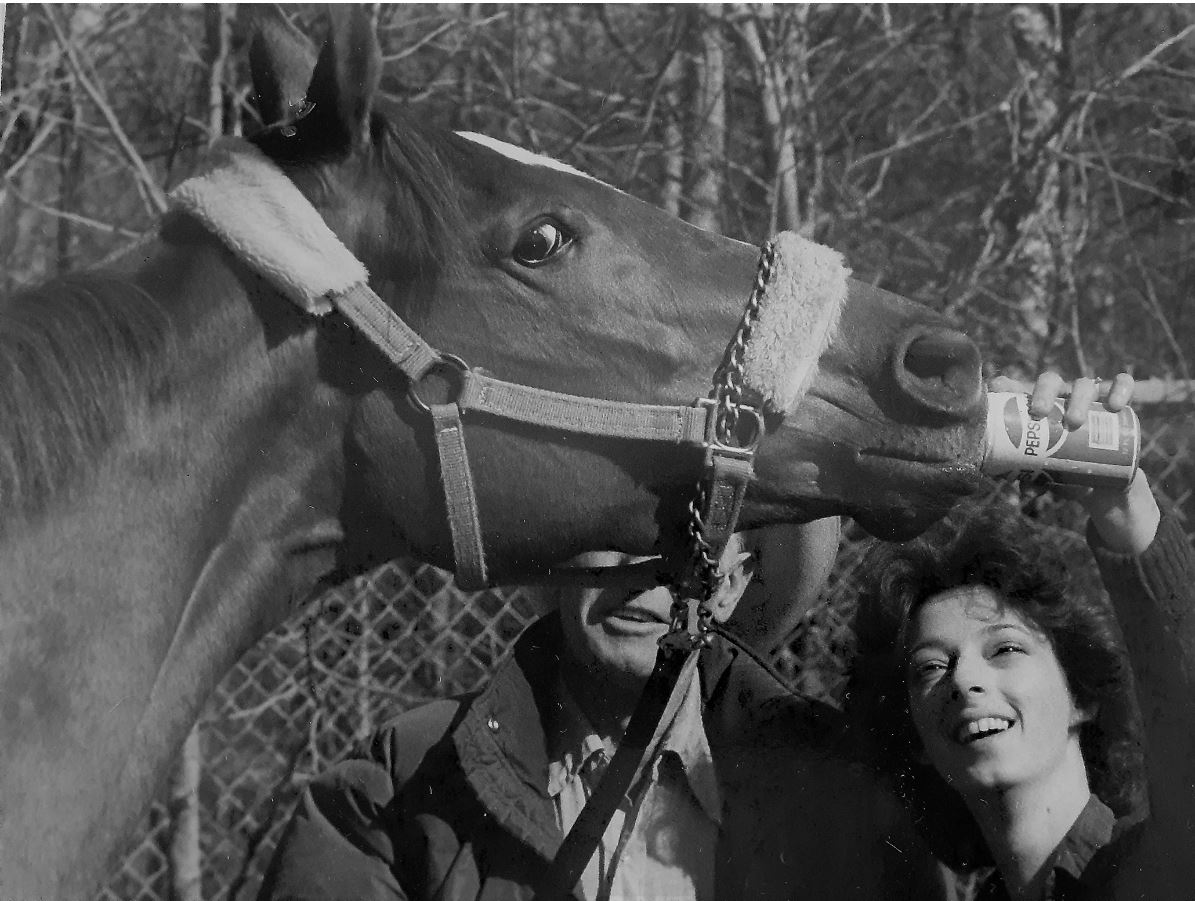 Watching the Preakness Stakes this year and the gutsy win by Swiss Skydiver, Kathy was reminded of the running style of Hill Sparrow, especially the "never give up" attitude and the extra gear kicking in. Her last race at Garden State Park was the Budweiser Breeders Cup, and she refused to lose, digging in and winning over the favorite. "You could hear the comments from the stands, saying 'what heart!'" she said. That heart and that passion for winning and never giving up have made Hill Sparrow the one horse that former groom Kathy Owen and retired jockey Mike Lukas memories that will last a lifetime.