A huge cheering section stretching from Ontario to The Meadows will be watching the racing at The Meadowlands on Saturday to see their favorite, the outstanding trotter Jujubee, in the Breeders Crown final.
Trainer Greg Wright Jr., who grew up on a horse farm in Ontario and has been racing at The Meadows since 2005, is beyond excited about the Breeders Crown, and the ride that his colt has taken him on since he qualified in March. "He's been amazing!" he said enthusiastically. "He beat that good horse in a series (Terry Altmeyer Memorial Trot) at The Meadows, Whisky Blu, and he just kept getting better and better. Then that first Sire Stakes came along, and he showed some brilliant speed, and since then, well, we thought, 'wow! We really do have something!'"
The Kentucky Futurity on October 11th made everyone's eyes pop, as the colt trotted to a 5 1/4 length win in 1:49.3, but he wasn't eligible for that race, and was a $75,000 supplemental entry. "All summer, we weren't even thinking about that race. Our main focus was the final of the PA Sire Stakes (Downs at Mohegan Sun Pocono, September 5th); and when he won that, I thought that possibly would be his last start for the year. But then I got talking to Jon (Erdner, owner of Jujubee), and asked him what he thought. And after how easily he won that final, we thought we might as well give him a shot. We took him to Hoosier, and he handled them easily, and then Kentucky, and he was amazing there."
He suffered a loss by a neck to Cuatro De Julio in the Breeders Crown eliminations on October 16th, but Greg is confident in his colt. "He's such a strong horse, and he seemed to come out of the race okay. The track was so deep that day. He was turned out the next day, on Sunday, so we have a few days to work with him."
Actually being in a Breeders Crown race has Greg feeling excitement like he can't even describe. "Sitting there watching them scoring down in the post parade in the eliminations, and going off at 1/5 in the Breeders Crown, was like, crazy!" he laughed.
Greg and Jujubee have a strong bond between them, and it shows in their interaction. "I know what he likes and doesn't like. He plays with me, he's a big playful stud, and he throws me around a little bit. But he's like a big puppy dog, really. He trusts me, he knows I'm looking out for him, and want the best for him."
In driver Andrew McCarthy, Greg has the utmost confidence. "He knows the horse. He's an easy horse to drive-he can leave, he can come off. I don't give Andrew any instructions. He knows him well."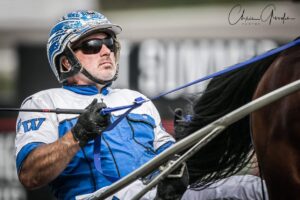 Andrew has high praise for the trotter as well. "He's an absolutely perfect horse to drive," he said enthusiastically. "I'm extremely lucky to have the privilege."
Drawing post 6 for the final, Jujubee is the 2/1 morning line favorite with Cuatro De Julio at 9/2 from post 4. "I'm happy with the draw," Greg said. "It could have been a lot worse! We have our work cut out for us. It's going to be an exciting race. Jujubee hasn't lost two races in a row all year, and I'm sure he will be trying his best to keep it that way." Driver Andrew McCarthy is primed and ready, and looking forward to the action. "I'm very happy with the post. It will give me a good chance to play the speed of the race."
This weekend, the Breeders Crown will have fans watching from all over the world, but Greg's friends and family from Ontario, and fellow horsemen and family back home at The Meadows will be watching one particular race; the 3 Year Old Colt and Gelding Trot. "He's got a big following!" Greg said. "It's so nice to see. I'm enjoying every moment."
Cover photo by Chris Gooden