Enthusiasm and passion for harness racing emanate from driver Hunter Myers as soon as he drives onto a racetrack. The 24-year-old driving sensation recently celebrated a career mark of 1000 wins while driving at both the Meadows and Northfield Park, and is continuing the momentum in 2022.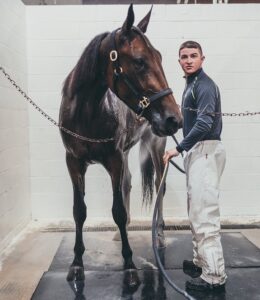 The young driver comes from a family of horsemen, and it was inevitable that he would find his way to the track. "My dad's grandpa did it, my dad's in it, and now here I am!" he exclaimed. "My dad's side of the family has been in it, and we found out about seven years ago that my mom's second cousin races horses, and we never knew about it. We found out when we were at a fair one day and we were talking to him."
Racing at the county fairs was how Hunter got his start. "It was always fun. When I started driving, I just loved driving at all the different tracks, and just being out there and racing. I just loved it." His first win was in 2014 with Uptown Dreamer at the Jackson County Fair in Wellston, Ohio. He was still in high school and already on his way to a bright career in harness racing.
Hunter never forgot his start, and still enjoys the fair atmosphere and supports the racing. "To this day, I try to go to as many fairs as I can. The fans are great. It's very family-involved, and it's a regular hometown-type atmosphere."
His career is red-hot, and he's thrilled to be able to race at both Northfield Park and the Meadows on a weekly basis. "It's so exciting to be able to be at two different tracks, and have the nice horses I'm driving, and just being out there and driving." And if the journey he's on takes him to tracks further in Pennsylvania and on the Grand Curcuit? "Right now, I'm just going with the flow, and if the opportunity comes, then I'd be more than happy to take that step to go and drive at different tracks," he said.
The busy and focused driver is always in motion. His schedule includes much more than just heading to the track for post time. "I'm checking entries to see what I have in. If there's a horse I'm driving that I don't know, I'll go and watch a replay, or check (U. S. Trotting Association) to see how it raced the week before or previous times.
Then there are days I go over to the Meadows to train with Mike Wilder's stable. Then back home to get ready to drive."
Hunter is thrilled to have achieved the career milestone of 1000 wins back in December of 2021, but remains humble. "It's a great
accomplishment, and I think back to my first win at the fair, and then to where I am now. It's great to celebrate it, but this is your job. You have to kind of come back and drive the next race. The older guys I know from the fairs always told me, 'remember where you came from', and I take that to heart. They always gave me advice, and I take it all in."
This season, there are several horses that Hunter is most excited to drive, and Adorabella (Pet Rock – Bella Marta) is at the top of his list. "She's an open pacer trained by Sam Schillaci at Northfield, and with the bad weather, he hasn't been able to get her trained up. But with the summer coming, I think she's going to be really good this year. I'm hoping for nice things with her. I have a couple good horses for Paul Corey at the Meadows. Game of Shadows (Shadow Play – Cheyenne Ava) is really nice. She's another horse that gives 100% all the time."
Heading to Florida is next on his agenda, as he heads down to Spring Garden Ranch to work with some three-year-olds. "I'm looking forward to qualifying some horses and enjoying some sunshine," he laughed. "I love breaking babies! If I could, I'd have my own barn, and have people send me about eight horses, and when they're broke, send me eight more! I just love them. You never know what's going to happen. You're always on your toes and there so much adrenaline, but I love watching them grow."
For now, Hunter is staying focused on driving Tuesday at Northfield; Wednesday at the Meadows during the day and Northfield at night; Thursday and Friday at the Meadows; and Saturday and Sunday at Northfield. Currently 2nd among all drivers in North America, trailing Aaron Merriman*, he remains positive for a stellar season. "I'm here to do the best I can. That's the bottom line."
Cover photo by Chris Gooden