Who knew that a small business located in the Philadelphia suburbs manufactures the country's best-selling training carts for the harness racing industry?
Tucked into a residential area of Penndell, PA, Pennsbury Enterprises, a family owned and operated business, makes aluminum training carts that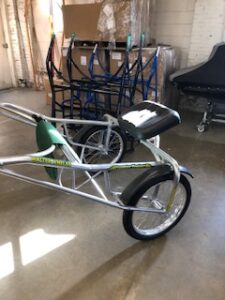 are sold worldwide. For everyday use, Standardbred trainers use training carts when exercising their horses which are different from the race bikes used in races. Training carts are heavier and include working suspensions which make for a more comfortable ride. Started in 1977 during the Liberty Bell era of racing in Pennsylvania, Pennsbury focused on the needs of the harness racing community and specialized in training carts.
Allen Eggert, the current owner, bought the company in 1992 and designed the best-selling premier trainer cart in 1999. Built from scratch, the cart is made of welded polished aluminum with replaceable shafts, and includes standard motorcycle wheels, which are really moped tires, fenders, and full super aprons. The finished product is powder coated with your choice of colors and stripes. According to Allen, "the premier trainer revolutionized the market because it offered a better ride, was easy to get on, and was easy to maintain. We stopped making wood carts about five years ago. We focus on durability and comfort, and we repair and refinish them and sell used carts when we get them. Our carts last a lifetime, so we don't get many used carts to sell." Now a global company, Eggert informed me that his business was 48% international last year. "We have global distributorships throughout the world. We sell in Europe, Scotland, Norway, Finland, Canada, Australia, and we shipped 8 containers abroad last year. The container is brought here and we load it with about 20 to 30 carts and then it's shipped overseas,"
explained Allen. Offering a helping hand to a local business in Lancaster County, Allen often fills the empty spaces of the container with harnesses and bridles made by Yonie's Harness Shop.
Another small business with ties to the harness racing industry that's gone global, Yonie's Harness Shop makes synthetic harnesses and tack made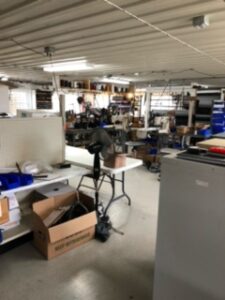 from Bio Thane. Located on a rural, country road near Honey Brook, PA, the family owned business was started by Jonathon Stoltzfus in 1992 and manufactures harnesses for the Amish community, farm, logging, and draft horses, Combined Driving Event horses, and the international harness racing community. Bio Thane, made in Ohio, is a polyester webbing material that is coated with polyurethane which makes the product smooth, durable, waterproof, mildew resistant, and washable. Shipped from Ohio to Yonie's in 100 foot rolls and available in 13 vibrant colors, the Bio Thane is cut, processed, and sewn by the artisans and craftsmen in the small shop where they create halters, harnesses, bridles, whips, and miscellaneous tack.
According to Chris Stoltzfus, the second generation working in the business, "our goal is quality and customer satisfaction. Everything is hand crafted, and we take custom orders. We started making harness for the local community, and now we ship worldwide and have wholesale accounts
internationally. We sell in Europe, United Kingdom, South America, Australia, New Zealand, and recently in Israel."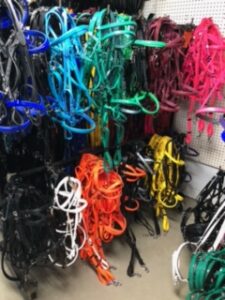 Chris oversees the shop where about 5 full time employees cut the rolls of Bio Thane stripping into their desired lengths and seal the edges. Next, metal buckles and snaps are sewn in, holes are punched, and the final product is assembled. Custom flex whips and saddle pads are also popular handmade items. Reminiscent of a cottage industry, Yonie's provides employment to the local farming community. Chris explained, "we sub contract to about 8 or 10 shops, many on farms, where local people who own a sewing machine can work at home to make our products. We also create our own electricity and are completely off the electrical grid. Most of our team members live close to the shop and either walk or bicycle to work. Our goal is to carry on the tradition of skilled craftsmanship and a dedicated work ethic."
Pennsbury Enterprises and Yonie's Harness Shop, two small, family owned businesses that grew into global companies, represent business creation and growth in Pennsylvania thanks to the harness racing industry.