In a typical year, 1,600 Pennsylvania-breds compete on the racetrack for average earnings of $27,600. Of the 50,000+ who have raced across the globe since 1985, only an elite group of 31 horses have broken the seven-figure mark in earnings. Over the course of summer 2020, the Pennsylvania Horse Racing Association will be chronicling a ten-part series featuring the select group of Pennsylvania-breds who reached the unique and rare accomplishment of $1,000,000 in racetrack earnings. Join us to celebrate and remember some of the greatest racehorses the Keystone State has produced.
Finest City: Everything Happens for a Reason
When Hank Nothhaft attended the 2011 Keeneland November Sale, he had a specific goal in mind: purchase a handful of broodmares to support his newest stallion acquisition, the Breeders' Cup Sprint winning Silver Train, who Nothhaft had purchased a couple of months prior and moved to the Pennsylvania branch of Northview Stallion Station.
Alongside his bloodstock agent Carl McEntee, Nothhaft ended up taking home three new broodmares. One was Be Envied, a stakes placed daughter of Lemon Drop Kid who was in foal to the up and coming stallion City Zip. Sent to Northview PA, Be Envied foaled out her chestnut filly on March 28th, 2012.
Nothhaft named his newest filly City Envy, and she quickly began to bring raving reviews. McEntee advised Nothhaft that the filly would be a great weanling sale prospect, and the decision was made to prepare for the 2012 Keeneland November Sale after she x-rayed clean. Her high expectations led Nothhaft to set her reserve at $50,000, but they expected her to bring as high as $150,000 with all of the buzz surrounding her.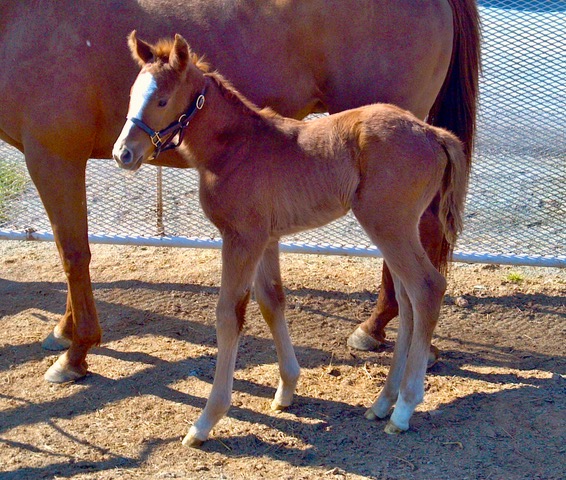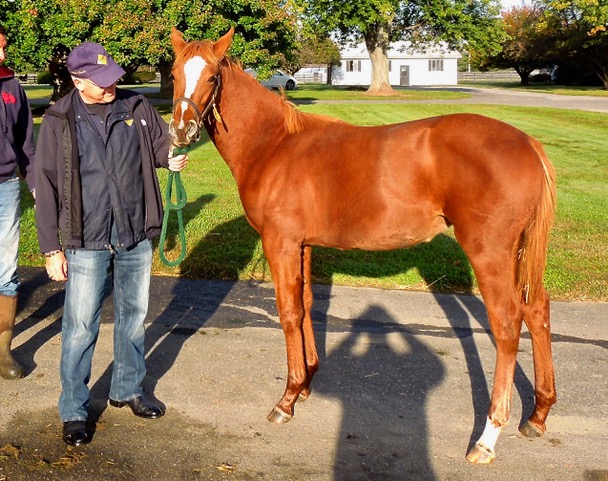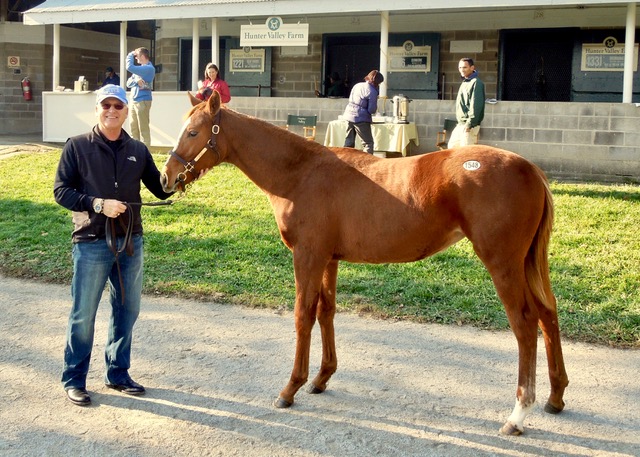 To the surprise of Hank Nothhaft and everyone else involved with City Envy, she hammered right on reserve at $50,000 for Cobra Farm. What had happened? How could they have been so wrong? Soon after, it was discovered that City Envy was not vetting cleanly and happened to have a cyst on a stifle, a problem that was not detected on her initial x-rays. Nothhaft dealt with mixed emotions following the sale knowing he would not have sold his filly if he had known she had had an issue.
City Envy was sent to new owners Cobra Farm and prepared as a pinhook for the 2013 Keeneland September Yearling Sale. She brought $85,000 as a yearling and was purchased on behalf of the San Diego-based stable Seltzer Thoroughbreds. Seltzer ended up renaming City Envy to Finest City as an ode to their hometown. Once settled into California, the newly-named Finest City was turned over to a third generation horseman, albeit a brand new trainer, in 28-year-old Ian Kruljac.
Finest City developed a reputation as a quirky horse, and she dealt with a handful of minor physical maladies. Kruljac was patient with his filly, and his small stable allowed him to give her the attention she needed. His careful and patient handling ensured that Finest City did eventually make it to the races, and she debuted at Del Mar in July of her three-year-old season, finishing a close second at odds of 33-1. 
Finest City made her next start on August 23, 2015, romping to an 8 ½ length maiden victory at Del Mar. Her impressive score earned her a try in stakes company next out, and she finished a respectable fourth in the Unzip Me Stakes in her turf debut. Returning to the main track, Finest City rolled to another easy victory at Del Mar, this time taking an allowance event by 3 ¼ lengths. Her short first year ended with another second place effort in allowance company before a dull effort in the G1 La Brea on a quick turnaround. It was the last time she finished outside of the superfecta for a long time.
Starting her four-year-old campaign in the Grade 2 Santa Monica Stakes at Santa Anita, Finest City suffered a heartbreaking loss after dueling with 64-1 longshot Lost Bus for the duration of the race before falling a head short at the wire. She proceeded to finish third in allowance company and fourth in the G3 Las Flores Stakes before stepping back up into Grade 2 company in the Great Lady M Stakes at Los Alamitos.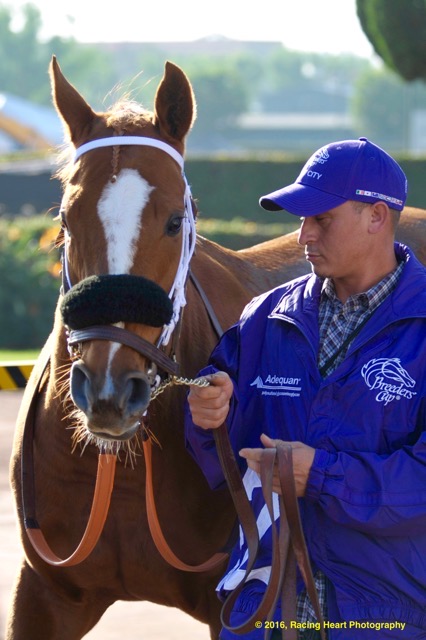 Sent off at 8-1 in the field of seven, Finest City settled towards the back of the pack before making a four-wide bid around the turn to put her within contention. In a perfectly timed ride, the filly ran down the leading pair of Las Flores winner Fantastic Style and Santa Monica winner Lost Bus to enact her revenge by 1 ¼ lengths.
Fresh off her first graded stakes triumph, Finest City tried Grade 1 company in the Vanity Mile, where she faced a dynamic duo of champions in Beholder and Stellar Wind. In an incredibly respectable effort, she finished third while beaten only 2 ¼ lengths by Beholder, who would go on to win her second consecutive Champion Older Mare title by year's end.
Having shown her versatility with an ability to handle turf in the past, Finest City returned to the grass for her next two races. After finishing a close fourth in the G2 Yellow Ribbon Handicap, the filly stretched out to the furthest distance of her career in the 1 ⅛ mile Grade 2 John C. Mabee Stakes. Finest City put up a gutsy effort at a distance that was probably past her prime, closing a 2 length advantage on Avenge in the final furlong to lose by a diminishing head.
With the Breeders' Cup looming two months out, Finest City trained up to the world championship event with her sights set on a return to the dirt in the Filly & Mare Sprint division. Everything was coming together perfectly for Hank Nothhaft, who also planned to run his filly Living The Life in the same race. Living The Life was entering the Breeders' Cup off a close second in the G2 Presque Isle Masters in her bid to win the race for a third consecutive year. 
Nothhaft had his tickets and travel plans in order to cheer home both a filly he owned and a filly he had bred when disaster struck. Living The Life turned up lame after her final workout for the Breeders' Cup. In the immediate air of disappointment, Nothhaft cancelled his travel plans and sold his Breeders' Cup tickets. It was a decision he would end up regretting.
Finest City drew post twelve in the field of thirteen. Despite having not won since April, she was sent off as the fifth betting choice at 8-1 for her consistent, well-placed efforts. When the gates sprung, Hall of Fame rider Mike Smith hustled Finest City towards the front, locking into a three-way speed duel with Gloryzapper and Paulassilverlining. The trio set down blistering fractions of 21.98 for the opening quarter and 44.82 for the opening half. With Gloryzapper falling away as the field rounded the turn, Finest City and Paulassilverlining turned into the stretch as one. Defending champion Wavell Avenue was catapulting from the back of the pack to range up alongside the dueling pair. Finest City finally gained an advantage over Paulassilverlining before being confronted with a new challenge from Wavell Avenue. Regardless, Finest City found it within herself to hold off her rival for the final half furlong, and she soared under the wire ¾ length in front.
Finest City's score in the Filly & Mare Sprint was the fourth victory at the Breeders' Cup World Championships for a Pennsylvania-bred and the first in twenty-four years. It was a first for many involved: the first Grade 1 victory for the filly herself, the first for Seltzer Thoroughbreds and young trainer Ian Kruljac, and the first for Hank Nothhaft as a breeder. At year's end Finest City was named Pennsylvania-bred Horse of the Year and won the Eclipse Award for Champion Female Sprinter.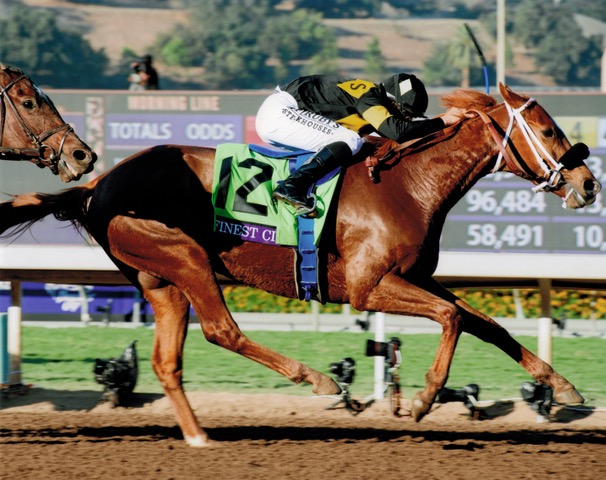 A few hours before she was officially christened a champion, Finest City made her five-year-old debut in the G2 Santa Monica Stakes. She went one better than the year before, cruising to an easy 3 ¾ length victory in wire-to-wire fashion. The Santa Monica would ultimately end up being the final win of Finest City's career, but she remained consistent through year's end with second place efforts in the G1 Santa Margarita and G1 Humana Distaff and thirds in the G1 Beholder Mile and G2 Great Lady M.
Finest City still intended to defend her title in the Breeders' Cup, and Hank Nothhaft made sure not to miss out the second time. On November 4, 2017, the consistent, hard-trying mare made the final start of her career at the world championships, but a repeat was not meant to be. Finest City turned in the poorest effort of her career when eighth in the field of fourteen.
Despite the disappointing end to her racing career, there was no time to ruminate. Finest City was due to sell at the Fasig-Tipton November Sale two days after the Breeders' Cup, and she shipped to Kentucky the following morning. Hank Nothhaft followed his filly and watched her step into the sales ring on Monday evening. The bidding jumped up past seven figures before finally hammering at $1,500,000 for legendary Japanese horseman Katsumi Yoshida, owner of Japan's breeding powerhouse Northern Farm. 
From Finest City's three seasons on the racetrack, she faced the starting gate twenty times with five wins, six seconds, and four thirds for earnings of $1,266,394. She only finished worse than fourth twice throughout her entire career. She took home three graded stakes triumphs and placed in seven others, with her finest hour coming with a Breeders' Cup victory and subsequent Eclipse Award.
Despite losing Finest City as a weanling at Keeneland, Hank Nothhaft maintains that he has no regrets when it comes to selling her that day. He reflects on how the circumstances, timing, and luck culminated with her ending up with the right trainer at the right time to maximize her talent. Nothhaft believes that ending up in a small barn like Ian Kruljac's was crucial to Finest City's success because she received the individual attention that was required to work out her kinks and minor problems.
Before being sent to her new home in Japan, Finest City made a stop in England for a date with world-renowned sire Frankel. The resulting colt sold at auction for 108,000,000 yen (around $1,000,000 USD) as a foal. She continues to reside at Northern Farm, where she delivered a colt by Lord Kanaloa in 2020.
Unique Bella: The Last of a Legacy
Brushwood Farm's legacy is forever etched into Pennsylvania breeding lore. The empire Betty Moran built from her home in Malvern, Pennsylvania culminated with her tying George Strawbridge's record for most Pennsylvania-bred millionaires in 2018. 
Mrs. Moran campaigned her own racing stable, but she especially loved the energy that came from buying and selling high priced horses at auction. It was something she became known for over the years to the point that people would question why she sold certain broodmares so soon after she purchased them. Unrivaled Belle was one of these many instances.
Offered at the 2011 Keeneland November Sale, Unrivaled Belle sported a racing career that was topped by a win in the G1 Breeders' Cup Ladies Classic and a victory over the legendary Rachel Alexandra in the G2 La Troienne. Her sire, Unbridled's Song, was rising as a hot commodity as a broodmare sire, and Betty Moran was not willing to miss out. When the gavel fell, she signed a ticket worth $2,800,000 for Unrivaled Belle.
After breeding her newest broodmare to Medaglia d'Oro and selling the resulting foal for $320,000, Mrs. Moran sent Unrivaled Belle to leading sire Tapit for the first time. On March 2nd, 2014, she foaled a filly who would eventually gray out into the same magnificent steel color as her mother. 
Similar to Unrivaled Belle's first foal, Betty Moran offered the Tapit filly at the Keeneland September Yearling Sale in 2015, where she hammered at $400,000 for the Chilean-based racing operation Don Alberto. Having already established a stellar reputation in their native country of Chile, Don Alberto made the leap to extend their operation to North America for the first time after purchasing Vinery Farm in Kentucky for nearly $14 million. Still relatively unknown, Don Alberto had only made ten starts in America at the time they purchased Unrivaled Belle's filly.
Named Unique Bella, the filly developed into a towering specimen who put her male stablemates to shame. She was sent to the Southern California stable of Hall of Fame trainer Jerry Hollendorfer. Despite her imposing frame, Unique Bella was ready to debut early as a two-year-old and made her first start at Santa Anita in June, finishing a reasonable second.
The decision was made to put Unique Bella away for a few months and let her grow into herself more, so her return to the races didn't come until five months later. One week before her second start, Betty Moran sent Unrivaled Belle back through the sales ring at the Keeneland November Sale while carrying a full sibling to Unique Bella. She sold for a sale-topping $3,800,000 to Mandy Pope's Whisper Hill Farm.
On November 23, 2016, Unique Bella reappeared at Del Mar, and a star was born. With her long freshening under her belt, the filly went to the front and never looked back, rolling home to a widening 10 ¼ length victory. With the two-year-old filly division ending up with a questionable amount of quality, the racing world quickly began to talk of Unique Bella.
Unique Bella's eye-popping debut warranted an immediate jump into graded stakes company, and she made her three-year-old debut in the G2 Santa Ynez Stakes. Much like her maiden race, the filly made short work of the field when drawing away by 7 ½ lengths underneath a chilly, unmoving Mike Smith. 
Having earned ten points towards a start in the Kentucky Oaks, Unique Bella was firmly on the path to America's premier three-year-old filly event. She returned a month later in the G2 Las Virgenes where she faced her first real test against the previous year's Champion Two-Year-Old Filly Champagne Room. Perhaps Unique Bella scared the competition away because only three other horses joined her in the starting gate. They may as well have stayed in the barn themselves as it was much of the same. Unique Bella steamrolled to victory by 8 ¾ lengths. 
With the G3 Santa Ysabel next on her agenda, Unique Bella prepared for a showdown with G1 Starlet Stakes winner Abel Tasman. Abel Tasman provided Unique Bella with the toughest challenge of her career, but it wasn't enough to keep the big, gray filly from the winner's circle. Unique Bella turned back her rival's bid in the stretch to cross the wire 2 ¼ lengths in front.
With a four race win streak under her belt, there seemed to be little stopping Unique Bella from charging home to another victory in the Kentucky Oaks. The filly had been so dominant that racing fans were beginning to pique the Kentucky Derby question. As it turned out, no one would beat Unique Bella in the Kentucky Oaks or Derby because no one had the chance to. One week before her final prep for the Oaks and Grade 1 debut in the Santa Anita Oaks, Unique Bella came up with a shin injury and was sidelined for two months. In her absence, Abel Tasman rolled to Kentucky Oaks glory before eventually being named Champion Three-Year-Old Filly at year's end.
It ended up being much longer than two months before Unique Bella regained training, but her connections set their sights on a run at the Breeders' Cup World Championships. Seven months removed from her Santa Ysabel win, Unique Bella returned in time to get one prep race prior to the Breeders' Cup. With the Filly & Mare Sprint the goal, the filly returned to the races in the one turn, G3 L.A. Woman Stakes. Despite being away for so long, Unique Bella sprung from the gate as a 2-5 favorite and picked up exactly where she left off to win by a comfortable 3 ½ lengths. 
The Breeders' Cup Filly & Mare Sprint appeared to be a wide-open affair of fourteen horses, but Unique Bella was still installed the heavy favorite despite her light preparation. It ultimately proved to be too much, too soon, and the filly checked in seventh as a 66-1 shot blew up the toteboard. It was the only time she finished worse than second.
Despite her poor Breeders' Cup showing, Unique Bella had one race left as a three-year-old. In the final few days of 2017, she took another crack at Grade 1 company in the La Brea. Still going off the heavy favorite, Unique Bella ran down Santa Anita Oaks winner Paradise Woods in the final strides to win by ¾ of a length. In a female sprinting division that was so wide open, it was enough for Unique Bella to be awarded the Eclipse Award for Champion Female Sprinter.
Fresh off her championship, Unique Bella started her four-year-old year in the G2 Santa Maria Stakes. It was a scene much of old as the filly ran away to an easy 10 length score as the 1-10 favorite. Having already captured a G1 around one turn in the La Brea, sights were set on a two-turn score at the highest level. For the first time in her career, Unique Bella shipped outside of Southern California to contest the G1 Apple Blossom at Oaklawn Park.
Showers throughout the day lead to a sealed track surface, but Unique Bella still went off the 2-5 favorite in the field of seven. When the gates sprung, the filly broke flat-footed and ended up last. Mike Smith tried to make up for the lost ground by rushing Unique Bella up to contend the early pace, but the combination of the poor start and challenging track conditions proved too much to overcome. As the field turned for home, Unique Bella couldn't manage to hold off the late run from Unbridled Mo and crossed the wire 2 ¼ lengths back in second.
Returning home in California, Unique Bella cut back in distance for the G1 Beholder Mile. Sent off at 1-2, the big gray challenged Paradise Woods on the early lead before taking advantage by the top of the stretch and winning by a comfortable 2 ¼ lengths. With the goal being another shot at the Breeders' Cup, Unique Bella pointed to the G1 Clement L. Hirsch for her next start, a Win and You're In event for the Breeders' Cup Distaff. 
Contested on July 29, 2018, Unique Bella sprung from the gates as the 1-10 favorite in the Clement L. Hirsch. Pushed through challenging early fractions, the filly held an advantage on the rest of the field before opening a 4 length lead by the top of the stretch. La Force mounted a late challenge from the back of the pack, cutting into Unique Bella's lead in the final stages, but she was a touch too late, and Unique Bella held on to win by a ½ length.
Three weeks after her third Grade 1 score in the Clement Hirsch, and while preparing for her final prep race for the Breeders' Cup, Unique Bella fractured a sesamoid during a morning workout. She was immediately retired. Despite not having the chance to end her year, her exploits as a four-year-old were still enough for her to claim her second championship as Champion Older Female of 2018.
From her three years on the racetrack, Unique Bella contested twelve races with nine wins and two seconds for career earnings for $1,272,400. The Breeders' Cup was the only time she finished worse than second. Eight of her nine victories came at the graded stakes level, including three Grade 1 victories at three different distances. She was a two-time champion across two years for two different divisions.
Retired for broodmare duties at Don Alberto's Kentucky farm, Unique Bella delivered her first foal, a filly by Medaglia d'Oro, on January 14, 2020.
Go for Wand: Close to Perfection
Since 1937, one of the greatest names in Delaware racing has been the Christiana Stable of Harry and Jane duPont Lunger. For decades, the Lungers had campaigned dozens of stakes winners for their Wilmington-based operation. But while the legacy of their stable reached its peak moment in 1989 and 1990, the beginning of the story dates back some thirty years earlier.
While attending the 1960 Saratoga Yearling Sale, Harry Lunger happened upon a colt by Turn-to and he provided the $34,000 ticket to bring him home. Campaigned under Christiana Stable, the colt named Cyane went on to win the Futurity Stakes and Dwyer Handicap for the Lungers before retiring to stud in the Mid-Atlantic region. 
In the name of supporting his stallion, Harry Lunger was determined to purchase Cyane's first yearling to go through the sales ring. Much to the dismay of Christiana's trainer, Mr. Lunger did exactly that before his trainer even had the chance to evaluate the horse. He purchased Cyane's first filly at the 1966 Saratoga Yearling Sale for $15,000.
In the peculiar workings of the racing world, the filly Harry Lunger purchased simply because she was Cyane's first offspring to go through a sales ring ended up being one of the best racehorses Christiana Stables ever campaigned. Named Obeah, the filly tallied five major stakes wins for the Lungers, including back-to-back runnings of the prestigious Delaware Handicap at their home track of Delaware Park.
Retired for broodmare duties, Obeah got off to a quick start by producing two homebred stakes winners for the Lungers. With Harry Lunger's passing in 1976, Jane duPont Lunger took up the racing operation by herself. While Obeah was consistently bred to high-class stallions like Northern Dancer during the early days of her breeding career, Jane finally settled the broodmare at Walnut Green Farm in Pennsylvania and sent her to local, Maryland-based stallions for her last few foals. With her previous success with Northern Dancer, Obeah was bred to grandsons of the legendary stallion in Maryland. For her third local foal, Jane Lunger sent Obeah to Deputy Minister, and, as they say, she struck gold.
Despite being far past prime broodmare age at the age of twenty-two, Obeah's eleventh foal would be her greatest. On April 6, 1987, she foaled a bay filly with a narrow blaze from forehead to nostrils at Walnut Green.
Much a fan of superstition, Jane duPont Lunger named her newest filly Go for Wand and sent her to Christiana's New York-based trainer Bill Badgett. She debuted as a two-year-old at Belmont Park on September 14th, 1989. Unfortunately for Mrs. Lunger, traffic on the way to New York kept her from watching Go for Wand roll home to a 5 length victory in her first career race. When the filly returned the following month in an allowance event, Jane was sailing overseas to Scotland to see her grandson off to college. Go for Wand won by 18 lengths.
By the time Mrs. Lunger finally got to see her filly race, she was making her debut in Grade 1 company. Only twelve days after her allowance romp, Go for Wand was a heavy favorite in the G1 Frizette Stakes. Perhaps her crushing victory took a bit out of her because Go for Wand suffered one of the rare losses of her career when failing to catch Stella Madrid by a ½ length. Jane Lunger was convinced she was her filly's jinx.
Regardless, she traveled south to watch Go for Wand compete in the Breeders' Cup World Championships in Florida. Settling in fifth in the early going, Go for Wand encountered traffic trouble into the first turn before finding clear sailing on the outside down the backstretch. She remained within striking distance as the field bore into the final turn. With Frizette winner Stella Madrid taking control approaching the top of the stretch, Go for Wand locked in on her rival and began to close the gap. If there appeared to be any hope of a Frizette repeat, Go for Wand dashed all chances by the time she collared Stella Madrid inside the final furlong. She bounded away to post a 3 length victory en route to becoming the first Pennsylvania-bred to win a Breeders' Cup race. Mrs. Lunger was not, in fact, Go for Wand's jinx, and at year's end her filly was awarded the Eclipse Award for Champion Two-Year-Old Filly.
Go for Wand made her reappearance as a three-year-old in Kentucky. She made short work of the G3 Beaumont Stakes field at Keeneland as a prep race for the G1 Ashland eleven days later. Only four fillies were brave enough to face the champion in the Ashland, and Go for Wand made them wish they stayed home. She took the lead heading into the final turn and quickly opened up a 3 length lead before cruising home in the stretch to post a 6 length score.
While the Kentucky Oaks was not originally on Go for Wand's agenda, her connections couldn't resist a crack at the nation's premier three-year-old filly race after the way she dominated the Ashland. The Oaks was her third race in less than a month, but the public was still willing to throw their overwhelming support behind the superstar filly. Sent off at 2-5, Go for Wand settled off the early leaders in fourth as Seaside Attraction cut out the early pace. The filly made her move around the far turn and ranged up alongside the longtime leader. It looked as if Go for Wand was poised to blow past her rival, but Seaside Attraction managed to find another gear. Go for Wand could only hopelessly chase her foe home in second as she crossed the wire 3 lengths behind.
With her shocking defeat in the Kentucky Oaks behind her, Go for Wand returned to her home base of New York. If there was any doubt that she wasn't the same horse, the filly quickly put the rumors to rest. Go for Wand reeled off three consecutive Grade 1 victories against three-year-olds in the Mother Goose, Test, and Alabama Stakes. By the Alabama, only two horses were willing to face Mrs. Lunger's superstar.
With her own age division conquered, Go for Wand made the next step in taking on older horses. She continued to extend her Grade 1 winning streak when cruising to another easy victory in the Maskette Stakes before using the Beldame as her final prep for the Breeders' Cup. Pressing the lead through challenging early quarters of 23.20, 45.60, and 1:09.20, Go for Wand effortlessly took the lead turning for home and drew away under a simple hand ride to add the Beldame to her growing legacy. If adding a seventh Grade 1 score wasn't enough, it was her final time that left everyone in shock and awe. Having never been asked, Go for Wand had equaled Secretariat's 1 ⅛ mile track record of 1:45.40 from 1973. It's a track record that still stands today.
Having reeled off five consecutive Grade 1 victories, Go for Wand was gearing up for her tilt at becoming the first horse to win two different Breeders' Cup races. Held that year at her home track of Belmont Park, the filly prepared for a showdown with the country's top older mare, Bayakoa. An Argentinean superstar, Bayakoa had made a successful foray to America where she was building a legacy of her own. Having already notched eleven Grade 1 victories on American soil, Bayakoa was the reigning Champion Older Mare of 1989 who was looking to win the Breeders' Cup Distaff for the second year in a row.
The Breeders' Cup Distaff seemed to be little outside of its two headliners: the top three-year-old filly versus the top older mare. From the moments the gates sprung on October 27, 1990, the Distaff lived up to its expectations. Bayakoa had taken the early lead before Go for Wand moved up along the inside to put a nose in front. The two champions remained that way down the Belmont Park backstretch through quarters of 23.40 and 46.40. The tempo quickened as they rounded the turn as one with Go for Wand maintaining her slim advantage. With track announcer Tom Durkin calling it a "cutthroat duel", Go for Wand and Bayakoa turned into the stretch together, neither giving an inch. Eyeball to eyeball, nostril to nostril, both horses were locked in a battle for the ages as Go for Wand refused to let Bayakoa forge past. But suddenly Go for Wand was careening towards the dirt, and Bayakoa was sailing alone through the final yards of the race. Go for Wand had broken down, and there was nothing they could do to save her.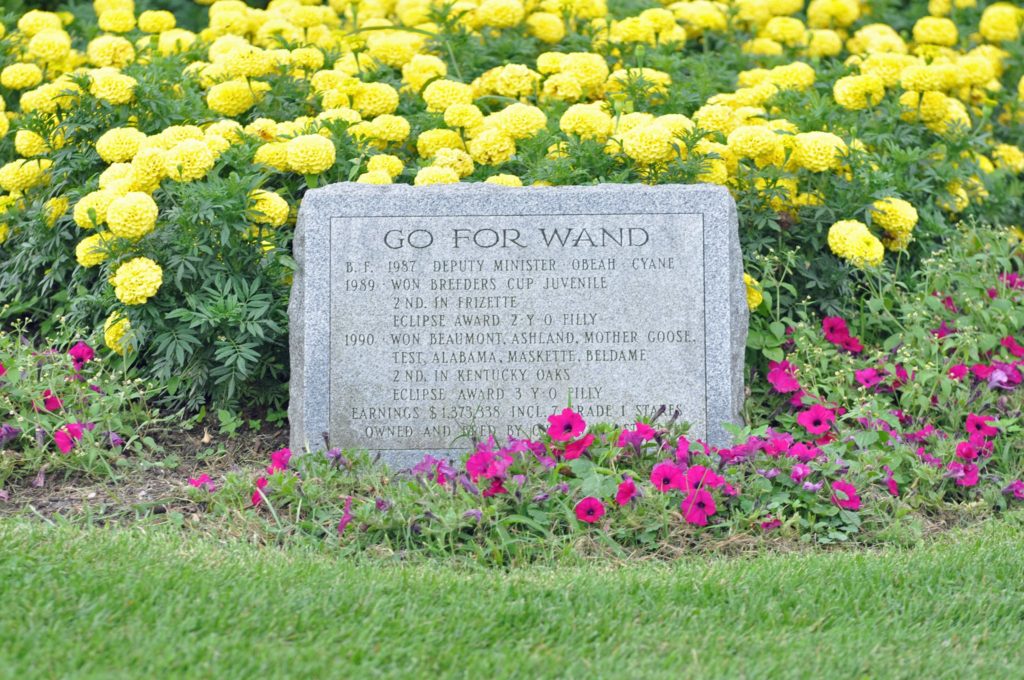 The next day, Go for Wand was buried in the Saratoga infield with her nose pointing towards the finish line. She was posthumously named 1990 Champion Three-Year-Old Filly as Bayakoa earned a second Champion Older Mare title. The New York Racing Association renamed the Maskette the Go for Wand Stakes in 1992, and it's still contested as a Grade 3 handicap. From her two years on the track, Go for Wand raced thirteen times with ten wins and two seconds for earnings of $1,373,338. She tallied seven Grade 1 triumphs from her eight total stakes victories and was a divisional champion both years she raced.
In 1999, The Blood-Horse compiled lists of the top 100 racehorses and moments of the 20th century. Go for Wand ranked 72nd on the list of top 100 racehorses. Bayakoa ranked 95th. For the top 100 moments, Go for Wand's tragic end in the 1990 Breeders' Cup Distaff ranks 93rd. Six years after her passing, Go for Wand was inducted into horse racing's Hall of Fame. She's one of only three Pennsylvania-breds to be inducted. Bayakoa joined her two years later. Together again in American racing's most hallowed place, it recalls a time when two legendary horses were locked in the heat of battle on an autumn afternoon at Belmont Park.