Emmy-award winning producer and reporter Bruce Casella got bitten by the horse racing bug when he attended college in Kentucky. He has dedicated his 30-plus year career to promoting horse racing in Pennsylvania.
"I learned all about horse racing when I went to Eastern Kentucky University in Richmond, Kentucky, which is about a half-hour south of Lexington. We used to go to Keeneland all the time, and I fell in love with the sport," he explained, and his enthusiasm and passion for the sport shines as he describes the early years. Upon graduation, he secured a job in Lexington, covering horse racing and basketball.
Returning to Philadelphia in 1985, Bruce landed what he calls his 'first actual real job in the industry'. "I started at Garden State Park, in charge of their television department, along with being the host of the show," he remembered. Soon he caught the eye of Channel 3 in Philadelphia, and they hired him away to be a sports reporter.
Continuing to add more skills and gain more experience, he moved back down south and to Turfway Park to run their television department. ESPN soon came calling, and he was hired to be the co-host and producer of their 'Thoroughbred Digest' show. The urge to return back east was strong, and after three years in that job, he made the move.
Meeting Atty. Sal DeBunda, current president of the Pennsylvania Thoroughbred Horsemen's Association ( PTHA), was a pivotal point for Bruce in his quest to share his love of horse racing. "He and I decided that we needed a horse racing show in the Philadelphia market, so together we started 'Let's Go Racing'." For over 30 years, this informative and fun look at horse racing at Parx has been on the air, keeping racing fans up-to-date with the latest races, and featuring trainers, jockeys, and horses. The show is produced by Bruce, and the Executive Producers are Atty. DeBunda and Atty. Michael Ballezzi, Executive Director of the PTHA, both strong supporters of the show and the superb product presented to the racing public week after week. The show currently airs on Channel 17 in Philadelphia.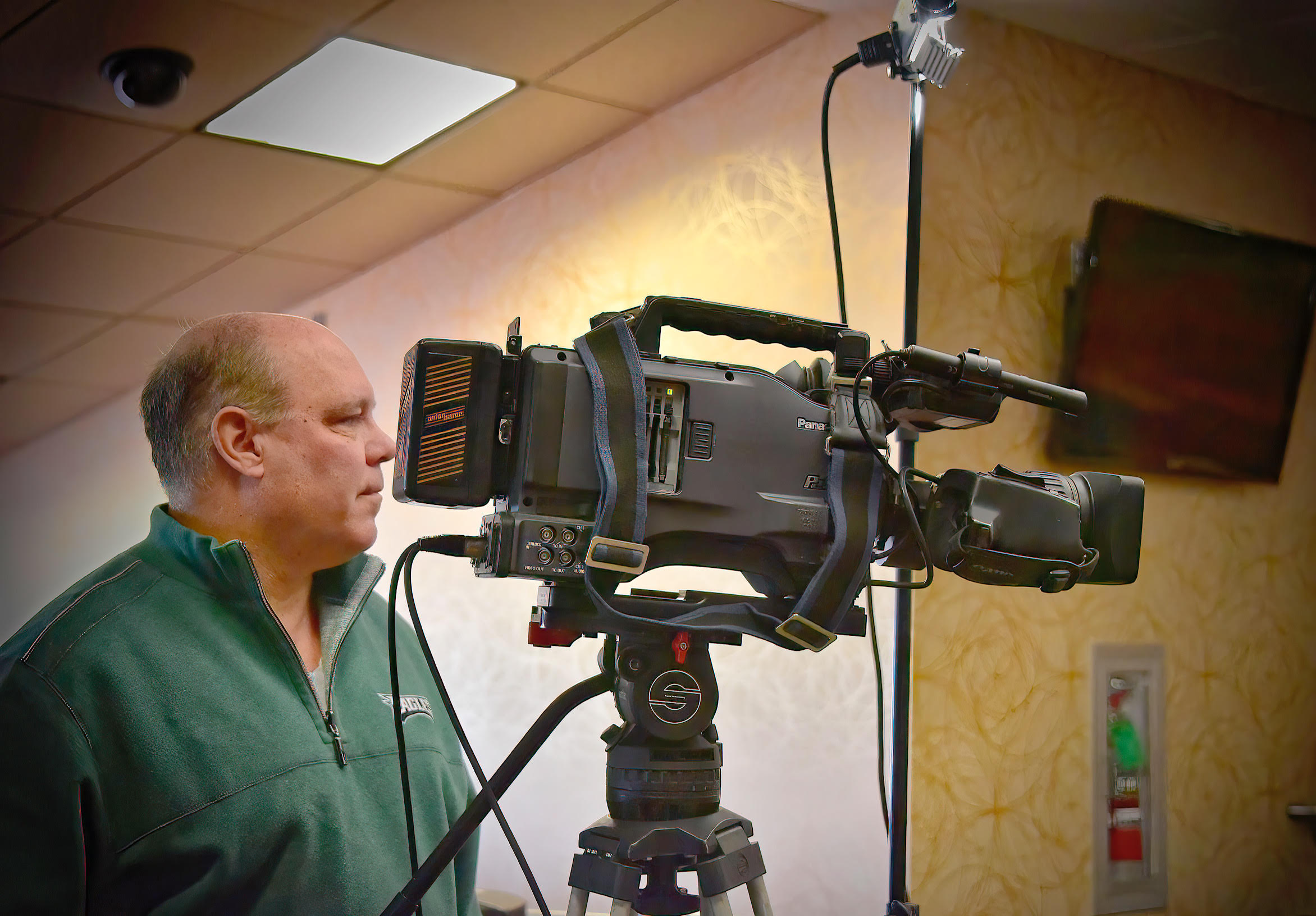 Bruce's talent and expertise is not limited to thoroughbred racing. Equally passionate about harness racing, he's produced the broadcast of prestigious races such as the Little Brown Jug and the Meadowlands Pace for CBS Sports; the Breeders Crown and Sun Stakes Saturday at the Downs at Mohegan Sun Pocono; and Super Stakes Sunday at Harrah's Philadelphia. Several years ago, Ed Kobesky, former Marketing Director of the Pennsylvania Harness Horsemen's Association, and Mike Tanner of the U. S. Trotting Association, approached Bruce with an idea for a weekly show, and 'PA Harness Week' was born. The show airs 13 weeks during the summer months, covering racing at the three harness tracks in PA, and features interviews with drivers and trainers, along with race replays.
The horse racing industry and fans are still talking about the thrilling PA Derby at Parx on September 25th, with fan-favorite Hot Rod Charlie's win over a determined Midnight Bourbon. The track hosted a record crowd and a jaw-dropping handle for the day. Bruce is especially proud of the promotional work he did for this prestigious day of racing. "We get grant money from the state to help promote the sport, and I'm in charge of the marketing for those funds for the PTHA," he explained. "We had billboards. We did special shows, and we have a lot of video content that we put on the website, which is www.letsgoracingparx.com. The racing office did a great job getting the horses for that day, and we did a lot to promote it." Having a live post position draw for the PA Derby also contributed to the massive publicity the track received. "Thanks to Ashley Eisenbeil (Marketing Director – Pennsylvania Horse Racing Association), who really persuaded them to do the draw live, it was a success and well attended by the media."
Now that fall is here, and winter is just around the corner, things don't slow down for Bruce. The show Let's Go Racing' airs year-round, and he's constantly working on features. "There's a million stories out there, so we go back to the barn area, and feature a trainer or jockey, and try to promote our stars, and the horses. Some trainers leave for the winter and go south, but there's a lot of hard-knockin' horses that stay in Philadelphia. It's up to us to promote them and tell their story."
Looking ahead to the future, Bruce is excited to continue producing ways to share horse racing, and create new fans. "I'm thrilled to come up with ideas to help promote the sport and give it a platform. A long time ago radio stations in Philadelphia would give the race of the day. They don't do that any of that any more, so we need a way to share racing with the public. I take pride in being able to support and promote racing in Pennsylvania."