"Well, see, if you take your time . . . you get a more harmonious outcome."—Joe Gill, Crossfire Trail by Louis L' Amour
Training It Forward
At Once Upon a Farm in Perkasie, Pennsylvania, J.R. Mc Caulley and Mindy Mc Caulley carry the equine enrichment legacy forward. While Mindy Mc Caulley's focus is on instructing and campaigning thirty-plus equestrian students, J.R. Mc Caulley works off-track Thoroughbreds training them to transition successfully into their second career. On average, 2-3 former racehorses adopt into new homes from the farm each month after being evaluated, quieted, and retrained.
J.R.'s initial introduction to the horse community came packaged as a 7th year birthday present, "first ride" with Rich Scarlett at Gwyn Meadows Farm. Pat Mc Caulley, the devoted, drive 'em-to-every-lesson-empowering mom-parent of J.R. Mc Caulley, introduced her seven-year-old child to riding with riding lessons at Gwyn Meadows Farm.
That introduction quickly turned into enduring horse-loving enthusiasm with lessons every Tuesday and Thursday . . .  until it turned into a crazed passion with every afternoon spent riding.  With "I believe in you" positive-impacting trainer, Rich Scarlett, extreme confidence and grit took hold.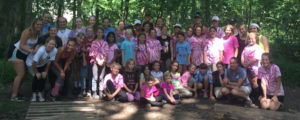 Says Mc Caulley, "Rich Scarlett let me start working with my first young one when I was ten. Then, I competed in short-stirrup division. Then, it was on to children's hunters and up and up. I started dabbling in jumpers and applied dressage at age 14.  While attending St. Andrew Presbyterian College, I rode on the ANRC team for Shelby French which is a three-day event based on hunt seat equitation, dressage, cross country, and the stadium phase."
Not so Fast Track to the Future: Sterling's Maximus & Retraining Thoroughbreds
Sterling's Maximus, affectionately nicknamed Maximoose, earned $231,000.00 flat racing before he *fractured his right sesamoid bone.
Sesamoid bones live at the rear side of the pastern and provide anchor points for the two branches of embedded sesamoid suspensory ligaments. The sesamoid bones are stressed each time a horse takes a step. They benefit and gradually strengthen as the horse is worked and exercised. The equivalent in humans 

is a small nodular "sesamoid bone" embedded in tendons in the region of the thumb.
After arriving at Once Upon a Farm, "Max spent fourteen weeks happy-as-a-clam lounging in stall-rest before starting the rehab process," shares Mc Caulley.
Creating a Harmonious Outcome
"Retraining Thoroughbreds starts with an evaluation. Whatever the veterinary prescribes is implemented," says Mc Caulley. After week fourteen, J.R. Mc Caulley's rehab magic and solid, good-horse-sense retraining methods kicked into action.
"Once any veterinary needs are addressed, we start in a small paddock and short durations of turn out, gradually building towards full-turnout with a horse baby sitter who is quiet and teaches by example to 'put your head down and just graze'," says Mc Caulley. "They need to learn that before I let them go to a new home where they're going to break fences and hurt themselves."
"Also, well, a lot of the time, they'll eventually end up needing to be led with amateurs at their head, not professional grooms," says Mc Caulley. "I joke a lot that, my biggest test on whether I can put tack on a horse is whether they'll quietly lead back in from the field."
"The first thing I do here is to teach them to not be unruly," shares Mc Caulley. "I hand-walked Max for two weeks. The hardest thing that I have to do in retraining is to teach racehorses how to go quietly to turn out."
"I am always, always doing groundwork. I teach them behavioral stuff . . . a lot of grooming free in their stalls. When I first get them in, I'll groom them with a lead shank in the stall, and then work towards grooming without a lead shank or halter.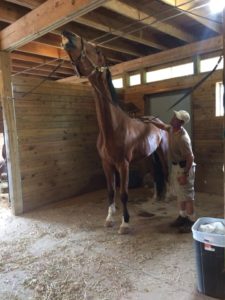 When they're quiet in the stall, then it's going into the wash stall for grooming and bathing ."
 Back to the Beginning
"Every horse that comes off the track I treat as a two-year-old. I start free-schooling in a round pen. They learn to walk, trot, canter, and whoa responding to voice cues. I free school with no tack, then with just a bridle headstall. Then I start putting tack on starting with the saddle pad and saddle. Then I work them with the reins loosely over the pommel and behind the stirrup bars," says Mc Caulley. "I'd rather they feel a bit without me on their back."
"When they realize trust, then we start working. I don't trust anything until it's proven to me."
Says Mc Caulley, "I had a vet tell me several years ago, 'You're getting too old to be doing this.' My response was that they're done bucking before I'm near the saddle. Stupid things are going to happen, but any chance you can reduce the percentages, it's worth taking the time. The more comfortable that the horses are with me and things, the less chance they are of exploding from something stupid."
Sterling's Maximus Returns to PARX
On the 22nd of June 2019, Sterling's Maximus (with the Pennsylvania Thoroughbred Horseman's Association's (PTHA) Turning for Home co-alumni Thoroughbred ex-racehorse Dover Point) returned to PARX Racing. Together, the two horses led the post parade for the Sixth Annual PTHA Turning for Home Day and the running of the $75,000.00 Turning for Home Stakes.
Mc Caulley chuckles, "Max was a bear! He wanted to run. As soon as we got him in the shed, it was like a switch was flipped, and he was eager to race again.  He was like 'I'm a R-r-racehorse again!' He was a handful that day. As soon as he set foot out on the track he wanted to go galloping. He was gigging! No walking! Just gigging."
Venue to Venue Versatility
Mc Caulley confides regarding Max's performance at the Turning for Home event at PARX, "He was very adaptable. After returning home, he was turned out over-night. The next day he was a different horse. He was like, 'I'm back to being a show pony.'  He trail rode quietly the day after the event and went out in the woods like it never even happened."
"In the weeks leading up to PARX's Turning for Home Day, we took Max to the Bucks County Horse Park to do dressage with the woman that leases him now. Her four-year-old daughter did the leadline class at our horse show at the farm. Max was a perfect gentleman with that little girl."
Mc Caulley sums it up saying, "It's a process. Every horse is an individual case."  By addressing each horse as distinct, and utilizing a start-from-the-beginning-again training regimen, Mc Caulley stacks the deck for each horse's continued success. The completed training package is tangible, bankable value in every J.R. Mc Caulley retrained racehorse.
*Contact J.R. Mc Caulley for currently available, retrained racehorses @ Once Upon a Farm or phone 215-399-6053
*Photos of Turning for Home Day at PARX courtesy Nikki Sherman Photography
___________________________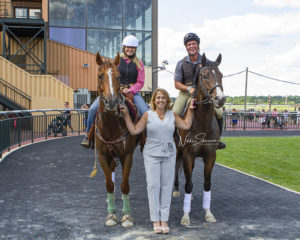 To date, approximately 2,700 retired racehorses have transitioned successfully into new careers and homes since the Turning for Home program's inception.
 Across the state of Pennsylvania, through the work of dedicated, skilled-professional trainers like J.R. Mc Caulley who partner with organizations such as Turning for Home, retired-from-racing Pennsylvania racehorses succeed in new careers.
The Turning for Home program receives partial funding via a $30 per start fee that comes from horse owners, annual donations by the Pennsylvania Thoroughbred Horse Association (PHRA), PARX, PARX jockeys, and the Pennsylvania Horse Breeders' Association (PHBA).