Beside standing two Standardbred stallions and offering a horse sale management program and breeding courses, Delaware Valley University stands the thoroughbred stallion, Hey Chub, sire of a fan favorite and the 2021 Pennsylvania-bred Horse of the Year, Chub Wagon.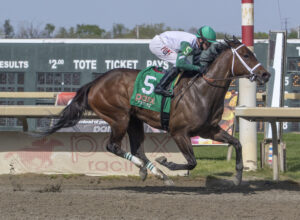 If all goes well, the speedy and powerful Chub Wagon will make her first start of 2022 in the coming weeks. She is nominated for the $100,000 Power By Far Stakes for registered Pennsylvania bred fillies and mares  3y.o. and up, 5 furlongs on the turf, held at Parx on Monday, June 27th. Stabled at Parx and trained by Lupe Preciado, Chub Wagon and Preciado reached a milestone together in 2020 when Chub Wagon broke her maiden in her first start, and Preciado scored his 2,000th win as a trainer. Chub Wagon won her only other start in 2020, and at 4 in 2021, she won 8 of 9 races, including 6 stakes, and was 2nd in her only loss. With lifetime earning over $500,000, the mare was voted PA-bred Horse of the Year and Champion Older Female and Champion Female Sprinter.
According to Preciado, "she's a very classy horse and knows what she's doing. She's all business." Chub Wagon had the winter off and spent several months at a farm in New Jersey, but she's back in training at the track. "She never raced at 2, and we take our time with her and be patient until she's ready to start," explained Preciado.
Bred by Joe-Dan Farm and owned by Danny Lopez and George Chestnut, Chub Wagon is by Joe-Dan farm's homebred stallion Hey Chub. The hard-knocking and consistent winner of over $440,000, Hey Chub raced from age 3until 8 in New Jersey where he won several stakes at Monmouth Park. By the well-bred sire, Carson City, out-of the stakes winning mare Donna Doo, by Spend a Buck, Hey Chub entered stud in New Jersey in 2009 and was voted New Jersey's Stallion of the Year 6 times. He sired graded stakes winner Chublicious and stakes winners Chub Wagon, Brother Chub and others.
A win win for Pennsylvania horse breeders and Delaware Valley University, Lopez sent Hey Chub to DelVal for the 2020 breeding season to take advantage of the lucrative Pennsylvania Horse Breeder's program. Since making his home at DelVal, Hey Chub sired several crops of potential runners, and Pennsylvanians have the opportunity to breed to a well-bred stakes winner that sires a high percentage of winners. DelVal students also learn to care for a thoroughbred stallion and breed mares live cover. According to Jenna Reigle, stable manager of the equine breeding center, "students have the opportunity to care for Hey Chub and turn him out and work around him. He likes to be out, and we turn him out in the paddock behind the barn. He's well behaved outside. The Standardbred stallions we breed are all bred using artificial insemination, and since thoroughbreds have to be bred live cover, having Hey Chub teaches the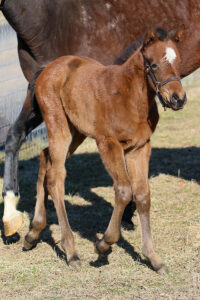 students another aspect of the horse breeding industry. We have several Hey Chub babies here that we foaled, and we're all excited whenever Chub Wagon runs."
Lopez bred and owns two full sisters to Chub Wagon waiting in the wings. For Chub Wagon's fans, her seasonal debut draws near, and hopefully June 27th will be the start of another brilliant season of racing for her.