When jockey Silvestre Gonzalez, currently in the top 5 of the leading jockeys at Parx, made the trip to ride superstar filly Sweet Willemina in the $80,000 Glass Slipper at Gulfstream Park on December 3, he was overwhelmed with many emotions. "I hadn't ridden there since the first three races in my career, and that was back in 2015. To come back to Gulfstream a few years later, it just brought back so many memories from when I was beginning as an apprentice. It was like looking in the mirror, reflecting on how far I've come to get here. It was more motivation to continue riding hard and continue on this journey that we're on."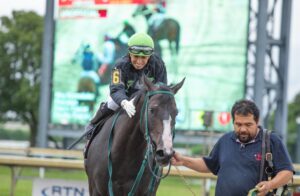 It's been quite a journey for the young jockey born in San Luis Potosí, Mexico. He moved to Florida when he was three years old with his mother and older brother to join his father who was there waiting for them. He grew up around animals on a farm. "Chickens, cows, horses, goats; I was around any type of farm animal. I've always had a love for animals. I had a pony when I was a kid, and that's kind of where my love for horses got started."
Silvestre never knew about the horse racing industry until he was in high school and he began thinking about college and his future. "I wanted to go to college, but since I was born in Mexico and I'm an immigrant, it'd be more of a cost. I come from a poor family, so I wasn't sure what I was going to do. My ROTC teacher was the one who told me I should be a jockey! He told me I had the size to be one, but I really didn't know about horse racing. He said 'Maybe one day you'll be a jockey'! A light bulb clicked in my head and that was it."
A friend of his from high school and her father, who was an exercise rider, introduced Silvestre to an older gentleman at a training center who worked on his own and couldn't afford to hire grooms. "He told me if I helped him do some stalls and groom the horses, he'd give me a chance to get on some horses to learn. Funny thing is, the name of the training center was 'Starting Point'! As soon as I got on my first horse, I knew that that was what I wanted to do."
After about three months of what he called "on the job training", he started pounding the pavement of the horse farms in Ocala looking for a paying job, winding up at a farm called Classic Mile where he caught the interest of a trainer, a Quarterhorse jockey named Ricky Leppala, who hired him to exercise ride some babies. He also met an influential person in his career at the farm, former New York jockey Jacinto Vasquez, who rode the champion filly Ruffian. "He was there every morning on four or five horses, just because he loves to get on horses, and doing it for fun and to stay fit. He kind of took me under his wing and showed me the ropes a little bit, like switching leads on the horses; how to get myself situated in the gate; how to switch my whips. Just polishing up. He taught me a lot. I have to give him a big thanks," he said.
His first time at a racetrack was in 2012 when he headed to Monmouth Park, where he galloped horses for a trainer for just a few weeks. "It's a little but different with older horses than babies, and I was galloping them a little too fast. He told me he needed someone with more experience." Eventually he picked up a job with another trainer from Louisiana and continued working and learning.
Over the next few years, Silvestre moved to Saratoga where he galloped for Christophe Clemont, and then returned with him to his training center
in Florida. By the summer of 2015, he returned to Ocala, and got a job with Mike Lightner, who encouraged him to get his jockey's license. "He told me he'd buy me my first saddle, and he told me I had what it takes to really be a jockey."
Hard work, extreme focus, and diligent exercise followed, since he was 125lbs. at the time, and an apprentice jockey should be around 110lbs. Mike Lightner sent him to Palm Meadows Training Center to work with a few two-year-old horses, and to meet people from the industry, as well as work toward getting his jockey license. He rode his first race at Gulfstream Park, and had to weigh in at 107lbs.
He rode three races at Gulfstream, and then a phone call from an agent in Pennsylvania came, so Silvestre packed up his belongings and took a shot and made the move!
In 2015 he rode close to 50 races but then suffered a setback after he broke his collarbone. His time hadn't started as an apprentice, since he hadn't won any races, so he decided to take the rest of the year off.
In his first year as an apprentice in 2016, he won 63 races, and as soon as he lost "his bug", he won two races and he lost his agent, who preferred representing apprentices. He quickly picked up a new agent. "I always tried to stay positive and I always work hard, so I kept going. I wasn't going to let that get me down." Since then, he's had success riding at Parx and developed into a consistent jockey, riding for a lot of the top trainers.
He's happy racing in Pennsylvania, and appreciative of the support he's received. "I really like being around these trainers that have helped me so much throughout my career, so I'm thankful for them for giving me the opportunity to be successful in this industry. It's a tough industry. It's very competitive, but they've always had my back." Riding at other tracks like Saratoga are especially memorable, not only for the racing, but for the fans that come out to watch and enjoy the races. "I've ridden in races on Pennsylvania Derby Day at Parx, and it's a fun day with the crowd screaming and you can hear them when you're coming down the stretch."
The filly Sweet Willemina, a 4-year-old daughter of Reason d'Etat trainee by Scott Lake, is "in the top" of his favorites right now, and he's especially proud of her, and looking forward to future races. She has 7 wins in 14 starts in 2021 and career earnings of $241,804. In the post race interview with Dani Gibson airing on Let's Go Racing Parx', an elated Silvestre thanked the connections for the race he called 'very exciting'!
His days are busy, between morning training and exercising at the track, as well as riding on the regular race days at Parx, but on his days off, he spends them with his two-year-old daughter. His voice fills with pride when he talks about her. "I think my daughter has brought me a lot of good luck, and she's just a sweetheart."
The future is bright for Silvestre, who developed a love for horses when he was young and once he set his mind on his career, he worked hard to achieve it. "I'm first generation in the horse racing industry, because my parents were never involved in it. They were always agricultural workers. I have to thank my Mom for raising me right, because she is such a hard worker, and I think that's where I got my work ethic from. She taught me to always stay humble."
With his willingness to work hard; positivity; and passion; this young jockey is destined for long-term success in the industry he fell in love with back in high school.
All photos courtesy of Dani Gibson/PTHA