Harness racing fans that have followed the record-breaking history of Pocono Downs, approaching their 57th anniversary on July 15th, will remember some of the driving legends that graced the famed red oval over the years. Included in that long list of driving legends is Greg Wasiluk.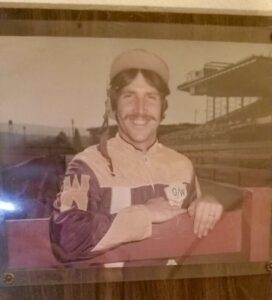 The 62 year old Wasiluk had horses in his blood and a passion for harness racing at an early age.
"On my mother's side, my grandfather was into the thoroughbreds, but I never met him; he died before I was born," Greg remembered. "My dad bought his first horse, a standardbred, at Harrisburg, when I was five years old. We lived in New York City at the time, and I would go with him on the weekends and work in the barn. We moved to upstate New York soon after, and I would help him with the horses after school and on my summer vacation. As I got older and got to high school, I did a work-study program with the horses."
The thrill of driving was in his blood, and his first drive was at an historic track. "I drove my first race at Goshen (Historic Race Track, New York) when I was 16. When I was 17, I came down to Pocono Downs. I had my license, but you had to be 18 to drive in New York, so, since Pennsylvania let you drive when you were under 18, I stayed here!"
He had made the trip to Pennsylvania with a trainer named Fred Heck, and got his P license while working for him, but the following year, Greg went off on his own. "I got a couple horses and was racing them, and then I started to pick up a couple catch-drives."
With the experience under his belt, he made his way back to New York and worked for Walter Warrington, racing at Yonkers and Roosevelt Park.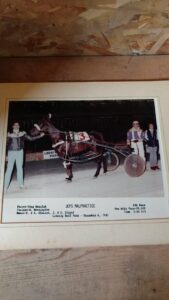 "That was my big start, because everybody kind of recognized my name when I came back to PA," he laughed. "Then I picked up a lot of drives. Bobby Williams and I tied for leading driver at Pocono in 1982. I got to drive a lot of good horses, won Sire Stakes and Grand Circuit races. I got to drive for a lot of the big trainers I met through people I worked for at Yonkers and Roosevelt."
Driving at Yonkers nearly 40 years ago required the drivers to be approved. "There was a Driver's Committee for approval, and it was very limited. I was working for Walter (Warrington) and he had horses to qualify, and one of the drivers didn't show up. They let me qualify the horses, and afterward, the judges said that I could race; Yonkers was closing, but they said I could race at Roosevelt, and when I got back, I could drive at Yonkers. That was something back then."
The Pocono track of yesterday wasn't as lightning-fast as it is today. "They didn't have the technology to maintain it then, and they didn't have the surface they have now," he said. "Back then, races would go in 2:14, and with all the mud, it was hard to see. It was terrible. With technology, and the racetrack surface changed, it got to be the fastest track around, and the most forgiving track surface."
Greg drove against some of the greatest in harness racing history, but he has a few that he cites as his favorites. "Back then, in the Stakes races, it was Bill O'Donnell and John Campbell, and they were two of my idols," he said. "And here at Pocono it was Bill Lambertus, Norton Shoemaker, Mark King, Billy Mullin. There was a bunch of good drivers."
Heart issues from birth forced Greg to retire from driving. "I was born with SVT (Supraventricular tacycardia), electrical problems in my heart, and my heart would go out of rhythm. It started to get worse as I got older. So to be on the safe side, I made the decision to stop catch-driving and just started driving my own, and eventually got out all together."
In 2008, Greg attended Judge's School and got his Judge's license. "Originally, I got hired by New York State, and they had me do an apprenticeship," he explained. "I was a Judge, I was a Paddock Judge, I was a starter. That was at Yonkers. Then I was a starter for three years at Vernon Downs, Tioga Downs, Monticello, and Saratoga. Then I got offered a job to come back here as a Judge in 2016. And I came back!"
A few years ago, Greg hung up his trademark tie, left the Judge's Booth, and joined the Pennsylvania Harness Horsemen's Association as the Horsemen's representative at Pocono, overseeing the daily operations with the track and the drivers; monitoring the weather for race and qualifying days; and checking the track conditions for safe racing for horses and horsemen.
Memories of his days on the track still resonate with him today. He remembers his first Sire Stakes win. "It was with one of Billy Haughton's horses. I was driving some of his two-year-olds the year he got killed. I drove a couple of his three-year-olds the following year, and then they disbanded the stable," he said emotionally.
There are horses that he will always remember, as well. "I was lucky to drive a lot of good horses back in the day," he went on. "I bought a horse, he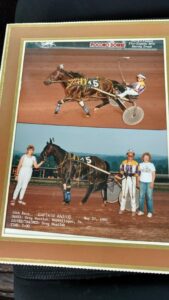 wasn't the best horse, but he was my first horse; his name was Geronimo. He won 10 or 11 races for me one year, and people saw me winning races, and they started putting me on drives."
To young drivers starting out in harness racing, Greg's advice is to keep working hard and be willing to learn. "Watch the top drivers and drive with them. A lot of times, one of the top drivers will try to help you out. When I was driving at Yonkers and Roosevelt, Buddy Gilmour, a few times, told me what I should have done in a race, and I listened. So keep at it, work hard, and the only way you're going to learn is to learn from your mistakes."
Greg Wasiluk
Driving Stats
1325 Wins
$3.97M Lifetime Earnings*
Best Year-1995 – 101 wins
*As of 1977
Training Stats
264 Wins
$1.7M Lifetime**
**As of 1991
~Stats compiled by Jerry Connors