Watching trainer Maria Bowersock with her horses at Presque Isle Downs, the love and respect she feels for them are apparent, and her passion for racing is strong. The young trainer grew up around horses, and it was inevitable that she would find a career that would challenge her, and showcase her strong bond with horses.
"Before I started training racehorses I trained barrel horses," Maria described. "And barrel raced all my childhood and up until I was probably in my 20's. Then the racehorses took up too much of my time, so I haven't barrel raced for a long time."
Growing up as a third-generation horsewoman, her background was solid and the love for horses was inherent from an early age. "My family is all into horses. My dad was a trainer, and my mom still rides in barrel races. My sister still barrel races too, they have a bunch of horses and a ranch in Kansas. My grandfather was a trainer. My uncle was a jockey. We've been in horses our whole lives! That's all we've ever done."
When Presque Isle Downs opens each year, Maria ships in from Tampa Bay Downs with her horses and looks forward to another busy racing season in Pennsylvania. She is particularly partial to the track surface. "I really like the synthetic track here at Presque Isle. It tends to cater more to turf horses, and of course, we have a beautiful turf course in Tampa, so that kind of carries on over to having nice horses that will run on the turf there, to running on the synthetic here."
She also cites several other factors that make racing in Pennsylvania appealing and competitive. "The purse money is good," she said. "The backside is very nice here and it's in a very nice area. Erie is a very good area to be in. We enjoy our summers here, and Ronnie (jockey Ronnie Allen
Jr.) has been coming here since it opened, and I've been coming for, I think this is my 14th year."
Maria and Ronnie Allen Jr. have been partners both on and off the track for 13 years, and theirs is a typical family business. "It's really nice because we're always together. It has its challenges, which every 'working family together' does, but all in all, we've been together all these years, and we've always worked together. We've never had to go to different tracks, and now that my son, Gavin, is old enough to work with the horses, and groom and walk, it makes it really nice for us all to be together. He's learning everything about it, and he really really enjoys it, so that makes it easier when everybody enjoys their job." Seventeen-year-old Gavin is already looking at careers in the business but hasn't decided on one particular one as of yet. "I'm sure he will probably train, or be an agent. Who knows what he wants to do. He changes all the time," she laughed.
Ronnie Allen Jr. also comes from a horse racing family. "My dad was a trainer," he said. "I always wanted to be a jockey when I was a kid." He saw his dream become reality when he started riding in 1983. From Canterbury Downs to Detroit Race Course, from Tampa Bay Downs to Presque Isle Downs, Ronnie has enjoyed a lucrative riding career. Recently returning to riding after an injury in October of last year, Ronnie is back stronger than ever and looking forward to a successful season at Presque Isle.
"We're a team," Ronnie says about working closely with Maria on a daily basis. "We're all looking for the same goals, trying to win races. I've been doing it all my life, with my family, and now I have a different family and I'm still doing it! It's nice having family in the same business, enjoying doing the same thing."
Like Maria, Ronnie says there's a lot to like about racing at Presque Isle. "I really like the track surface, and I love the weather. The weather is very good here in the summertime. The competition is pretty good, and the money is decent. I really enjoy coming up here in the summertime."
Their typical busy day begins at 4:30 am. "We work, we train," Maria said. "Race days we have an early post here at 1:30 pm, so you're pretty much in the barn all day if you have horses racing. Then you get to go home and cook dinner," she laughed.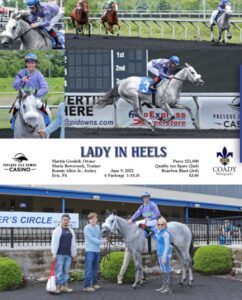 She's excited about several horses in her barn, particularly an eye-catching grey/roan filly named Lady in Heels (Ocean Knight – Carey Princess, by War Chant). "She's a three-year-old filly that I started as a two-year-old, and she has two wins this year, and just finished second in a Claiming $25k race. She's a really nice filly, and has really taken to the synthetic track. We've been running really well on it. She's probably the best horse we have in the barn right now. I also have a nice two-year-old filly that I started recently for the first time, and she really liked the track too. I've got some high hopes for her to get better."
Maria enjoys working with all of her horses, but sometimes has a soft spot for the younger ones. "I actually like working with the young ones a little bit more," she said. "You always have big hopes for the two-year-olds, the up-and-coming three-year-olds. The older horses, I like them too; they're a little easier and they don't take as much time. But I do enjoy the babies."
Former jockey Joe Badamo, now the Associate Executive Director of the Pennsylvania Horsemen's Benevolent and Protective Association, is quick to rave about Maria. "She is a brilliant trainer with a very interesting background in the sport and industry. Her horses always arrive at the paddock with the look of an elite athlete prepared for performing at the highest levels. The best thing about her is the love and care that she extends to each of her individual stable runners, staff, and son. She's one in a million."
As a strong woman trainer in what is sometimes characterized as a sport with predominantly men in a training role, Maria feels that there are opportunities for both genders, although there may be some challenges for younger women trainers just starting out. But like anything, she advises to stay focused and keep on a clear path.
"I think the business right now, whether you're a woman trainer or not, is hard for everybody, with the price of everything. You just have to keep going! Keep grinding it out, and keep doing it, and if you really really enjoy it, it will all work out in the end."
Sound advice from someone who really enjoys it, day after day, race after race.
Maria Bowersock
Career Stats
1861 starts – Firsts 230 Seconds 269 Thirds 271
Total Earnings $4,501,490
Ronnie Allen Jr.
Career Stats
29,621 starts – Firsts 3907 Seconds 3959 Thirds 3778
Total Earnings $49,546.954