With the $375,000 Adios Pace for the Orchids at the Meadows Racetrack just days away, trainer Timothy Twaddle is feeling a myriad of emotions as he prepares his outstanding three-year-old colt Fourever Boy for the race; excitement, anticipation, and perhaps a little nervousness as Saturday arrives. Above all, though, his confidence in his colt shines through.
"He's been a real blessing," said the former driver and now trainer, about the son of Sweet Lou out of Macharoundtheclock. "We picked him out as a baby and he just came to fruition, and just a lot of things all kind of lined up with him."
Tim is originally from Ontario, Canada,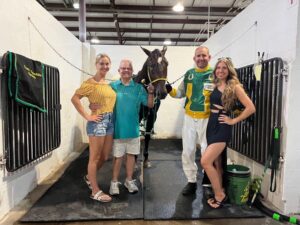 where he was racing at the Ontario Jockey Club before it became Woodbine Entertainment Group. "I came out here in 1995. At the time, I was just driving, and I had heart surgery and was out of action for several months. When I came back, I just wasn't getting work. I was friendly with Roger Huston, and I called him to see if there was room for another driver here, and he said 'Sure! It's tough but there's always room at the top'. So I came here, and he promoted me on the in-house show he had, and I got one drive, and it was a winner from a trainer here named Sharon Donello, and then it just it just snowballed from there. I started to get a few more every night. It turned out to be a great move."
That winter, Tim headed to Los Alamitos and wound up doing that for several years, spending the winters there. "I ended up meeting my future wife out there, and we ended up getting a small stable, and staying out there and racing at Cal Expo for a number of years. It was close to seven years I stayed there before coming back here in 2006 full-time."
Last season, Tim made the trip back home to Canada with Fourever Boy, and raced at Woodbine Mohawk Park. "He was good enough to go to the Metro Pace, and that was when things started to loosen up with COVID. I hadn't been home in three years. My parents are both 95 years old, so I was always in fear that they would pass and I wasn't able to be there. Luckily they're both in Assisted Living facilities, and they're both doing very well, so I thought I would go up and visit everybody. Tragically, a few weeks after, my sister passed, which was out of the blue. So having him up there was a real blessing in that regard." Fourever Boy finished a very strong 3rd in the prestigious race.
In the Meadowlands Pace, Fourever Boy finished 5th with Beach Glass the winner. "I thought we were unfortunate in the (Meadowlands) Pace final not to work out a better trip because he was
very good, and if things had worked out and we were able to get out in the flow earlier, I think he would have had an on-the-board finish. After that race, I thought, he could go with anybody!"
" But that Beach Glass!" he added. "He's a serious colt!"
Tim enjoys a strong working relationship and friendship with Mike Wilder, regular driver of Fourever Boy. "He's been a great friend of mine since he came here. When I went to California that's when he made the move over here. Since coming back, he's been a great friend and a great help to me. It's tough for a catch driver to stick with one barn, and I get it, he has to win when he can, but he stays as loyal to me as he can, and any time I can get him, I know he's always going to help me."
Looking ahead to the remainder of the busy racing season, Tim has races mapped out for his colt. "After the Adios, we have the Cane Pace (Meadowlands, August 6th). As long as he stays healthy and sound, there's a lot of work for him. But I've been very careful up until now. He certainly hasn't had a heavy schedule. He had 3 weeks off going into the Meadowlands Pace, so in that regard, I'm not afraid to hit a few in a row. After the Cane, it's the Max Hempt (Downs at Mohegan Sun Pocono, August 20th); then he's got a PA Sire Stakes here at the Meadows at the end of August; and then the PA Sire Stakes final in September. Then I'd love to go back to Woodbine Mohawk for the Simcoe (September 10). And then the Little Brown Jug. So he's got a lot on his plate….the Red Mile, the Breeders Crown, but I don't want to get too far ahead of myself," he laughed.
His biggest cheering section has always been his family, and with the fall coming, he's sad to lose a few as they head away. "My daughters are heading to college after the Cane Pace, the very next day. My daughter Meadow goes to school here in Washington, and my middle daughter Lexi is heading to Walsh University in Canton, Ohio, but it was always my plan to have all of us travel and have little mini- getaways every time we went to a race. So I don't know if that is going to be possible after the Cane. We'll try and make it happen."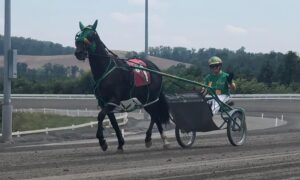 Drawing post 6 for the final, Tim was optimistic and remained confident. "We'll be ready and be prepared to take advantage of our opportunities. Hopefully, we get one. It wasn't exactly the post we wanted, but it could've been worse!"
Mike Wilder looked at the draw pretty much the same as Tim did, and while disappointed, was remaining positive. "We could've drawn the 8 or 9! We have no control over the draw, so yes, it could've been worse. Tim always has him ready and on his toes, and I feel like I have a nice colt, so I'm looking forward to the opportunity."
Whatever the result of the Adios on Saturday, Tim and his family will be smiling and cheering for their champion colt, and making memories to last a lifetime. "It's going to be a lot of fun. It has been fun! We're really going to just enjoy it."