Did you ever wonder why jockeys and harness drivers wear such vibrant, colorful uniforms? Horse racing, an ancient sport, dates back to the Greek and Roman Empires when chariot racing was a favorite spectator sport and became part of the early Olympic Games in Greece. The first mention of colors dates back to Roman chariot drivers who wore colorful jackets to better identify themselves as they raced at the Circus Maximus. In today's thoroughbred racing, jockey's silks represent and identify the horse owner, while in harness racing, the colors belong to and identify the driver.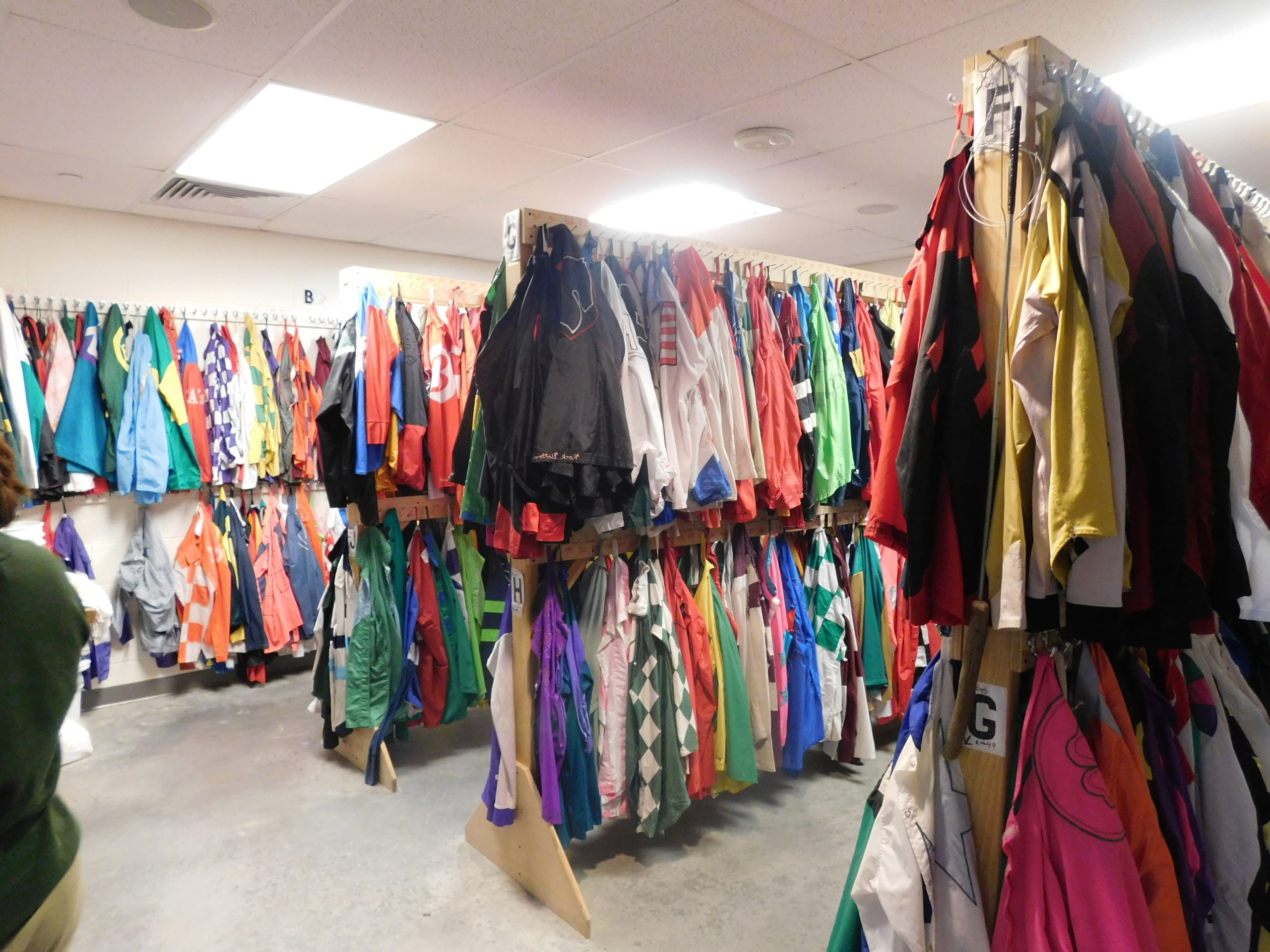 In Britain in the 1700's, as flat racing interest increased and became more established, the English Jockey Club requested that horse owners provide specific colors or silks for their riders to wear. The request originated out of the necessity to accurately identify each horse and jockey in a race, and in 1762, the English Jockey Club passed the Newmarket Resolution that required the use and registration of owner's silks with the Jockey Club. Today, this rule and tradition still exists around the world. Every thoroughbred racehorse owner in the United States must design their own custom silks for their jockeys to wear, and if they plan to race in New York, they must also register them with The Jockey Club. 
In the 1700's, colors or silks were made from silk imported from the Orient or from the finest European woolens. Silk was used because it is a lightweight and flowing fabric, and wool was used for warmth when racing in colder weather. A jockey's silks, also called colors, consist of a shirt worn over their required protective vests that must be tucked into their pants and a cap that covers the jockey's safety helmet. Today's silks are made from more durable and practical material like nylon or satin, and the newest silks combine tradition with technology to create aerodynamic silks made from a combination of nylon and lycra that are a tight fitting, 4-way stretch fabric that helps reduce drag caused by wind resistance. These silks also eliminate noise that traditional silks make from flapping in the wind, and they are the same silks popular with athletes competing in other speed sports like cycling and speed skating.

Colorful, vivid racing silks with distinctive patterns are a fan favorite. In the United States, most silks are American made at small businesses specifically geared to racing apparel where seamstresses cut and sew the colorful patterns. The Jockey Club lists eligible designs and colors for registering silks, and each design must be unique and one-of-a-kind. Certain designs are eligible for the shirt including blocks, chevrons, circles, diamonds, etc., and the front and back must be identical. The sleeves may be a different color, and two colors are permissible on the shirt, and two on the sleeves, but navy blue is not an available color. Every design must be approved by The Jockey Club, and the dream of every owner is to see his or her colors in the lead at the finish line and in the winner's circle. Today, there are over 30,000 silks registered with The Jockey Club.
At thoroughbred race tracks, owners' silks are stored in the jocks room where they are hung, organized, and washed and dried by the "colors man". He keeps track of the rainbow of colors and patterns and lines them up for each race. Every track also provides their own generic set of "track colors" to owners to use if they don't have their own. The jocks room, located near the saddling paddock, is where jockeys rest, wait, and dress before their races, and strict rules apply. For security purposes during live racing, no one except jockeys, the colors man, and a few racing officials are allowed inside.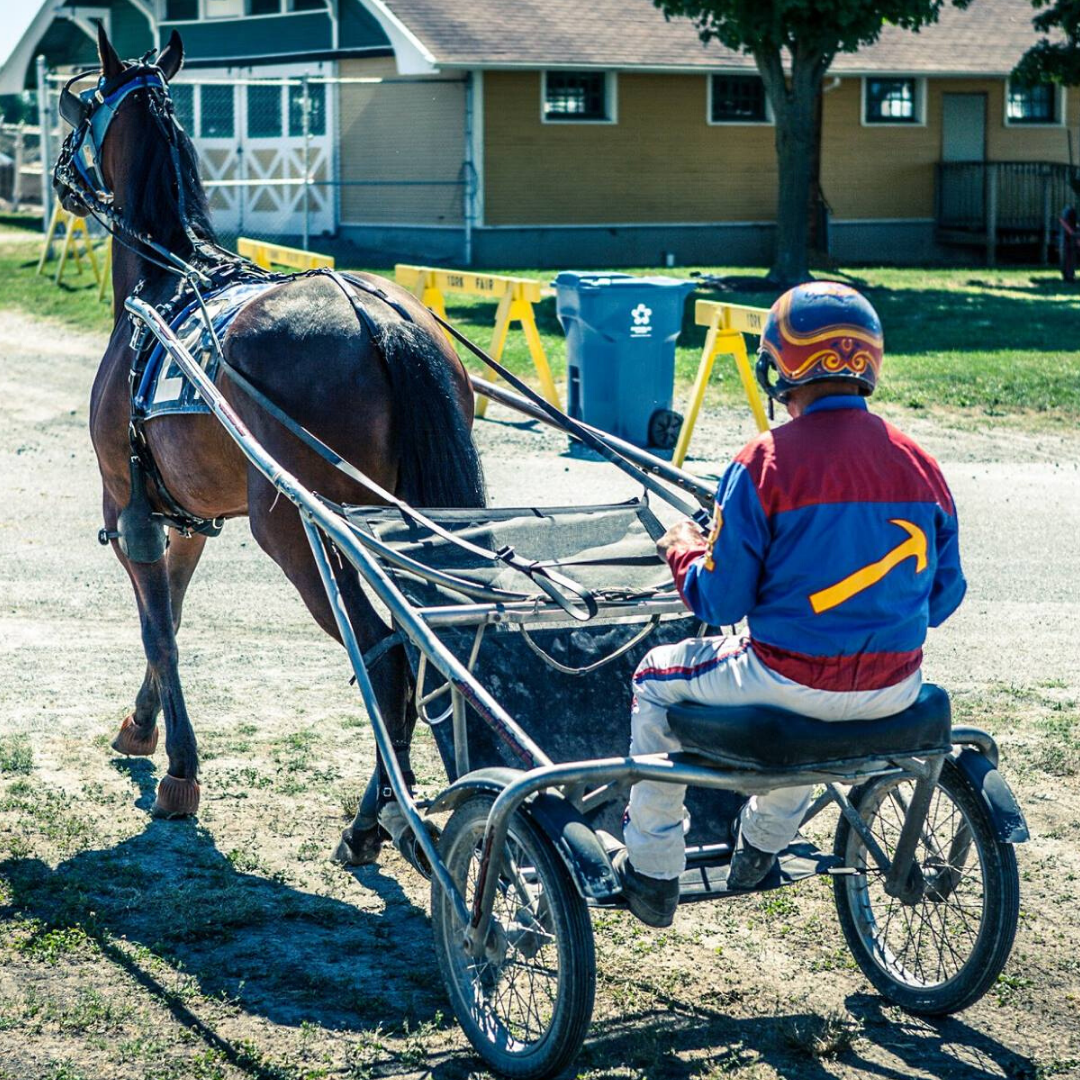 Even in the jocks room, lucky rituals exist, and in horse racing, luck and superstition go hand in hand. One of the oldest and most common jockey superstitions is to stomp on new colors to ward off falls on the track. The thinking is that if they are stepped on and dirty before they are worn in a race, a jockey won' t fall off. In Hong Kong, red is a lucky and favorite color of good fortune that wards off evil, and in Ireland, a four leaf clover on your silks ensures that you win a pot of gold. Harness drivers follow their own rituals and wear lucky colors too.
Harness tracks first opened in the United States in the mid 1800's, but racing was popular at the early country fairs where it still exists today. Unlike thoroughbred racing, harness drivers design their own colors, so they are recognized by them immediately. Fans can spot their favorite drivers from a distance. Their outfits or uniforms differ from thoroughbred jockeys, but the traditions, fabrics, and kaleidoscope of colors are similar. Harness drivers have a variety of styles to choose from and wear custom made jackets with long or short sleeves or jumpsuits with long or short sleeves. They have a choice of summer weight, winter weight, and waterproof colors, and their patterns and colors must be registered in a national data base, the U.S. Trotting Association. With permission, drivers can include company logos on their colors and some wear custom painted safety helmets. Since owners of harness horses are often drivers, their colors take on a personal meaning and are decorated with their own lucky charms or unique designs.

Not just fashion, colors, or silks in horse racing serve an important function, and in today's racing, the ancient tradition continues and is a fan favorite.