In today's day and age of horse racing, the involvement of young people is crucial to the survival of the sport. Our summer blog series, Generation Z (Post-Millennials) in Pennsylvania Horse Racing, will highlight a few of the young people who have dedicated lives to the sport we love.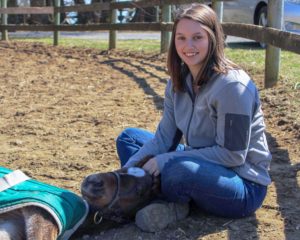 For Vermont native Kirsten Fletcher, life with horses began by helping tend to her neighbor's animals in exchange for backyard riding lessons. Although not raised among a family with any relation to horses, Kirsten was drawn to the animals from a very young age. Backyard riding lessons warped into a life in the dressage and hunter/jumper side of the industry, and Kirsten found her love for breeding and raising horses not long after.
Knowing that working with horses was her calling in life, Kirsten completed college at the University of Vermont as an Animal and Veterinary Science major with a concentration in Equine Studies and a minor in Community Entrepreneurship.
"Everyone told me I wouldn't make enough money with horses to keep myself happy, and for a little while, I let their suggestions sway my thinking. So, I considered being a veterinarian or a biologist, or even changing completely and not working with animals at all," Kirsten said. "But the idea of a career with horses was something I just couldn't shake off. They're my passion. I honestly wake up every day excited to go into work because I genuinely love what I do. I've put in the effort and the work, and now I've turned my passion into a career, despite what others thought."
After finishing up school, Kirsten was looking for a bit of a change in career and decided to cold-call Walnut Green, LLC, a Thoroughbred breeding and training operation in southeastern Pennsylvania. Not long after, Kirsten found herself in Kennett Square, PA as the general manager of Walnut Green. Although involved with horses for most of her life, Walnut Green is Kirsten's first foray into the Thoroughbred side of the industry.
"I wear many hats and get to experience almost all aspects of the racing industry," Kirsten explained. "Some of my tasks include overseeing the daily running of the farm and care of the horses, managing all paperwork related to the business and horses, assisting in stallion selections for our mares, arranging all breeding and vet appointments, assisting with foaling, overseeing mare and foal care, sales prepping yearlings, attending sales, and much more. I learn something new, almost every day and have had the opportunity to meet and work with some of the best people in this industry."
"The most rewarding part of my job is seeing these wobbly legged foals turn into extraordinary racehorses. I'm with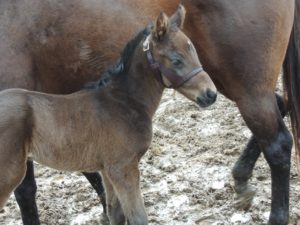 them, literally, from the day they are born, and I get to watch them go through their toddler and teenage phases, and then step foot onto the track. We currently have the first American Pharoah foal in the state of Pennsylvania on our farm, and I'm so excited to be able to work with such a high caliber colt every day, and to see where he goes in life."
Kirsten said her favorite aspect of the industry is definitely the breeding and raising. She's drawn to the science behind reproduction and genetics and loves solving the puzzle of matching mares and stallions to produce the best offspring, And, of course, playing with foals all day is never a bad job!
When asked if she hopes to see any improvement in our industry, Kirsten responded by saying that she believes the industry as a whole should focus more on teaching the next generation of horse racing.
"Since I came from more of a hunter/jumper and dressage background, I had no idea how to get my foot in the door. There are some programs and internships for college students, but I think if we broadened that a bit and offered and advertised apprenticeship type opportunities for young people wanting to be introduced into the sport, we could be drawing them in more," Kirsten answered. "The sport can sometimes feel as though it's really only for the people born and raised in it, so for individuals like me, who are green to the whole thing, have no idea how to get started. Creating learning opportunities for more than just college students would be a great start."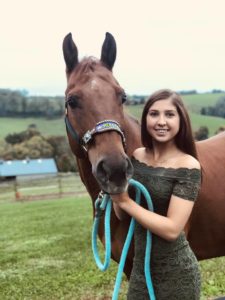 On the opposite end of the Pennsylvania racing spectrum, Scarlett Wilder was born with horses and racing in her blood. Growing up on her families farm near The Meadows in Washington County as a fourth generation horseman, harness racing has been a major part of Scarlett's life from the start. With a father as harness driver Mike Wilder and a grandfather as a trainer Dan Altmeyer, she grew up around Standardbreds and the racetrack.
Scarlett said the adrenaline rush of being at the racetrack, especially on stakes days, and watching her horses run, and win, fueled her desire to be more involved with racing. "My favorite aspect is being able to take care of them every day during the summer because you build a bond with the animals, and it's good for you and the horses. It's super rewarding to watch a horse you've worked hard with for so long do well or win a race," Scarlett explained.
Although still in high school, Scarlett plans to attend college and become a registered nurse, while still staying involved in the harness racing business. 
When posed with the question of how to get younger people involved in the industry, Scarlett said that she believes racing should try to make the sport more fun and accessible to youth, teach them about all aspects of the sport and provide more opportunities to get involved. Scarlett has been voted the United States Trotting Association Youth Delegate District 7 Chairperson. The committee created their mission statement "Harnessing youthful vision; creating a vibrant future". She is also a member of the Keystone Chapter of the United States Harness Writers Association along with her mother, Heather. This summer Scarlett will be assisting with the Pennsylvania Horse Racing Association's 4-H Fair Harness Racing events at both Butler and Bedford. The purpose of these events is to educate youth about horses and harness racing. 
"I feel there are certain barriers in the ways younger people can be involved because nowadays it seems that if you weren't born into the sport, you almost have no place," Scarlett continued. "We need to be more open to new people and help them to understand why we love this sport so much. I hope to see improvement in the amount of fans at the tracks to watch the horses race, and not only to go into the casinos to gamble, because without fans and bettors this sport will not survive."
While Kirsten and Scarlett are on opposite ends of the industry, and have very different backgrounds and journeys to their places in the sport, there is no doubt that their dedications to the horse racing industry are equally strong. The involvement of young people like Kirsten and Scarlett help ensure longevity of the industry that we all love.
Stay tuned for next month's edition of Generation Z in Pennsylvania Horse Racing….