In a typical year, 1,600 Pennsylvania-breds compete on the racetrack for average earnings of $27,600. Of the 50,000+ who have raced across the globe since 1985, only an elite group of 31 horses have broken the seven figure mark in earnings. Over the course of summer 2020, the Pennsylvania Horse Racing Association will be chronicling a ten-part series featuring the select group of Pennsylvania-breds who reached the unique and rare accomplishment of $1,000,000 in racetrack earnings. Join us to celebrate and remember some of the greatest racehorses the Keystone State has produced.
Bessarabian: The First Millionaire
When Thor Eaton's father passed away in 1973, he inherited part of the largest department store in Canada. Eaton's was once so successful that it accounted for half of the country's department store sales. Never interested and involved in the department store world, Eaton spent his time and money investing in rock 'n' roll concert promotion and, eventually, horse racing.
Thor Eaton began racing horses at Woodbine and other local Ontario racetracks before developing his Eaton Hall Farm for breeding in Caledon, Ontario. He later opened another farm in Ocala, Florida, to conduct winter racing at Hialeah Park. 
Eaton Hall employed bloodstock agent Tom Webb to purchase and consign horses on their behalf. In March 1984, Webb attended the Florida Breeders' Sales Company's Hialeah Two-Year-Old's in Training Sale, where he purchased a Vice Regent filly on a winning bid of $122,000 for Eaton Hall. Named Bessarabian, she became the greatest racehorse of the hundreds raced under the Eaton Hall banner.
Bessarabian's pedigree traces back through five generations of Canadian-breds. First dam Tete de Linotte was a multiple stakes placed three-year-old for prominent Canadian owner Jean-Louis Levesque. For her third foal, she was bred to thirteen-time leading Canadian sire Vice Regent. Levesque entered Tete de Linotte in the 1981 Keeneland November Sale while in foal to Vice Regent, and she was purchased by Pennsylvania owner Richard Winn for $65,000. 
So, while Canadian to the bone, Bessarabian was bred in the name of Welcome Farm and foaled in Pennsylvania on March 9th, 1982. 
When Tom Webb purchased Bessarabian for Eaton Hall in 1984, she returned north of the border where she was turned over to trainer Michael Doyle. She debuted for Doyle and Eaton Hall three months later at Woodbine.
It took Bessarabian five tries to win a race, but she made the wait worthwhile by breaking her maiden in the Ontario Debutante Stakes at Fort Erie on August 19th, 1984. Prior to her first win, she had already picked up black type status from running second in the Nandi Stakes. The Ontario Debutante victory marked the beginning of a five race win streak over the next ten weeks.
Pointing towards the Grade 3 Natalma Stakes, Bessarabian prepped with an easy allowance victory at Woodbine. Nine days later, she cruised home in the Natalma to record the first graded stakes win of her career on the grass. Fifteen days following the Natalma, she returned to record another stakes victory in the Mazarine. After another eighteen days, Bessarabian traveled to the Meadowlands in East Rutherford, New Jersey for her first start outside of Canada. She did not disappoint, crushing the Grade 2 Gardenia Stakes field by nine lengths in the slop.
In 1984, an interesting year-end proposition had materialized in American racing. The inaugural Breeders' Cup World Championships were to take place on November 10th at Hollywood Park. Having reeled off five straight wins, including four in the span of six weeks, Bessarabian shipped to the opposite end of the country for the first running of the $1 million Breeders' Cup Juvenile Fillies as the 5-2 favorite. When the gates sprung, she was 8-5.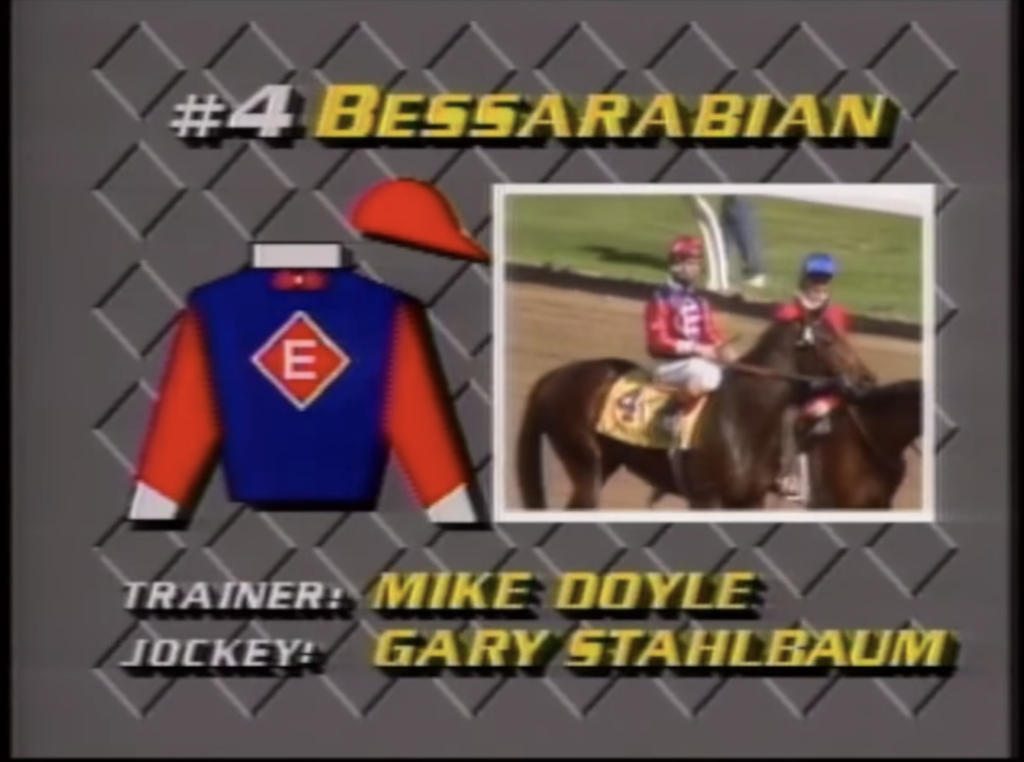 Perhaps the fifteen day turnaround from the Gardenia and her busy season were too much, or perhaps she just fell too far back in the early going before getting caught widest of all around the turn, because Bessarabian failed to fire and finished sixth. Longshot Fran's Valentine crossed the wire first, but was disqualified to last for interference in the stretch, elevating Bessarabian to fifth.
Although a winner of five of ten starts, including four stakes victories, Bessarabian lost the Sovereign Award for Canadian Champion Two-Year-Old Filly to Deceit Dancer. Bessarabian's trainer, Mike Doyle, took home the award for Outstanding Trainer.
For her three-year-old season of 1985, Bessarabian returned at Eaton's winter stomping grounds of Hialeah Park, winning the Hibiscus Stakes on April 1st. Following a failed try in the G1 Fantasy Stakes, the filly returned to Canada to record an easy allowance win eight days before she cruised to victory in the Lady Angela Stakes on the grass. Returning to New Jersey at month's end, she tallied another score in the Princeton Handicap at Garden State Park. Having reeled off four wins in as many weeks, Bessarabian could only manage second behind Lake Country in the Nassau Stakes on her return to Woodbine.
Undeterred, Doyle decided to take another crack at Grade 1 success in Belmont Park's Coaching Club American Oaks. Joining Bessarabian in the field was Mom's Command, who was attempting to sweep New York's Filly Triple Crown following victories in the Acorn and Mother Goose. In one of the most valiant efforts of her career, Bessarabian closed with a furious rush to cut into Mom's Command's massive 10 length lead, falling only 2 1/2 lengths short at the end of the mile-and-a-half long test. Mom's Command would go on to be named American Champion Three-Year-Old Filly and was inducted into horse racing's Hall of Fame in 2007.
Bessarabian returned to her home track at Woodbine with another allowance prep victory before winning her final stakes of the year in the Ontario Colleen Handicap on turf. She was seven for twelve on the year with five stakes wins, but Canadian Champion Three-Year-Old Filly went to Queen's Plate winner La Lorgnette. 
Wintering in Florida again, Bessarabian had a tough start to her four-year-old season, only managing to finish second in the Shirley Jones Handicap at Gulfstream Park and Bal Harbour Stakes at Hialeah from five total starts. Given a brief break, she returned to the races in Canada towards the end of May to record her first stakes win of the year in the Seaway. Next out Bessarabian attempted another try in the Nassau Stakes, but again fell victim to the previous year's winner Lake Country, finishing third. She followed it up with a second place effort in the Woodbine Breeders' Cup Handicap, but the eventual disqualification of the winner for a positive test resulted in Bessarabian inheriting the victory. 
After another third place finish in the Victoriana Stakes, Bessarabian shook off her bad luck and scored in the Ontario Matron Handicap. The effort earned another trip south of the border, and she picked up another graded stakes placing while finishing third in the G2 Arlington Matron Stakes. Back at Woodbine the following month, Bessarabian used her traditional allowance race win as a springboard to victory in the Canadian Stakes on turf.
After a failed try in Kentucky, she returned to Canada for her final race. On November 29th, 1986, Bessarabian recorded her final career victory in the Tattling Handicap at Greenwood Raceway. With six wins in fifteen 1986 starts, she was finally christened a champion and was named Canadian Champion Older Mare.
Towards the end of the 1986 racing season, Bessarabian finally hauled her career earnings over the million dollar mark. In doing so, she became the first Pennsylvania-bred to earn $1 million on the racetrack. She went about it the hard way, earning an average of $28,000 per start. From her three years on the track, Bessarabian won eighteen races with five seconds and four thirds from thirty-eight races for earnings of $1,032,640. Fourteen of her eighteen victories came in stakes races, and she placed in an additional eight others. With victories ranging in distances from six to nine-and-a-half furlongs, Bessarabian also recorded a stakes win over both turf and dirt each year she was on the racetrack.
As a broodmare, Bessarabian was bred to dual American Horse of the Year Alysheba and produced G1 Canadian Maturity winner Dagda. In 1995, Woodbine contested the Bessarabian Handicap. The following year, they renamed the Etobicoke Handicap to the Bessarabian to ensure it became a permanent fixture on the racing calendar. The race is still contested each year at Woodbine and currently holds Grade 2 status.
At one point during Bessarabian's career, Thor Eaton was offered as much as $2 million to sell his champion, an offer he turned down. He continued racing horses under his Eaton Hall Farm through 2016 and passed away a few months later. Bessarabian remains the highest earner Eaton ever campaigned.
Tom's Ready: From Out of the Clouds
Blackstone Farm LLC has quickly established itself as one of Pennsylvania's most prominent breeders of thoroughbreds. Located in the rolling hills of Pine Grove, the farm was first created in 2006, but a management change in 2010 has quickly launched the farm on an upward trajectory.
Blackstone's main approach has been to purchase broodmares in foal to top class Kentucky stallions at auction and have them foal out at their farm in Pennsylvania. They often send the majority of their broodmare band back to top Kentucky stallions to continue the influx of strong pedigrees and sire power to the Pennsylvania-bred program. In turn, they sell the resulting foals as weanlings or yearlings in Keeneland or Fasig-Tipton sales. The approach has quickly turned into a success, with Blackstone leading all Pennsylvania breeders in 2016 with over $1.5 million in earnings.
At the 2013 Keeneland January Sale, Blackstone purchased a broodmare by Pennsylvania Derby winner Broad Brush named Goodbye Stranger. Goodbye Stranger was in foal to international powerhouse sire More Than Ready, carrying a full sibling to a previous stakes placed runner of hers. Blackstone took her home on a winning bid of $40,000.
On February 1st, 2013, Goodbye Stranger foaled a big, lanky dark bay colt with a lopsided blaze running from forehead to nostrils. Initially offered as a weanling at the 2013 Keeneland November Sale, the colt did not meet reserve and returned to Blackstone Farm.
Perhaps his failure to sell as a weanling was fate because the colt became the first Blackstone-bred yearling to be accepted to Fasig-Tipton's Saratoga Select Yearling Sale. The Saratoga Sale is considered by many to be the most elite yearling sale offered on the American sales calendar due to its boutique nature. Entries at the two-day sale rarely exceed 250 horses. Sent through the ring as Hip 19, the colt hammered at $145,000 for buyer G M B Racing. 
Under the ownership of Gayle Benson, G M B Racing was a newly born venture on the horse racing scene. Purchasing horses for her new endeavor for the first time in 2014, the fresh-faced stable would make its owner debut that December.
Mrs. Benson was married to Tom Benson, a giant on the New Orleans sportscene, claiming both the NFL's New Orleans Saints and NBA's New Orleans Pelicans under his ownership. Gayle worked alongside her husband as the executive officer for the Saints franchise and was involved in many other areas of philanthropy before finally deciding to turn her passion for thoroughbred racing into her own racing stable in 2014.
Mrs. Benson named many of her early horses after her husband, and Goodbye Stranger's lanky-limbed colt was no exception. Named Tom's Ready, he was turned over to the tutelage of Kentucky and Louisiana-based trainer Dallas Stewart.
Tom's Ready broke his maiden on third asking at Churchill Downs on September 26th, 2015. Never in doubt, he won by an easy 3 ¼ lengths after leading from gate to wire. Ironically enough, his manner of winning was the exact opposite sort of running style he would come to be known for throughout the rest of his career.
Next out, Tom's Ready made his stakes debut in the Street Sense Stakes. Tracking the leaders throughout, he found himself stuck behind a wall of horses around the turn and into the stretch. By the time he found clear racing room, fellow G M B Racing-owned Mo Tom had swept to the lead, and Tom's Ready could only manage to close the gap to one length at the wire. Gayle Benson had won the first stakes race of her career and did so by finishing first and second in the same race. Although it was only the first year of racing for G M B, the prospect of not only one, but two talented colts sparked early Kentucky Derby dreams.
Following a rough trip in the sloppy G2 Kentucky Jockey Club, Tom's Ready shipped to Dallas Stewart's winter headquarters of Fair Grounds Race Course in New Orleans. There, he made the final start of his two-year-old season in an allowance race, finishing second by a neck.
Tom's Ready made his three-year-old debut in the first of Fair Grounds' Kentucky Derby prep races, the G3 LeComte Stakes. After sweeping to the lead in the stretch, he was run down and defeated again by Mo Tom, this time by 2 ¼ lengths. In the second of Fair Grounds' prep races, the G2 Risen Star, Tom's Ready failed to fire and Mo Tom finished an extremely troubled third. Regardless, Mrs. Benson decided to push on with the colts, and both were entered in the $1 million G2 Louisiana Derby. 
Despite being ignored at 30-1 odds off of his poor performance in the Risen Star, Tom's Ready made a bold move around the turn to run down everyone except the eventual winner, Gun Runner, losing by 4 ½ lengths. Mo Tom experienced another terribly unlucky trip and could only finish fourth.
The 40 points Tom's Ready earned from the Louisiana Derby were enough to guarantee him a shot in the Kentucky Derby. Mo Tom also managed to garner enough points with his fourth place finish. Remarkably, from her current stable of five horses, Gayle Benson managed to get two colts to the world's greatest horse race only a year and a half after she launched her racing stable. Although neither Tom's Ready or Mo Tom would end up hitting the board in the Kentucky Derby, it's an accomplishment worth recognizing.
Following his Kentucky Derby attempt, Dallas Stewart decided to take a new approach with Tom's Ready. Having broken his maiden in a seven furlong sprint, the decision was made to cut the colt back in distance. The goal was the G2 Woody Stephens at seven furlongs, a $500,000 event on the Belmont Stakes undercard. 
Tom's Ready, sent off the 7-1 fifth choice in the field of twelve, dropped back to dead last in the early going and trailed by as much as thirteen lengths at the first quarter. As the field approached the five-sixteenths pole, jockey Joel Rosario finally let Tom's Ready loose, and the colt began uncorking a massive run around Belmont Park's sweeping turn. Picking off horses one by one, Tom's Ready was still eighth as the field reached the final furlong. He suddenly exploded as Rosario weaved him inside and outside of horses, grabbing the lead inside the final sixteenth to complete his breathtaking last to first move. He hit the wire 1 ¼ lengths in front. 
With the realization of Tom's Ready's prowess at one-turn, the colt embarked on a new career as a middle distance specialist. After a failed trip to Saratoga, he returned to Churchill Downs for the one mile, one-turn G3 Ack Ack Handicap. The Ack Ack featured the return of the previous year's champion sprinter, Runhappy. It proved no issue for Tom's Ready, who settled seven lengths back in the early going before sweeping to the lead in the stretch, eventually holding off the late charge of Iron Fist to win by a comfortable half-length. 
An attempt was made in that year's Breeders' Cup Dirt Mile, but with Santa Anita hosting the World Championships, the Dirt Mile was contested around two turns and Tom's Ready could only manage to finish fifth.
Tom's Ready started his four-year-old season in the G2 Churchill Downs Stakes on the Kentucky Derby undercard where he finished a respectable third of fourteen, beaten ¾ length. As the summer wore on, his connections decided to take a crack at Pennsylvania-bred stakes, and Tom's Ready headed to Presque Isle for the one mile Leemat Stakes. Sent off the heavy 2-5 favorite, the colt displayed his customary sit back and unleash style, making up ground around the second turn to secure the lead by the top of the stretch. He held off the determined late rally by Edge of Reality to win by a head. 
Following third place finishes in the G1 Forego at Saratoga and G2 Kelso at Belmont, Tom's Ready opted for the G3 Bold Ruler Handicap instead of that year's Breeders' Cup. Tom's Ready was let go as the 8-1 sixth choice in the field of nine. Sitting eleven lengths last in the early going, he launched his bid around the final turn, got caught eight wide turning into the stretch, and still managed to run down Stallwalkin' Dude to win the Bold Ruler by ¾ length. The $120,000 first place purse officially made Tom's Ready a millionaire.
The Bold Ruler would prove to be Tom's Ready's final victory, with his final start coming next out in the G1 Cigar Mile on December 2nd, 2017. Finishing fifth, Tom's Ready headed to Lexington, Kentucky where he entered stud at Spendthrift Farm for the 2018 breeding season. 
From his three years on the racetrack, Tom's Ready faced the starting gate twenty-one times with five wins, four seconds, and three thirds. He won four stakes races and placed in six others. He managed to qualify for the Kentucky Derby while running at distances that were clearly farther than his mettle, with all of his wins coming at seven or eight furlongs. 
After standing his first season at stud at Spendthrift, Tom's Ready was moved to Red River Farms in Coushatta, Louisiana in 2019, where he currently stands for $2,000 alongside old rival Mo Tom. Perhaps it's fitting how the two colts who put Gayle Benson on the map as an owner both ended up in her home state of Louisiana.
Master Command: The Late Bloomer
Betty Moran's Brushwood Stable has cemented itself as a titan of the Pennsylvania turf. Horses like 1985 Belmont Stakes winner Creme Fraiche, 2000 Grand National winner Papillon, and 2004 Arlington Million victor Kicken Kris campaigned under the green and teal silks of Brushwood, while five eventual Pennsylvania-bred millionaires were born and raised at the Malvern farm, a record Brushwood shares alongside George Strawbridge.
Mrs. Moran launched her racing enterprise in the 1980s. While breeding, selling, and sometimes campaigning her own homebreds, she also became a regular face at Kentucky's top yearling sales by purchasing many high end, and oftentimes pricy yearlings in the name of Brushwood Stable. 
While attending the 1994 Keeneland July Yearling Sale, Betty Moran happened upon a chestnut filly bred by historic Wimborne Farm and sporting an exceptionally strong female family. The filly was sired by Lord At War, a champion miler in Argentina who made a successful foray to the U.S. to capture the G1 San Antonio and Santa Anita Handicaps. Tracing back through the tail female family, third dam Searching was a Hall of Fame inductee who produced fellow Hall of Famer and 3x champion Affectionately. Second dam Priceless Gem, half sister to Affectionately, defeated the legendary Buckpasser in the 1965 Futurity Stakes. As a broodmare, Priceless Gem was the dam of Allez France, a millionaire and 7-time Group 1 winner in France. Bred to Secretariat for her sixth foal, Priceless Gem produced Lady Winborne, who was Group 3 placed in Ireland before retiring to broodmare duties. By 1994, Lady Winborne had already produced G1 winning millionaire Al Mamoon, as well as G1 winner La Gueriere, a full sister to the filly offered at Keeneland. Mrs. Moran took home the filly on a $385,000 ticket.
Named Lady Lochinvar, the chestnut filly would only end up winning one of her six races for Brushwood Stable. Much like her direct female family, her value would come as a broodmare. Lady Lochinvar's first two foals commanded $500,000 and $450,000 respectively in the sales ring for Betty Moran, and while neither of them accomplished much on the racetrack, third time would be the charm.
On April 28th, 2002, Lady Lochinvar delivered a flashy chestnut colt with a big white blaze at Brushwood Stable. By champion sire A.P. Indy, the colt developed into a beautiful specimen and was accepted to the 2003 Fasig-Tipton Saratoga Select Yearling Sale. Buzz Chance signed the $650,000 winning ticket on behalf of Aaron and Marie Jones.
Aaron Jones was an Oregan lumberman turned thoroughbred owner and breeder. Launching his racing venture in 1971, Aaron and his wife, Marie, had already campaigned three Eclipse Award winning champions by the time they purchased Mrs. Moran's colt in 2003. The following year, the Jones's reached new heights on October 30th when two horses they bred, Speightstown and Ashado, charged to victory in Breeders' Cup World Championship events en route to eventual year end championships.
The chestnut colt by A.P. Indy out of Lady Lochinvar was named Master Command and sent to the Jones's regular trainer, Todd Pletcher. Master Command took time to develop and did not start as a two-year-old, instead debuting at age three. After hitting the board three consecutive times, he finally put things together to win his fourth start at Belmont Park on October 10th, 2005. Trying new tactics for the first time, the blaze-faced colt went straight to the lead and battled tooth and nail with Aaron's Classic for the entire one mile race. A photo finish was needed to separate them at the end, but Master Command had managed to keep his nose in front on the wire.
Master Command continued his winning ways, scoring in an Aqueduct allowance by 1 ½ lengths before starting his four-year-old season with another 1 ½ length allowance victory at Gulfstream. 
After finishing fourth in his first stakes attempt, Master Command rebounded on the Preakness Stakes undercard. Taking the early lead in the G3 William Donald Shaefer Handicap, the colt remained in control from start to finish to win the first stakes race of his career by an easy 2 ¾ lengths, defeating 2005 Belmont Stakes runner-up Andromeda's Hero and 2003 Kentucky Derby and Preakness winner Funny Cide.
Later that fall, Master Command entered the G2 Meadowlands Cup off of a third place effort in the G3 Philip H. Iselin, a race in which he never reached the lead. Facing off against Iselin winner Park Avenue Ball, Master Command went straight to the front in the Meadowlands Cup and never looked back, winning the $500,000 event by 1 ¼ lengths. His scorched the mile in 1:34.22 en route to a final time of 1:46.21 for 9 furlongs, and his performance earned him a 114 Beyer Speed Figure. It remained one of the highest figures of the year. Off of the big Meadowlands effort, Master Command attempted G1 glory next out in the Clark Handicap, but the far outside post 12 proved too much to overcome, and he ended up worst off in a three-way photo for second place.
At age five in 2007, Master Command found a new gear. Wintering at Fair Grounds, he debuted in the G3 Mineshaft Handicap. After battling with Purim for most of the race, Master Command shook clear around the turn and rolled to an easy six length victory in stakes record time of 1:42.28 for 8.5f. His final time was only .26 off the track record, and he still holds the records for both margin of victory and final time in the Mineshaft.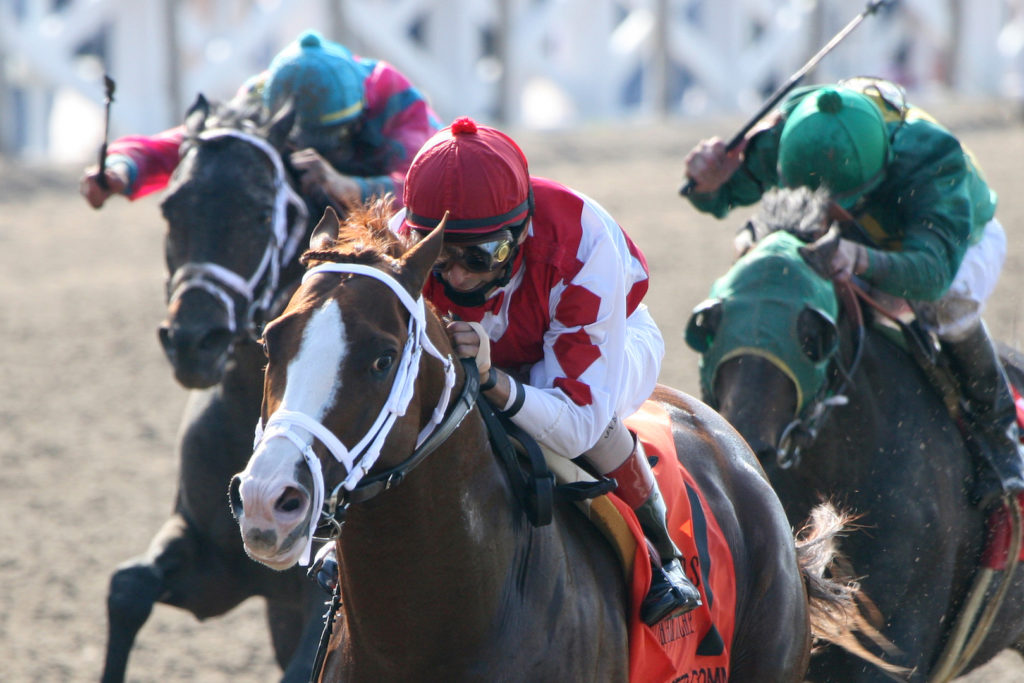 Returning the following month, Master Command won the $500,000 G2 New Orleans Handicap like a 3-10 shot should, tracking the early leader and then drawing away to a comfortable 3 ½ length score.
Sent to Hawthorne Racecourse for the G3 National Jockey Club Handicap, Master Command scared the competition away. Sent off the 2-5 favorite in the field of four, he rated directly off of Sweetnorthernsaint's lead before leaving his rival in the dust and pulling away to a 3 ¾ length win. The winner's share of the purse boosted Master Command over the seven figure mark in earnings, and he became racing's newest millionaire. 
The National Jockey Club would end up being the last win of Master Command's career, and he was retired in August 2007 following two subsequent off the board finishes. He was awarded Pennsylvania-bred champion older male in 2007, and entered stud at Taylor Made Farm in Nicholasville, Kentucky for $15,000 the following year.
From his three years on the racetrack, Master Command improved with age, winning eight of his seventeen starts with two seconds and two thirds. He tallied five total graded stakes triumphs at ages four and five, and his career earnings mounted to $1,137,188.
During his third season at stud, Master Command reared up and lost his balance. The subsequent fall left the stallion severely injured, and he was rushed to Rood & Riddle Equine Hospital in an attempt to save his life. Unfortunately, Master Command's condition did not improve, and the decision was made to humanely euthanize him on April 13th, 2010. He was eight-years-old.
With only three crops to represent him, Master Command ended up siring ten stakes winners. His top runners included 2x G3 winner Master Rick, G1 Hollywood Derby winner Unbridled Command, and 2014 Kentucky Derby runner-up Commanding Curve.